| | |
| --- | --- |
| promotional products • incentives • corporate gifts • meetings • events | Volume 120 / March 16, 2016 |
Click here to see other new and creative promotional products

| | |
| --- | --- |
| | PRODUCT SPOTLIGHT |
| | |
| | PRODUCT SPOTLIGHT |
Give Your Employee Loyalty Program a Boost

Every year a typical company loses between 20%-50% of its employees (the average turnover varies by industry), and replacing each of those lost employees costs about 150% of each employee's annual salary, according to a recent report by Bain & Company, a management consulting firm. Companies looking for a better retention rate need to implement strategies to keep employees loyal, says Kyle LaMalfa, a loyalty expert at Bain & Company.
The smartest way to safeguard employee loyalty is to make sure employees are engaged by giving them meaningful work and showing them how what they do contributes to the company's bottom line, LaMalfa says. Employers need to make sure employees are connected to their businesses. Bain's research shows that "emotionally connected employees are the best employees because they're engaged and productive, and they feel validated and appreciated."
But where some companies lag, LaMalfa says, is in properly recognizing and rewarding their best employees. Here are three steps to create a successful employee recognition program that will keep everyone happy (and encourage them to stay!).
Step 1: Don't wait too long to dole out awards. Establish of program of regular, short-term rewards. Jane LeFebvre, an incentive consultant, works with a large health-care institution to reward employees on milestone anniversaries. "When I first started working with them, they provided rewards to employees every five years," LeFebvre says. The problem was that the health-care firm lost most of its employees within their first few years, before they even had a chance to receive an anniversary award.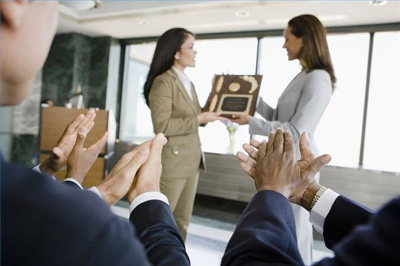 "My idea was to give lots of rewards to employees earlier in the process, at two, four and six months," she says. As an example, the hospital's nurses (who often brought their own lunches), received branded lunch boxes after their first two months on the job, along with a thank-you note from their new managers for an outstanding first two months and coupons for free drinks at the facility's cafeteria. At four months, the nurses got a plant or floral arrangement with a handwritten note from their managers commenting on how well they were doing. At six months, the nurses received logoed ink pens with their name and the hospital's name on them, along with an attractive branded wall calendar that would help them keep track of their busy work schedules.
"As an employer, you want people to feel like they matter right away," she says. "If you wait until a big anniversary, you're going to lose people."
Step 2: Put it in writing and make sure your company's leaders are involved. Experts from Bain & Company state that rewards are more powerful when they come to employees in several forms at the same time. For example, a manager who presents a floral arrangement or plaque to an employee can verbally thank and praise them, and write a note that documents the reason why he or she deserves the reward. Around the same time period, someone a level above the manager might also stop by or write a note acknowledging how much he or she appreciates the employee. Susan Healthfield, an HR expert, says that often in company exit interviews, a common complaint is that the employee never felt the company's senior leaders knew he or she existed. So involving leaders in the rewards process is important, she says.
Step 3: Go public. It's just human nature that people like to be recognized among their peers. At the health-care firm that LeFebvre works with, there is a monthly recognition lunch for nurses where the milestone rewards are given out. In addition to the semi-monthly awards, the company gives out special awards to nurses who are nominated by their peers for outstanding work that month. The rewards vary from spa gift baskets to logoed soft jackets, but they're always appreciated, LeFebvre says. And the fact that they're given out in front of the nurses' peers is very important. "People want to know that they're appreciated, so recognizing them in public is one way to do that," she says. Besides a public ceremony or lunch, Healthfield says the company can do other things to make the recognition public, like including it in a company newsletter, or the company Intranet, or on a bulletin board in a break area. Another idea is to give the employee a letter of recognition, in addition to the gift, and make it clear that the CEO will get a copy of the letter. "It's impossible to over-recognize someone," she says. "Most employers do the opposite."
VIDEO

THE JOE SHOW reveals some of the latest products and promotional ideas available in the market today. Click here to see a brand-new edition of The Joe Show.






Florida Company's Rebranding a Sweet Success
Hoffman's Chocolates, a regional chain of seven shops in South Florida in business for decades, needed a change. The venture capital (VC) firm that bought Hoffman's wanted to inject new capital and build it as a strong regional chain. So, together with its distributor partner, they decided to completely update and rebrand.
Since many people only think of chocolates for holidays, the goal was to come up with a way to get people in the store every day. Three concepts were presented to the VC firm, and they ultimately agreed on a theme of "Celebrate the Everyday," driving the message that there is always a reason to celebrate with chocolate.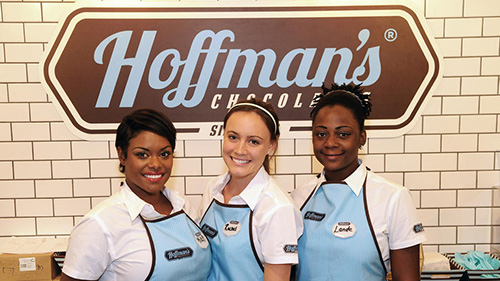 For the logo, the brand name was placed inside a stylized hexagon, reminiscent of a honeycomb. They chose a central color scheme of dark chocolate brown. This was an obvious reference to the product, but it would also pair well with other brighter packaging colors, which were ultimately color coded to distinguish among the different varieties of chocolate.
New product sleeves for existing Hoffman's chocolate boxes, along with new labels and stickers were supplied. Stripes became an important part of the new look, and were featured on store awnings, accent walls within the store and paper shopping bags. The "Celebration" theme also featured marquis signs and lights.
The rebranding, which began in October, was promoted during the holiday season by the opening of pop-up shops and kiosks. Hoffman's new look was recreated at a pop-up shop at the Sawgrass Mills shopping mall, creating a 3-D wrap to duplicate its brick walls and awnings.

The new uniforms consisted of soil-resistant button-downs with embroidered sleeve logos, custom-printed aprons and custom-shaped name tags. Every aspect of the store, including coffee cups and shake cups, featured consistent branding.
All the work paid off and the company successfully established a new look that differentiated it from its competitors.
Viking Tumbler

NEW PRODUCT from a 5 Star Supplier! Our 30oz. Viking Tumbler (#30VIKTMB) is double wall vacuum stainless steel tumbler with copper lining and press-in lid. It will keep liquids hot for over 5.5 hours and cold for over 24 hours. Perfect for promoting cafes, coffee shops, outdoor adventuring, and more! Perfect giveaway at trade shows and conventions!"
Hometown Helpers Sport Pack

Our A448 Hometown Helpers Sport Pack is made of 210D and features fun 3-dimensional features. These exclusive copyrighted designs have a double drawcord closure to ensure all items carried inside remain stored securely. Avialable in Doctor, Nurse, Policeman, Firefighter, Dentist, Military Male, and Military Female. Say thanks to those who give so much and ask for nothing in return!
Umbrellas
Spring showers may bring flowers, but they also create a soggy mess for commuters and golfers. Check out these nifty new umbrellas to keep things dry and protected.
Sport umbrella is made of 190T polyester. asi/57653
A twist of the handle opens this umbrella. asi/66887
Auto-open umbrella has a sturdy metal shaft and wood handle. asi/75095
Windproof umbrella has a colorful upper vent and contrasting black lower vent. asi/89955
This umbrella has a vented design and a fiberglass shaft. asi/76730
Golf umbrella has a large 60" arc. asi/80492
marketing calendar ••• June 2016
June 2016
We celebrate dads on Father's Day, 19, but there are lots of other fun and important events to promote in June. It's National Safety Month, which is a great opportunity for colleges and businesses to promote safety. Campus events can include lectures and safety training, while companies can launch safe-workplace campaigns to reduce lost man hours do to accidents. Businesses should also consider running client and prospect outreach programs during Effective Communication Month. It's an ideal time to reevaluate the effective of all corporate communications and marketing efforts.
With the pleasant weather, it's the perfect time to host an employee outing at an amusement park to celebrate the anniversary of the First Roller Coaster (1884, Coney Island, NY), 13. Or, force everyone outside after lunch on Recess at Work Day, 16. And don't forget to engage in lots of schoolyard games like tag, jump rope and more.
Businesses can run external campaigns targeting customers and prospects in June. Say Something Nice Day, 1, gives you a chance to write thank-you notes and post client affirmations on your website and social media. National Donut Day, 3, is an ideal time to visit your clients to thank them for their business. Make sure to bring donuts and branded coffee mugs for everyone in the office. Finally, reaffirm the importance of a handshake in business on National Handshake Day, 30. Run a cheeky direct-mail campaign and send recipients logoed bottles of hand sanitizer.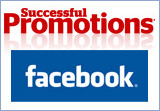 Win $100 & Gain Access to Great Ideas
Sign up now and enjoy The Joe Show, where our very own Joe Haley features cool new promotional product ideas. Access case studies in every industry that showcase the hottest new marketing campaigns. You can even submit your own case studies and be eligible to win a $100 MasterCard gift card. Plus, network with other businesspeople looking to pump up their marketing efforts. Click here to get started today.

Tell Us How Promo Products Worked For You
We want to hear your success stories on how promotional products played a pivotal role in your business strategy. Do you have a new employee welcome gift program? Have you used promo items in an awareness campaign, product launch or charity event? Let us know and we'll feature your case study in the Successful Promotions newsletter, and you'll also be eligible to win a $100 Visa gift card. Send an email to jchaykin@asicentral.com with a brief description of your case study, and we'll contact you for further details.


Successful Promotions® is a trademark of the Advertising Specialty Institute. Copyright 2016, ASI. All Rights Reserved.
Advertising Specialty Institute®, 4800 Street Road, Trevose, PA 19053