| | |
| --- | --- |
| |  Sign Up and Win!  |
Become Our Facebook Fan: Win Prizes, Get $$ and Gain Access to Great Ideas!
Successful Promotions magazine now has a Facebook fan site! Sign up now, and check in regularly to win weekly prizes (this week, we're giving away a gold Fossil watch!); watch The Joe Show, where our very own Joe Haley showcases cool new promotional product ideas; and access case studies in every industry that showcase the hottest new marketing campaigns. You can even submit your own case studies and be eligible to win a $100 American Express gift card. Plus, network with other businesspeople looking to pump up their marketing efforts. Click on this link http://www.facebook.com/pages/Successful-Promotions/339366748100 to get started today.
| | |
| --- | --- |
| |  THE JOE SHOW: LUCKIEST ST. PATTY'S DAY PRODUCTS |
The Joe Show is a weekly video program where Managing Editor Joe Haley presents and demonstrates a variety of ad specialty products. He also offers useful tips and information on how they can be used in ad campaigns and other promotions. This month's collection features new products being offered by your distributor partner.

Click here to see another brand-new edition of The Joe Show.
| | |
| --- | --- |
| |  FUN-FILLED PROMOTION |
ADVERTISEMENT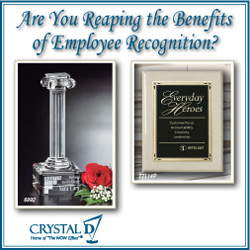 Snow Daze in Snuggies
After four successful years, the organizers behind Vail Snow Daze decided that they needed to kick things up a notch. To do so, they pulled in bigger and better concert acts. They also included one of the more original, and culturally relevant, branded product gags to date.
From December 7-13, ski bums and music fans descended upon Vail, CO, to ski, snowboard, rock out and drink. Bud Light sponsored the five free headliner concerts which included Barenaked Ladies and Robert Randolph & The Family Band.
To kick off the event, the beer brand hosted a pub crawl. To keep revelers warm and toasty, it handed out Bud Light-branded Snuggies. Hundreds wandered from bar-to-bar in the "blanket with sleeves." The Snuggies "were the thing to get that night which was really cool," says James Deighan of Highline Sports & Entertainment, the event production company for Vail Snow Daze. "The Bud Light promotion was very well-received."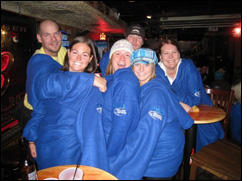 Participants were also privy to other prizes, including concert tickets, a Rossignol snowboard and a bevy of Vail Snow Daze and Bud Light-branded giveaways. "There were thousands of T-shirts, can coolers, a dozen pairs of skis, hoodies, goggles, glasses, and just massive amounts of different, fun giveaways for everybody to enjoy during the week," says Deighan.

Why load them up with goodies? Because "the event has been around for four years now and Vail marketing decided they really wanted to step it up," Deighan says. "The message was that they wanted to show the love for loyal customers and potential new customers. People ski Vail for so long they call it their home. There is a lot going on in the world with the economy and they wanted to put out the red carpet by providing the best event for any resort ever."

While that was a bold proclamation, the organizers achieved it on some levels – especially when it came to the Barenaked Ladies concert which was held outside in the middle of a blizzard. "It was truly magical. I can't even describe it. The lead singer said if the fans won't have heaters, neither will we," says Deighan. "At the end of the night he had three inches of snow on his hat."

What the 8,000 adoring fans did have was plenty of branded items. "Throughout the entire week, whether it was the Bud Light Snuggies to Vail Snow Daze skull caps and hoodies, it became a three-dimensional event vs. just a two-dimensional ad. People could touch and feel the experience of the event and had something to take home with them."

Check out the Shopping List below and drink up some great product ideas. 
| | |
| --- | --- |
| |  SUCCESSFUL BEVERAGE LAUNCH |
Promotional Products Ad Pop to New Drink Brand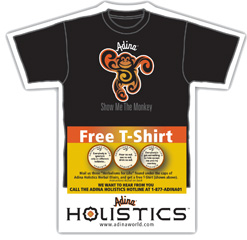 John Bello made his small beverage brand SoBe so viable that PepsiCo saw fit to snap it up for about $370 million. How did he do it? Among the many tricks Bello used to build a grassroots following for the brand was a heavy dose of branded promotional products featuring SoBe's now iconic lizard logo.
Now, a decade after Pepsi acquired his beloved brand, Bello is at it again with new brand Adina Holistics. To get his line of herbal elixirs noticed, he is going back to his old tricks – namely giving away plenty of branded products. This time around, he is leveraging his monkey logo and sayings like "Drink no evil!"
"At SoBe we gave away 400,000 T-shirts via our in-store offers over five years," says Bello. Why do it again? "Simple logic: This is a consumer reward and continuity device." Adina Holistics consumers can collect three under-the-cap "herbalisms" noted on tear-off pads to get a free "Show me the monkey" or "Got herb?" T-shirt.
The offer is "one point-of-sale piece that always gets put up because it is something that the store owner or manager is doing for the consumer; something for nothing compliments the store and the consumer gets a T-shirt as a bonus," says Bello. "Most companies are too small or too big to make this happen. At Adina, it is job number one, all day, every day."
As of press time, more than 5,000 shirts had been requested. "They are already being offered on eBay," says Bello. "With slippage, that's about 10,000 cases out the door just for redemption and a huge number of 'Drink no evil' advertising impressions."
Part of the trick is having cool giveaways and a cooler logo, says Adina Chief Marketing Officer Bruce Burke. "We have an icon that appeals to young and old. It goes beyond just the beverage and lends itself to promotional products. People have asked for the file so they can screen their own T-shirts. Another woman wanted it tattooed on her back. We know we have a very nice symbol for years to come."
Contact your ad specialty distributor for more information on the products below.
| | |
| --- | --- |
| |  PRODUCT SPOTLIGHT |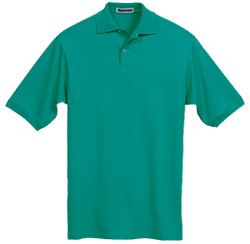 JERZEES® SpotShield™ Sport Shirts are made with a revolutionary repelling action that resists stains and keeps them looking newer longer - making them great for service industries where jobs get messy. JERZEES® offers various sport shirt styles with this stain-resistant finish in 50/50 jersey and pique options, including the 5.6 oz. Adult Jersey Sport Shirt, style 437MSR, shown here.

| | |
| --- | --- |
| |  SHOPPING LIST |
| | | |
| --- | --- | --- |
| AUDIOBOOK DOWNLOAD CARDS Give customers and prospects their choice from more than 60,000 top-selling book titles. They can enjoy best-selling books while commuting to work, exercising, traveling for business or relaxing at home. asi/42989 |   | PUMP IT UP Thinking of doing a campaign geared toward college students or gym members? Consider this custom energy drink which features a full-color adhesive label. Made in the USA. asi/38228 |
|   |   |   |
| MORNING BREW Make new employees feel welcome by giving them some goodies like this double-wall ceramic tumbler with silicone lid. Fits most corporate coffee machines and comes with vinyl sleeve. asi/66887 |   | WATER WORKS This cool, water-powered clock requires no batteries and would make a neat item for eco-friendly promotions. asi/71370 |
|   |   |   |
| PERFECT PAIRING The Dancing Deer Cellars wines and champagnes come with an assortment of truffles, chocolates and confections, and would make an ideal gift for that special vendor or client. asi/40782 |   | TRAVELIN' MAN Busy sales reps will appreciate this travel tumbler and lid. It features a full-wrap contemporary imprint, double-wall insulation and a spill-resistant lid. asi/68218 |
Successful Promotions® Trend Report™  is a trademark of the Advertising Specialty Institute. Copyright 2010, ASI. All Rights Reserved. 
If you'd like us to send Successful Promotions Trend Report FREE to your colleague, click here and complete the online form.
Click here to subscribe to Successful Promotions® magazine. The publisher has a right to refuse subscriptions to non-qualified subscribers.
Advertising Specialty Institute®, 4800 Street Road, Trevose, PA 19053