| | |
| --- | --- |
|   |  Creative Gamer Contest |
ADVERTISEMENT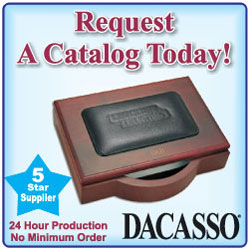 Video Game Kicks It Into Gear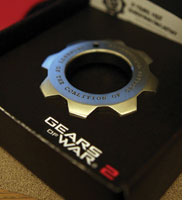 Earlier this year, select reporters, bloggers and key "influencers" received a mysterious box in the mail. In it was a single metal cog engraved with a series of letters and numerals as well as the words "Property of the Coalition of Ordered Government."
A slip of paper said "If found, visit www.gearsofwar.com/lastday and enter the code CSID#." An image of a skull within the cog also adorned the scrap of paper. Once at the site, viewers were told the story of the world's end from the point of view of a robot. If the code was entered, more of the story was revealed.
This was Microsoft Games Studios' way of introducing its new "Gears of War 2" game title. One thousand metal cogs were sent out to promote the title, which was released on November 7, 2008. One blogger who worked for the postal service received a message to check a post office box in Seattle. Within it he found a beaten up old book with the cog hidden inside.
Such creativity helped fuel buzz for the burgeoning gaming franchise. "From the initial concept we knew that seeding elements into the wild would energize hardcore gamers," says John Jakubowksi, creative director at AKQA, San Francisco, which helped create the effort.
Because of the "inherent nature of gamers, the campaign was spun off into spontaneously created blogs and communities digging deeper and deeper into the mysteries of 'Gears of War 2.' They found that cogs are hidden all over the world," Jakubowski says. The cogs were in such high demand that one even sold for $265 on eBay. The original "Gears of War" sold 4.7 million units.
Check out the Shopping List below for some hot, new promo products.
| | |
| --- | --- |
|   |  Major League Tie-in  |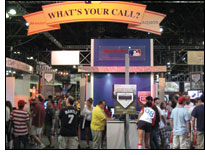 A Sharp Approach To Baseball
There's a pretty good chance that if you went to a Major League Baseball game this past season after the All-Star break, you were exposed to a Sharp Aquos high-definition television. Sharp Electronics, which spent its second year as the official HDTV of MLB, ran a complete lineup of fan activities and promotions throughout the second half-season.
Much like the Philadelphia Phillies, Sharp ended the season with a serious playoff push. "The Sharp Aquos Instant Replay Roadshow" appeared at every postseason game. The effort, which debuted during the All-Star Game, allows consumers to be the umpire by watching replays on Aquos displays to make the call on controversial plays.
ADVERTISEMENT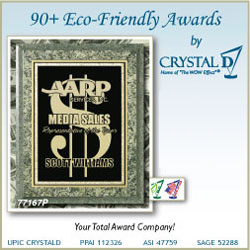 "The Sharp Aquos Experience Mobile Tour," meanwhile, used a 53-foot double-expanded trailer to create the ultimate showcase for its products at post-season games.

"At all of our activation points, Sharp gives away promotional items emblazoned with a specially designed logo that features both of our brands and the MLB silhouetted batter," says Judah Zeigler, associate vice president for the retail and marketing group at Sharp.

At the in-stadium kiosks during the post-season, Sharp gave away branded cinch sacks, soft baseballs and playing cards. "Because we give away items that can be used over and over, like the cinch sack and playing cards, we're able to keep Sharp's association with MLB in the mind of the consumer, not just at the point at which they're interacting with our brand at a special event, but for days, weeks or even months afterwards," says Zeigler. More than 5,500 retailers participated in MLB-themed Sharp promotions. 
| | |
| --- | --- |
| |  SHOPPING LIST |
| | | |
| --- | --- | --- |
| Music To Their Ears The music download card offers the choice of 3 million+ songs for download to iPod/MP3 Players.  Features: 4-color card, link from client's Web-site, and optional data capture (survey). Available from asi/42989. |   | Go Bananas   Encourage kids to save with this fun, plastic monkey bank. Bottom of bank has plug for easy emptying. Available from asi/48500. |
|   |   |   |
| Fun in the Sun This nylon mesh bag contains all the necessary toys for a day at the beach. The set includes sand bucket, three sand molding tools, rake, shovel, sifter and tugboat Available from asi/35122. |   | Pinwheel Power The perfect toy for every college kids' desk or the exec with a fun streak, this metal note holder has a spinning pinwheel and spiral memo clip. Available from asi/79903. |
|   |   |   |
| Good Clean Fun The Ultimate Bath Experience is a clear pail with bubble-bath finger paint, mineral bath-salt tin, moldable soap and two foam balls. Available from asi/47934. |   | Go Global This eco-friendly plastic "Goofy" globe pen will bring a smile to everyone who uses it. Available from asi/78825. |
Successful Promotions® Trend Report™  is a trademark of the Advertising Specialty Institute. You were sent this newsletter as a benefit of your ASI membership. Copyright 2009, ASI. All Rights Reserved. 
If you'd like us to send Successful Promotions Trend Report FREE to anyone else at your company (or to your off-site sales reps), go to www.asicentral.com/newsletters and complete the online form.
Click here to subscribe to Successful Promotions® magazine. You must be a member of ASI to subscribe to this publication. The publisher has a right to refuse subscriptions to non-members.
Advertising Specialty Institute®, 4800 Street Road, Trevose, PA 19053