| | |
| --- | --- |
| promotional products • incentives • corporate gifts • meetings • events | Volume 87 / June 2013 |
SPONSORED BY



Click here to see other new and creative promotional products

STARTUP GETS THE PARTY STARTED
SpareFoot brought the crowd to its feet at its "Spare Beats" dance party, held in Austin last year at the South by Southwest festival (SXSW), an annual event widely considered to be the ultimate breeding ground for new music, independent films and emerging technologies. SpareFoot, based in Austin, is an online marketplace for self-storage facilities, founded in 2008 by two UCLA students. It now employs 74 people.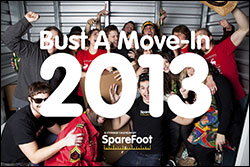 "People at SXSW are looking for a good time. We decided the best way for us to get our name out there was to throw a party," says Jenny Zhang, junior editor at SpareFoot. Spare Beats was an all-day party that went into the evening hours. It featured a variety of local and nationally known DJs, as well as dinner and drinks for the packed audience, which included SpareFoot employees and friends, investors and journalists.
"One of our main goals was to show we are a fun, dynamic and wacky company, despite the fact that we're in an industry that may be perceived as boring," says Zhang. This was SpareFoot's first appearance at the festival, which Zhang calls a "mecca for startups." The company marketed the event as a crazy, day-to-night party, and encouraged people to hydrate before they arrived. The event drew a capacity crowd and generated 42 PR mentions with links, 261 Twitter mentions, 46 Facebook mentions and 9,290 RSVPs, according to a blog post by Rachel Greenfield, SpareFoot marketing manager and editor of The Storage Facilitator.
ADVERTISEMENT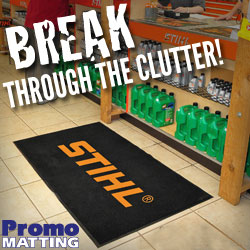 They distributed logoed T-shirts and mini SpareFoot tape-measure keychains to Spare Beats party guests. "Branded items are a perk of being our customer," says Zhang, who says the company typically offers branded items at trade shows and other promotional and networking events.
SpareFoot T-shirts and towels are popular giveaways at self-storage trade shows, which number 10 or more a year. Zhang says these shows are great networking opportunities. "We're about to enter trade show season again, so we're preparing to distribute even more swag this time around," she says. The company is currently distributing logoed can coolers at shows including ISS World Expo and other trade shows around the country.
Earlier this year, SpareFoot sponsored a "Declutter SpareFoot's Swag Closet" on its Facebook page. The company gave away its signature tee and towels to anyone who asked, and if recipients tweeted a picture of themselves wearing the swag, they were entered in a contest to win a $100 Visa gift card.
The company is not afraid to toe, or perhaps even cross the line when selecting promotional merchandise. In January they sent out a calendar featuring employees to about 300 customers. "It was a scandalous storage pin-up calendar. It was definitely weird and completely inappropriate, and we love the reactions – from horrified to gleeful – that we've gotten so far," says Zhang. The calendar was so popular, the company had to order more copies.
The takeaway, according to Zhang, is that the industry of self-storage doesn't immediately seem exciting or fun. "But the truth is we have a blast doing what we do, and we try to make the rest of the industry, as well as the public, see that. We're a tech startup in Austin, after all – it's in our blood!"
VIDEO

THE JOE SHOW reveals some of the latest products and promotional ideas available in the market today. Click here to see a brand-new edition of The Joe Show.

Sponsored by
Clothpromotions Plus





Sponsored by
Pepco Promotional
Products




Sponsored by
Pepco Promotional
Products

Sponsored by
Clegg Promo


Sponsored by
Cooler Graphics
ADVERTISEMENT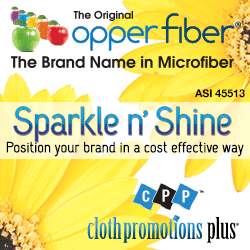 Tell Us How Promo Products Worked For You
We want to hear your success stories on how promotional products played a pivotal role in your business strategy. Do you have a new employee welcome gift program? Have you used promo items in an awareness campaign, product launch or charity event? Let us know and we'll feature your case study in the Successful Promotions newsletter, and you'll also be eligible to win a $100 Visa gift card. Send an e-mail to jchaykin@asicentral.com with a brief description of your case study, and we'll contact you for further details.
Flyer Helps Promote a Perfect Date
In 2009, the MarriedLife ministry of the North Point Community Church started the Great Date Experience, a project that encourages married couples to preserve date night. The mission is to help people experience the individual growth necessary for a healthy marriage.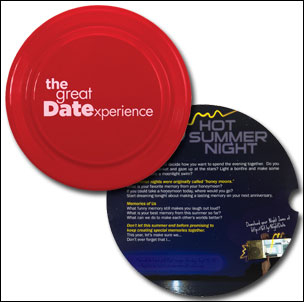 For one recent promotion, MarriedLife collaborated with its distributor partner and decided to use a red flying disc with the Great Date Experience logo in white. The flip side contained a two-sided pop-out paper disc insert that featured two date nights: a perfect summer day and a hot summer night.
The church has five campuses and 30,000 members. The target audience for this project was 4,000 to 5,000 married couples across all campuses. The Summer Fun Date was distributed in the month of August on Sunday mornings before and after services. Tables were outside of the auditoriums of all five campuses.
The flyer even captured the attention of kids, who picked it up and said they would make sure that their parents went out and had fun. That extra participation increased the audience by 1,000. Beyond the buzz, it was the most popular date experience in three years.
If you're interested in creating a memorable campaign or promotional event, contact your ad specialty distributor for perfect products and winning ideas that are sure to pump up participation.
Pets Love Paws for Life™!
New for 2013, our "Paws for Life™" line of Exclusive Pet Promos is sure to attract attention from people and pets! These high-quality products are Imprinted in the USA and available with Quick Ship service!

They're perfect for Pet-Friendly businesses, including: Hotels, Restaurants, Coffee Houses, Airlines, Pet Supply stores, Feed Stores, Veterinarians, Dog Walkers, Dog groomers, Obedience Schools, Pet Publications, Magazines & TV shows, Pet Daycare & Boarding, Animal Pharmaceuticals, SPCA & Humane Societies, Animal Rescue & other Charities, Parks & Rec ...and more!

From ALL-IN-ONE® • asi/34256.
Golf Products
Polos, golf balls and equipment, sun protection, awards – these are just some of the necessary promotional items that will complete your successful golf event. Contact your distributor partner for these and for all your promotional needs.
FORE! Titleist Pro V1 golf ball delivers Drop-and-Stop greenside control and features softer compression ZG process core technology and responsive ionomeric casing layer. asi/79680
AND THE WINNER IS… Wood plaque is available in oak, mahogany or walnut, and comes in three sizes. Features color-filled laser imprint. Crystal and glass plaques also available. asi/57698
FOR HIM. Men's pigment-dyed polo is made of 100% ringspun cotton and is pre-shrunk and garment-washed. Features twill-taped neck and cuffs and three woodtone buttons. asi/97027
FOR HER. Ladies' polo is made of 100% quad polyester and is moisture-wicking and antibacterial. Features contrast piping and even hem bottom. Available in eight colors. asi/53974
BALLS OF FIRE. Tee up lasting protection with this golf ball-shape lip balm featuring natural mint flavor balm with SPF 15 protection. Made in the USA. asi/95838
FOIL THE BURN. Sunscreen lotion and carabiner, 1.5 oz., with formula containing organic ingredients available in a tropical scent. asi/79902
marketing calendar ••• September 2013
One-On-One Month
We get to know people better by meeting one on one because such meetings create more meaningful conversations. When this happens, people are more willing to open up about hopes, dreams, ideas, etc. Take time this month to meet with each of your clients to find out how well you are servicing them and what your company can do better. Also, make sure managers and supervisors meet with employees to get their feedback on the company. Perhaps they have a new product/service idea or a way to streamline a procedure. Blog about the meetings via social media, and don't forget the promo products. Leather portfolios or electronic accessories would be valued gifts. Call your distributor for more great ideas.
2
Labor Day
The funny thing about Labor Day is that most of us don't work that day. But it's the perfect occasion to put forth a promotion that recognizes your own employees. Use it to run an employee appreciation day. Logoed coffee mugs with candies or desk accessories will make them feel appreciated.
10
Swap Ideas Day
Use today to run company-wide brainstorming sessions. Be creative. Write ideas on white boards with markers or pens. Run fun exercises like photo caption contests, obstacle courses or scavenger hunts. Award prizes for all ideas, because no one wants to have theirs pooh-poohed. Call your distributor for logoed products and to pick their brain for fun and creative ideas.
17
Constitution Day and Citizenship Day
This dual-purpose event commemorates the formation and signing of the U.S. Constitution, and it also recognizes all who have become U.S. citizens. Take time today to show American pride and run a civic-minded promotion. American flags with imprinted flag poles and copies of the Constitution can be handed out at schools to teach kids about our country's founding principles. Your distributor can find you lots of imprintable patriotic products.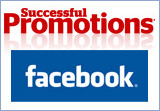 Win $100 & Gain Access to Great Ideas
Sign up now and enjoy The Joe Show, where our very own Joe Haley features cool new promotional product ideas. Access case studies in every industry that showcase the hottest new marketing campaigns. You can even submit your own case studies and be eligible to win a $100 MasterCard gift card. Plus, network with other businesspeople looking to pump up their marketing efforts. Click here to get started today.

PVC key tags: Made to order and cut to shape. Our PVC key tags are one of our most popular incentive gifts ever, an inexpensive yet durable product that carries your advertising message superbly. asi/62088


Buttons: IDProductsource would like you to give 25 free buttons for every 100 you order until 6.26.13. 100% made in America, with fast lead times, we are confident our high quality buttons will be perfect for your advertising and promotional events. asi/62088

The Best Beverage Insulator At The Lowest Price. Fast Delivery Low Minimums! asi/63681


Bug Bands Will Keep The Mosquitoes OFF. No Deet, Safe for Kids, Made in the USA. asi/80345

Diamond Cosmetics offers professional health and beauty products providing companies with high quality cosmetic items for Corporate Sponsors of Women's Events, clothing, shoes & accessory manufacturers, health and medical companies, entertainment industry, media, and many more industries and institutions. asi/49640

PATRIOTIC SPRITE 24 CP224
Celebrate our country's independence with an all-American treat of fudgy brownies in 12 different gourmet flavors. Individually wrapped, each snack-sized brownie is perfect for picnics, large gatherings or any occasion that calls for chocolate. asi/53518

Ask your promotional products provider about VISPAK for stunning, award-winning imprinting on the industry's most useful products; many under $5.00. Quote promocode SPCOLOR to receive a FREE $75 set up. asi/93987

Successful Promotions® is a trademark of the Advertising Specialty Institute. Copyright 2013, ASI. All Rights Reserved.
Advertising Specialty Institute®, 4800 Street Road, Trevose, PA 19053