| | |
| --- | --- |
| promotional products • incentives • corporate gifts • meetings • events | Volume 75 / June 2012 |

Show Your Patriotic Side With USA-Made Promo Products


Now is the perfect time to show your pride in America by running a marketing campaign chock-full of USA-themed products or items made in America. Start with this flag-shape keytag featuring a convenient split ring. A custom imprint of 1" x 1 5/8" can be added to the back side. Ideal for parades, museums, grand openings and trade shows. asi/52840

For that July 4 company picnic, make sure your employees have fun in the sun without a burn by distributing this SPF30 credit-card style container of sun block. This FDA-approved tropical scented lotion holds .68 oz. of sun block. Easy to apply and leaves a clean non-greasy feel. Ideal for the beach or golf course, too. asi/90807

If you're sending your sales team on an incentive trip, surprise the men in the group with a gift they can use when they arrive like this Men's II Migliore performance nexus jacquard polo. It's 100% polyester with UV-protection, moisture-wicking and antimicrobial performance. Available in S-XL. asi/37127

Give the women a gift they can show off on the golf course, like this Citrus three-ball holder. It clips to the outside of a golf bag, making the three included pink golf balls easily accessible. The canvas made product with a water-repellent finish and leather measures 6" x 2.5" x 2", and comes in blue-orange. asi/35232
ADVERTISEMENT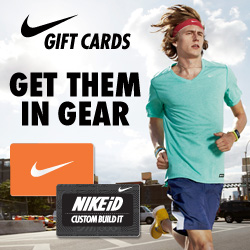 Show your staff that your company is growing, that it's green and all-American with this 12-oz. Grow Kit container. It's high-definition color, and is made of plastic/polypropylene. Just add sun and water to the included soil and seeds. This eco-friendly garden kit is ideal for any staff meeting. asi/93975
For making a lasting impression on important

clients, give them this gift box with gourmet candies and a custom molded chocolate bar that can be imprinted with your logo. The 7 ¾" x 7 ¾" x 1 ¼"gold box can be imprinted to match the bar or printed to your specifications. asi/66224
ADVERTISEMENT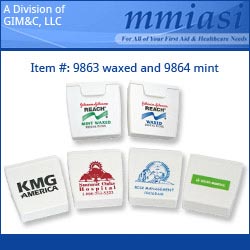 This journal made from 51% post-consumer recycled material is the perfect gift for those special staff members who achieved their goals. The interior organizer document pocket has two business card holders, a pen loop, and recycled sheets of lined paper featuring an Owl watermark logo. Comes in black. asi/66887

Whether it's a trade show, convention or incentive trip, send your personnel off with this eco-friendly tote bag made from jute, a natural vegetable fiber. Offered in lime green, natural or navy, it features a matching cotton lining, piping and 7 ½" rope handles. Its size of 15 ½" x 14" x 7 ½" makes it ideal for trade show items and groceries. asi/79530

Here's more fun for the picnic or beach. Designed for adults and children over three, this stretchable flying disc can be stretched four times its size of 5 ¾" x 5/16". Its large imprint area shows off the logo. It is a gel item and offers a clear protective coating over the print. asi/36730

An ideal product for fundraisers, this 16-oz. low rider insulated mug is BPA-free and measures 3 5/8" x 7 1/8". Features a double-insulated plastic and drink through lid, making it perfect for business meetings, coffee shops and corporate events. asi/90640
VIDEO

THE JOE SHOW
The Joe Show reveals some of the latest products and promotional ideas available in the market today. Click here to see a brand-new edition of The Joe Show.

ADVERTISEMENT



ADVERTISEMENT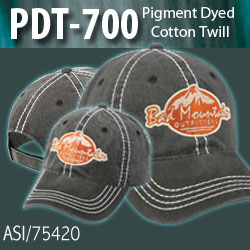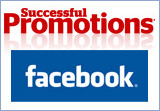 Win $100 & Gain Access to Great Ideas
Sign up now and enjoy The Joe Show, where our very own Joe Haley features cool new promotional product ideas. Access case studies in every industry that showcase the hottest new marketing campaigns. You can even submit your own case studies and be eligible to win a $100 MasterCard gift card. Plus, network with other businesspeople looking to pump up their marketing efforts. Click here to get started today.
Get Students' Attention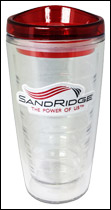 Each year, SandRidge Energy visits college campuses across Oklahoma and neighboring states in search of talent to keep their company competitive.
In the spring and fall, SandRidge recruiters attend career fairs to talk with students majoring in engineering, IT, accounting and other business specialties about internships at the company. To stand out amid a crowded auditorium, SandRidge knew that they needed to have something special to give attendees. "The students swarm to the cool items," says Ashley McDaniel, a recruiter for SandRidge. "We've used water bottles the last couple of years, so I wanted to do something different this year ... something we haven't seen before."
ADVERTISEMENT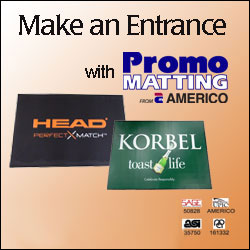 The SandRidge Communications Department worked with its distributor partner to design a new, double-walled tumbler that works for both hot and cold beverages. They selected a Triton 16-oz. tumbler. What really sets it apart, though, is the custom-woven patch with the SandRidge logo encapsulated inside the tumbler. A rep for the distributor firm says they used a woven patch to make a really sharp logo. It was the company's first order of this particular product and with over 1,000 tumblers already sent, the rep says SandRidge is extremely pleased with the product and is planning to order more in the fall when they start attending career fairs again.
Biz tip: Give them what they want
If you're working in the education market, make sure you're pitching useful items to your target demographic. For instance, flash drives and organizers are great items for college students. Trendy apparel and technology accessories are must-haves in the high school market. Make sure you're staying on top of what's hot for this trend-oriented demographic. Contact your distributor partner for creative ideas and appropriate promo products.
A pink polar bear?

Check out the Brand Gear™ Coolest™ Lunch Bag & 6-Pack+ Cooler, available in 26 eye-catching colors!

Made of 50% recycled, durable 600 denier polyester PVC, this insulated bag keeps your lunch & drinks fresh and cool, with reflective insulation and zipper top.

VibraColor imprints are now also available, to showcase your logo in beautiful four-color process!

From ALL-IN-ONE® • asi/34256.
  
Golf Products
The summertime is a busy golf season. Make sure you have all the latest promotional items and apparel on hand to give out at tournaments and other golf events.
TOP PERFORMER Reebok Prism 100% poly polo has playdry moisture-wicking technology, features a three-button placket and is available in eight colors. asi/60582
THE COLLEGIAN Polyester yarn-dyed golf shirt has a three-color striped body and features UltraCool system, a half-moon yoke back, square bottom with side vents and open cuffs. asi/92125
CARRY ALL The TMAXGear Stratus stand bag features five pockets, an insulated beverage sleeve, pen slot, shoulder strap with velour lining and nylon bottom trunk handle for ease of carrying. asi/91417
DIFF'RENT STROKES Helluva golf club features Black Pro Tour Grip, stainless-steel head and True Temper shaft, 19-degree loft Square Hybrid. Available in right and left hand. Full-color imprint included. asi/73863
GAME CHANGER New Pro V1 golf balls feature game-optimizing technology. Imprint area is 7/8" diameter. Recommended for beginner golfers looking to improve their scores. asi/73863
HANDY KIT Varsity tumbler kit contains a 16-oz. tumbler, a 15" x 18" golf towel, four golf tees, a pocket golf club groove cleaner, a divot repair tool and your choice of golf ball. asi/57653
marketing calendar ••• September 2012
ADVERTISEMENT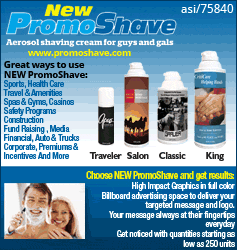 Shameless Promotion Month
Go to your office roof top and proclaim to the world how great your company is. Shameless promotion month is your chance to toot your own horn. A month-long promotion geared to clients and prospects should include proclamations on your website and via social media like Twitter and Facebook. Also, send out videos with employees declaring the great things you do for clients throughout the year. Follow up with visits and bring logoed gifts like T-shirts, caps and office accessories all emblazoned with your logo and something that says, "We rock." Your distributor can help with all the planning.
3
Labor Day
This is the perfect time for a company to run an employee-appreciation campaign. While many folks have the day off, upon returning to work you can provide them with logoed products that will complement their jobs. Manual laborers can be given apparel like moisture-wicking shirts; office employees can receive journals or desk accessories. Your distributor is just the person to help you put together the perfect campaign.
2-8
Waffle Week
Surely Waffle House and IHOP aren't the only establishments able to promote this week. Any company can run a fun campaign where they provide breakfast for employees (day one) and clients and prospects. Invite guests in for a morning open house and make them waffles and other breakfast goodies. Coffee and tea should be served in logoed mugs that the attendees can keep. Also a gift bag should be presented to everyone upon departure. The open house gives you an opportunity to present the products and services you offer. Your distributor can help with the products, and may also be a whiz at making waffles.
28
Love Note Day
"Roses are red. Violets are blue. I wished all clients were as great as you." So maybe that isn't exactly how you would word it, but today is Love Note Day, and it gives you the opportunity to tell your clients how important their business is to your company. Write a letter and deliver it with a box of logoed chocolates or gift basket with treats for the entire office.
Solve This Dilemma
Every month, Successful Promotions launches a new contest where we ask you, our readers and Facebook fans, for your most creative ideas for solving businesses' dilemmas. Each entry should be 50 words or less, and a promotional product must be part of the solution to the challenge. Send all entries to jhaley@asicentral.com by the specified deadline in order to qualify for a free gift. Winners will be randomly selected from all entries.
Hut 1, Hut 2. The local high school's booster club is planning its annual booster drive. The monies raised each year go toward buying letterman jackets for all the seniors. In addition to holding a bake sale at all the games, they want to provide a logoed item to those patrons who pledge at least $10. Therefore, they want an inexpensive product that reflects the team's image. Got any ideas? Send your best ideas to jhaley@asicentral.com by July 15, 2012.

Give your customer's the choice – music downloads or cellular ringtones. Select from 3.5+ million songs, same format as iTunes, downloads directly to iPods / MP3 Players or sync with your cell phone. Add a custom survey to find out more about your customers.asi/42989

A set of four petite nail lacquers in high fashion hues chosen by none other than you! Choose from over 150 shades ranging from wild neons to soft neutrals. Production time 6-8 weeks. All products made in USA.
asi/49640 * PPAI 319488 *SAGE 68050 UPIC #Diamond1.

5 day rush available on our silicone bands. Low all inclusive pricing includes setup, shipping, PMS color matching and proof. Our bands our a guaranteed hit at any charity, team building, sport or school event. asi/62088

5 day custom rush lanyards from IDPaspinline. All inclusive pricing includes door to door shipping, setup and three standard attachments. Guaranteed to become your favorite backup plan for all you tight in hand dates. asi/62088

Item SCH02 – Schedule Magnet Remind your loyal fans of your game schedule with this magnet. Generously sized at 4 x 5 7/8, it can be customized for any sport and any team. asi/68507

Celebrate their achievement! Acknowledge any success with fudgy snack-sized Fairytale Brownies. Each 1.5" x 3" chocolaty Sprite is individually wrapped to share; two each of 12 different flavors. The decorative gift band shares your best wishes. asi/53518

Successful Promotions®  is a trademark of the Advertising Specialty Institute. Copyright 2012, ASI. All Rights Reserved.
Advertising Specialty Institute®, 4800 Street Road, Trevose, PA 19053