Compliments of .


 

| | |
| --- | --- |
| promotional products • incentives • corporate gifts • meetings • events | Volume 63 / June 2011 |
SPONSORED BY



Click here to see other new and creative promotional products

Cover Story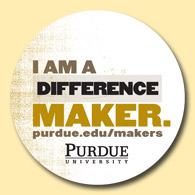 Campus Visionaries Make History
Need to spread the word on what makes your organization special? Take some tips from one university's unique marketing campaign – and make sure promo products are part of the mix.
Purdue University's movers and shakers were celebrated in fine style during last season's homecoming events. The "Makers, All" campaign recognized visionary students, faculty and alumni who made a mark on the world. From peacemakers and history makers to filmmakers, poets and spacecraft manufacturers, the Boilermakers have established a legendary tradition of employing creative ingenuity, drive and determination to make a positive impact on the world.
Conceived with the input of more than 5,000 students, faculty, staff, alumni, parents, prospective students, corporate partners and other stakeholders, the campaign employed a multimedia, multidisciplinary approach to engage the university community in spreading the word about its success, values and reputation.
ADVERTISEMENT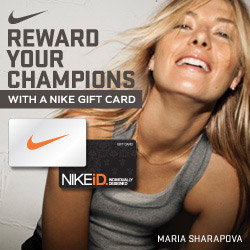 "Boilermakers have a long-standing tradition of serving as catalysts for transformation around the world, from noteworthy alumni who have left a perpetual mark on the cosmos to dedicated researchers who toil in relative anonymity to solve some of the world's most vexing challenges," says Teri Lucie Thompson, Purdue's chief marketing officer and vice president of marketing and media.

During the 2010 homecoming football game, Purdue orchestrated a text-to-win giveaway that asked attendees to identify what kind of "maker" they were. More than 3,000 texts later, they exhausted their supply of T-shirts, produced by University Spirit.

Purdue also created customizable stickers, produced by Printing Services, to give wearers the opportunity to share what kind of "maker" they are by filling in a blank. About 6,000 stickers were distributed at Homecoming. The remaining 4,000 that were printed are continuing to be distributed at the Visitor Information Center.

Finally, a promotional products distributor worked with Purdue to create more than 5,000 "Maker" buttons in five different designations. These were distributed at the USA Science and Engineering Festival in Washington, D.C.

The campaign also had a technology component. Purdue engaged their audience in conversation through the "Makers" site and interactive forums. They invited the Boilermaker community to share their own story about the kind of impact they make on the world. The site also supported video uploads, photos and text.

The marketing campaign was designed to uniquely capture the essence of the Boilermaker persona: energetic, optimistic, enthusiastic, creative, curious, capable and reliable. "There is an old saying in real estate: 'location, location, location,'" Thompson says. "In branding, particularly in brand engagement, I emphasize 'relevance, relevance, relevance!' This is particularly critical in the increasingly competitive and cluttered higher education category. You have to make sure your brand is relevant to the consumer – in this case, young adults – because if it is not, nothing else matters."
VIDEO

ADVERTISEMENT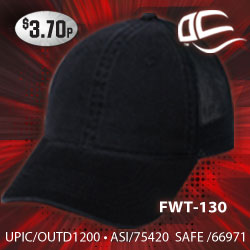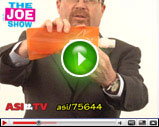 THE JOE SHOW
The Joe Show reveals some of the latest products and promotional ideas available in the market today. Click here to see a brand-new edition of The Joe Show.
ADVERTISEMENT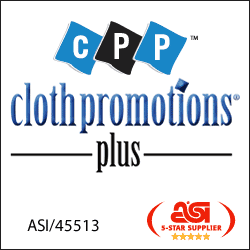 Win $100 & Gain Access to Great Ideas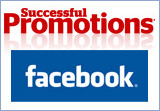 Sign up now and enjoy The Joe Show, where our very own Joe Haley features cool new promotional product ideas. Access case studies in every industry that showcase the hottest new marketing campaigns. You can even submit your own case studies and be eligible to win a $100 MasterCard gift card. Plus, network with other businesspeople looking to pump up their marketing efforts. Click here to get started today.

Recognition Runs Rampant in Rhode Island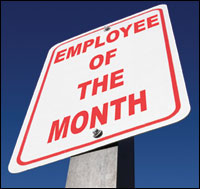 Kent Hospital in Warwick, RI, has ongoing HR programs in place. These include wellness initiatives, recognition programs such as Employee of the Month and Manager of the Quarter clubs, and anniversary recognition awards for employees who have served for 10 or more years. "The anniversary program is a big one," says David Campbell, Kent's senior vice president of human resources. "I think most organizations recognize years of service in increments, and we do it on a rolling basis every month."
Employees are recognized at 10 years of service, then every five years thereafter, Campbell says. "They get a small catalog with 10 choices for a gift, and then once a year all these people are invited to a recognition dinner where we have some fun."
Gift options include anything from logoed pens at the low end to luggage, crystal vases, watches and jewelry at the high end. Some items are branded and some aren't, depending on the value of the item. When it comes to the higher-end items, "If we do brand it, it's very subtle," Campbell says. "On a watch, for example, we'll have the logo engraved on the back, but it's more of a personal gift."
Kent's most popular HR program is its initiative called ROARS, which stands for Recognizing Our Achievements, Rewarding Staff. It works like this: Employees who are caught going above and beyond their job description by supervisors, coworkers or even patients are given lottery-like scratch cards, which can be redeemed for branded products. "They'll get this card, which they can bring down to human resources and get a gift like a coffee mug, fleece hoodie, hat or umbrella," Campbell says. "They scratch off this card and are excited when they come to pick up their reward. It's a way that everybody can recognize anybody."
The bottom line is that recognition programs like these are crucial to employee morale. "Yes, people come to work for the money and to earn a living, but it's also about feeling appreciated, and a little thank-you goes a long way," Campbell says. The efforts must be working: Kent recently celebrated its first 50-year employee.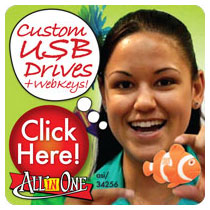 "Create Your Own USB Drive!"
When you're looking for Custom-Shape USB Flash Drives or Web Keys, All-In-One (asi/34256) is "the Write Choice!"®
Whether you're looking for a logo, animal, character or product shape...
"You Picture It, We Build It!" using PVC plastic in an expertly-molded 2D or 3D design!

Golf Products
Planning a company golf tournament? Make sure to include golf-related promotional products to make the outing a memorable event.
EVERYTHING YOU NEED Announce an upcoming golf tournament by handing out this Clip 'n Go bag. It features golf tees, plastic ball marker, SPF-30 sunscreen packet, green repair tool and round golf pencil. asi/30270

 

ON PAR Make sure tournament attendees are given quality golf balls. The tour-proven Titleist Pro V1 golf ball provides the ultimate combination of distance, consistent flight and drop-and-stop greenside control. asi/79680

LOOK THE PART This men's polo is made of 100% performance polyester jersey and P3 fabric technology. Flat-knit collar is made of four-ply spandex to prevent rolling. asi/82588

 

TEE TIME Business card holder holds a pen and has a
golf-ball-shape clock built in makes a nice post-tournament gift. asi/71370

THE 19th HOLE Have a post-game party with a golf theme by using this putting-green-shape cutting board. It features a recessed juice groove, beveled edges and removable flag staff and is made of eco-friendly rubberwood. asi/78065

 

GET A GRIP Improve scores with this non-sticky, USGA-permitted grip enhancer. Long-lasting 2-ounce bottle maximizes logo exposure. asi/80232

CARRY IT ALL This multi-purpose pouch with carabiner also serves as absorbent cloth to clean golf heads or golf ball. Includes lip balm, tees, marker and towelette. asi/30208

 

SNACK TIME A perfect prize for tournament participants, this gift basket looks like a real bucket of golf balls and includes cheese straws, pretzels, peanut butter pillows and more. asi/56777
marketing calendar ••• September 2011
Shameless Promotion Month
Hall of Fame baseball player Rogers Hornsby once said, "I don't like to sound egotistical, but every time I stepped up to the plate with a bat in my hands, I couldn't help but feel sorry for the pitcher." When it comes to business, September is a great month to let it all out and tell everyone how awesome your company is. This can be accomplished with a multi-tiered promotion. Send a company newsletter – snail mail and e-mail – to clients and potential clients telling them how great your company is by providing case studies. Next, make sales calls with coffee, imprinted mugs and donuts in tow. Use the chance to crow about your products. Finally, run a Facebook promotion where you ask your clients to tell them how great you are and offer logoed prizes to the winners. Your distributor partner can help with all the details.
9
Wonderful Weirdos Day
We all know someone who walks to the beat of a different drummer. In fact, some of us might be beating that drum ourselves. Today is a great day to recognize those people you deal with who, although they have an unorthodox style, get the job done. And that can be anyone from the people at your company to your vendors. This motivational campaign should come with a cool award that will certainly be displayed in an office with pride.
12
National Boss/Employee Exchange Day
Walking a mile in another's shoes really makes you appreciate the pair you wear each day. Today is a great day for an employee morale-building promotion where bosses and employees switch jobs for the day. Hold a luncheon and provide gift bags with logoed products. Blog about this and post pictures letting your clients know that you have a fun and relaxed workplace. Your distributor partner can help you come up with great gifts for everyone.
18-24
Build A Better Image Week
In an iconic Canon camera commercial in 1990, tennis star Andre Agassi uttered the famous line, "Image is everything." That's so true in the business world. Your business image, your reputation, should be backed up by your actions, deeds and products. Therefore, use this week as a way to craft a better image among your clients and vendors. Your weeklong campaign should consist of client visits (bring logoed gifts along) in combination with social media including videos and blogs on your Facebook fan page as well as tweets. Your message should be consistent throughout regarding your products and services. For help in crafting a fantastic campaign, contact your distributor partner.

Solve This Dilemma
Every month, Successful Promotions will launch a new contest where we ask you, our readers and Facebook fans, for your most creative ideas for solving businesses' dilemmas. Each entry should be 50 words or less and a promotional product must be part of the solution to the weekly challenge. Send all entries to jhaley@asicentral.com by the specified deadline in order to qualify for a free gift. Winners will be randomly selected from all entries.
This Month's Contest: Strike Up The Band. A local high school band booster association is looking to sell logoed items to raise money for a few band competitions, as well as to help fund a trip to march in a parade on Thanksgiving. In the past they've sold cowbells, something parents used in a show of support at competitions. Unfortunately, cowbells have been banned, so they need something new that shows affiliation, supports the students and raises the needed monies. They'd like to incorporate this into a yearly event too. Don't forget promotional products are important to any
award-winning campaign. Send your ideas to jhaley@asicentral.com by July 15.

Tap into the digital media craze with a personalized cover for your cell phone, laptop, PDA, iPod or MP3 player. Custom cut to fit the contours of the device. Quick Turn - Made in the USA. Pricing as low as $1.70
asi/42989

 

Elegant fashionable ballpoint pen with comfort grip. Available in Purple, Red, Blue, Green, Grey And Silver (With Black Grip). Imprinted with your logo. Pricing starting at $0.90 for 100 pieces. asi/45100

Polish Up your Awareness Campaigns –
Unique promotions for Breast Cancer Awareness and Ovarian Cancer Awareness. Asstd. sizes and nail colors available. Visit us at ESPOnline. A portion of the proceeds are donated. asi/49640

 

 

Have you heard the news? Jelfin's USB Wired Mouse is now available at new Lower prices. Even though the temperature is rising, Jelfin decided to cool the temperature down with our new exciting promotions! Jelfin's totally cool, ball shaped computer mouse with relaxing interchangeable skins and a 2" print space (the largest in the industry) make this a unique promotional product. asi/63296 sage/69104 ppai/387356

Slap, Wrap & Go! –
Lays flat for storage...then slaps onto beverage. Patented Exlusively. NEW shark skin backing. Neoprene for better GRIP. Longer-lasting and keeps your beverage COLDER. asi/80345

 

 

Let IDPaspinline put a charge in YOUR day with outrageously low Lapel Pin prices. Fast delivery, free artwork, unlimited revisions and all-inclusive pricing with no hidden fees! ASPIN-SE-WH Soft Enamel 3/4" priced as low as $0.48(R). ASI 5-Star Supplier. asi/62088

Why should Harry have all the fun? Celebrate the HUGE SAVINGS from 5-Star Supplier IDPaspinline on Flat Polyester Lanyards. Lanyards (ASPIN-FPL 5/8") priced as low as $0.71(P) FREE color match and attachment. Now that's something to get excited about. asi/62088

 

Premium quality red, green and blue laser pointers and presenters. Over 90 unique styles to choose from. Excellent presentation and pointing tools. Quick turnaround times for personalization. Largest inventory in North America ready to ship. 5-star supplier. asi/34375

The Best 4-Color Wrap Billboard for Your Message!
11oz ceramic mug normally $4.45, now on sale @ $3.10 each! asi/52475


Successful Promotions® Trend Report™  is a trademark of the Advertising Specialty Institute. Copyright 2011, ASI. All Rights Reserved.
Advertising Specialty Institute®, 4800 Street Road, Trevose, PA 19053