| | |
| --- | --- |
|   |  TAKE A SURVEY AND WIN MONEY!  |
Successful Promotions would like to learn more about your involvement in planning your company's meetings and incentive trips. Please take our short survey by clicking here. Please respond by July 7, 2010. All completed surveys will be entered into a drawing for a $100 American Express gift card.
| | |
| --- | --- |
|   |  BECOME OUR FACEBOOK FAN  |
Win $100 & Gain Access to Great Ideas
Successful Promotions magazine now has a Facebook fan page! Sign up now, and enjoy The Joe Show, where our very own Joe Haley showcases cool new promotional product ideas. While you're there, access case studies in every industry that showcase the hottest new marketing campaigns. You can even submit your own case studies and be eligible to win a $100 American Express gift card. Plus, network with other businesspeople looking to pump up their marketing efforts. Click here to get started today.
| | |
| --- | --- |
|   |  SUCCESSFUL PROMOTIONS CONTEST |
ADVERTISEMENT

Every week Successful Promotions will launch a new contest where we ask you, our readers and Facebook fans, for your most creative ideas for solving businesses dilemmas. Each entry should be 50 words or less and a promotional product must be part of the solution to the weekly challenge. Send all entries to jhaley@asicentral.com by the specified deadline in order to qualify for a free gift. Winners will be selected randomly from all entries.
Week 1 Contest: From June 14 to June 20
Dog Days of Summer. A local municipality is looking for ways to promote the opening of a new dog park through a co-op program with area veternarians. What type of promotional product would be something appropriate to give away with both entities' logos?
Week 2 Contest: From June 21 to June 27
Happy Campers. A campsite wants to increase its end-of-summer bookings and is looking for a way to grab the attention of in-state campers. What type of promotional product can it give out in an effort to fill all available spots?
Week 3 Contest: From June 28 to July 4
Bank On It. A hometown bank wants to find a logoed product it can give out to kids in an effort to get them interested in opening a savings account. But the bank doesn't want to show any more coin banks or coloring books. The bank president wants to know, "What else you got?"
Week 4 Contest: From July 5 to July 11
School Daze. A new high school opening at the end of August is looking to secure "welcome back" gifts for all students. Tell us what you think the students will use and display and not just throw in to the bottom of their locker.
| | |
| --- | --- |
|   |  THE JOE SHOW: HOT NEW PRODUCTS |
The Joe Show is a weekly video program where Managing Editor Joe Haley presents and demonstrates a variety of ad specialty products. He also offers useful tips and information on how they can be used in ad campaigns and other promotions. This collection features new products being offered by your distributor partner.

Click here to see a brand-new edition of The Joe Show.
| | |
| --- | --- |
|   |  FUN-FILLED PROMOTION |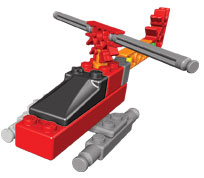 K'NEX Flies High With Free Helicopter Promotion 
When it comes to promoting toys, the best way to get kids interested is to let them give it a test run.
"We always like to sample our products in kids' hands, because the more kids try it, the more they seem to like it," says Michael Araten, president and CEO of K'NEX Brands LP. "Our goal is to get more brand awareness."
With that in mind, the building-toy company decided to hold a promotion in which it gave away a small helicopter set to every child who signed up for the K'NEX online kids club. K'NEX partnered with Six Flags for the promotion; the two companies have worked together in the past for amusement park education days and through on-pack discounts to the park.
An announcement of the giveaway was posted on Six Flags' website, running every 15 seconds. Planned as a summer-long promotion, K'NEX stocked up on 50,000 of the helicopter sets, which was about the number that had been given away in similar Six Flags promotions in the past.
However, to the surprise of everyone involved, all 50,000 helicopters were snatched up in just 10 days. The boost came not only from visitors to the Six Flags website, but also through social media channels, as visitors posted news of the promotion on fan and toy sites, expanding the campaign's reach. K'NEX suddenly had another 50,000 members on its mailing list. Araten says, "It's one of those things where the audience that we were speaking to was even more into knowing about our brand than we thought they were."
Araten points out that the partnership between K'NEX and Six Flags is a logical one, since K'NEX's popular roller-coaster sets let kids build rides at home when they can't go to a park in person. "When you put the right two companies together, where they're action-oriented and theme-park-oriented and you implement it in a way that's easy for people to use, it just takes off," he says.
Check out the Shopping List below for great products for your next promotion. Contact your ad specialty distributor for more information.  
| | |
| --- | --- |
|   |  CLEVER BRAND CAMPAIGN |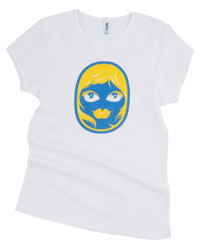 Chiquita's A-Peeling Makeover
The famous blue sticker has adorned bananas for nearly 50 years. Miss Chiquita first appeared as an animated banana, charged with teaching consumers about the nutritional value of bananas and how to ripen them. And while many brands are set on maintaining the recognition of their image, Chiquita Brands was ready for a makeover.
The company launched a social media campaign at www.EatAChiquita.com. Since the site went live, about 25,000 different Chiquita sticker faces have been created. "The iconic Chiquita sticker was a cornerstone of our campaign, and we gave consumers the opportunity to create their own customized Chiquita stickers with the Sticker Generator on EatAChiquita.com," says Judy Chen, group leader, marketing and business development at Chiquita Brands International Inc.
Chiquita also launched Shop A Peel, a place where fans can customize items with their personalized sticker faces. "The Shop A Peel online store was created to meet the request of fans from all over the globe who want to wear their favorite Chiquita designs," says Chen.
The campaign has attracted nearly a half-million fans to the site. "The response to the store has been growing, with lots of online buzz, positive response and excitement on the social media front. We fully expect the store to continue to grow in its customer base and sales, especially with future contests and refreshers planned for the overall EatAChiquita campaign later this year," says Chen.
Whether it is with T-shirts or mouse pads, fans are able to show their creativity. Chiquita works with Zazzle.com to provide the custom gear. "Basically, we selected items that made sense given the nature and overall objectives of the EatAChiquita campaign. We kept the target demographic of 18- to 25-year-olds in mind – hence the skateboards and trucker hats. We also chose popular items including T-shirts and mugs. We also wanted to include items that are inherently sticky, to play off the Sticker Generator idea and the popularity of Chiquita stickers – the postage stamps and stickers," says Chen.
Contact your ad specialty distributor for more information on the products below.
| | |
| --- | --- |
|   |  PRODUCT SPOTLIGHT |
asi/ 47700 Crown Products
The colorful IClock is the perfect desk accessory. It displays the date and time and also features a handy spring action clip that can hold notes or business cards. Available in blue, lime, orange and silver. 
| | |
| --- | --- |
| |  SHOPPING LIST |
| | | |
| --- | --- | --- |
| CUSTOMER'S CHOICE Music downloads or cellular ringtones. Select from over 3.5+ million songs and ringtones. All MP3 format downloads directly to iPods, MP3 Players, and cell phones. asi/42989 |   | SHOP SMART  Walmart, CVS and Target are among several stores already giving customers savings incentives for using eco-friendly shopping bags. Join the green movement by promoting this nonwoven, 100% recyclable shopping tote. Bag is hand-washable and contains a front pocket for additional storage. asi/79530 |
|   |   |   |
| PORPOISEFUL PEN Among the most intelligent mammals, dolphins communicate using a variety of sounds like clicks and whistles. Aquariums, preservation groups or any business that uses a dolphin for a logo would enjoy this ballpoint pen with a clear capsule that features a playful plastic dolphin. asi/45100 |   | HIT THE MARK Diabolically designed, North Carolina's renowned Pinehurst No. 2 golf course challenges players with sharp doglegs, tight fairways and false fronts on the greens. Better hurry up and mark your ball. This ball marker attaches to shoe laces and is held in place by a strong magnet. A great item for corporate outings. asi/96235 |
|   |   |   |
| GUARANTEED GROWTH Studies have shown basil can help treat asthma, diabetes and stress. Improve your health and that of your employees with this grow kit. Choose from sweet basil, marigold, pansy or zinnia seeds. Also ideal for fundraisers and self-promotion. asi/93975 |   | NICE KEEP Researchers estimate that 8 million cell phones are lost every year. Avoid hassles and stay connected with this sleek mobile phone holder. Product also folds and can ship flat in a No. 10 envelope for the perfect direct mail promotion. asi/67866 |
Successful Promotions® Trend Report™  is a trademark of the Advertising Specialty Institute. Copyright 2010, ASI. All Rights Reserved. 
If you'd like us to send Successful Promotions Trend Report FREE to your colleague, click here and complete the online form.
Click here to subscribe to Successful Promotions® magazine. The publisher has a right to refuse subscriptions to non-qualified subscribers.
Advertising Specialty Institute®, 4800 Street Road, Trevose, PA 19053