| | |
| --- | --- |
|   |  Soaring Airline Promo |
ADVERTISEMENT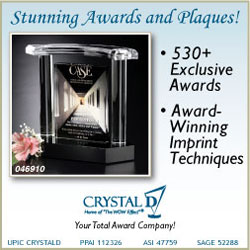 Southwest Airlines Offers Treats for Tweets
The marketing department at Southwest Airlines noticed that its number of followers on www.twitter.com was about to hit 20,000. It was a Friday afternoon and they were about 200 followers away when they had an idea: offer a gift pack loaded with branded merchandise to one lucky winner.
Not long after the idea struck, the announcement was blasted out to Twitterers. "We were looking for a fun and energetic way to reach our customers," says Christie Day, a representative for Southwest Airlines. "Who doesn't like to receive free stuff? We had the swag all ready to go. We sent the box of Southwest goodies to a customer in New Mexico. We Twittered who won and he Twittered us back."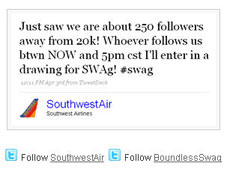 The winner received a branded sewing kit, shoe-shine kit, can coolers, drink coupons and other prizes. "We raided the closet and picked out our favorite promotional products," Day says. "Our customers travel a lot, so by providing them with baggage tags and other products, it helps with their trip."

Southwest also offers prizes on www.facebook.com to people who answer its "trivia question of the day." Overall, customers find social media engaging because someone at the brand is interacting with them. Offering promotional items takes it to another level because "they are excited to know someone is on the other end who has some cool prizes for them," Day says. "Twitter gives them the instant gratification that they want."

Day says that the simple Friday afternoon giveaway "created a lot of awareness. A lot of people started following us who didn't know we were on Twitter."

Check out the SHOPPING LIST below for some great promo picks to add to your own goody bag. 
| | |
| --- | --- |
|   |  Eco-Friendly Charity Campaign |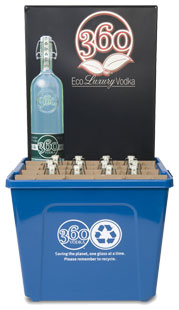 360 Vodka's "Green" Effort 
When you have a name like the Earth Friendly Distilling Company (EFDC), you'd better back it up.

To promote its 360 Vodka, the distiller believes it has done just that. Not only does EFDC donate $1 to environmental charities when a 360 Vodka swing-top closure is returned for recycling, but each of its 1.75 liter bottles comes with a reusable metal handle. The handle helps create a steady pour that reduces spillage and breakage. What's more, the vodka is produced using machines that run on bio-diesel fuel, and recycled materials are used for its glass bottle and paper label.

To hammer its sustainability message home, EFDC shipped 10,000 cases of 360 Vodka with logoed, reusable recycling bins sized to hold 12 bottles each. The company hopes that the blue bins will be used again and again for recycling efforts. It views them as a superior alternative to the boxes that wholesalers often provide to their customers for carrying home their bottles.

"As the world's only eco-friendly, luxury vodka, it's essential that our marketing efforts promote sustainability and, whenever possible, give consumers reusable and recyclable solutions that encourage positive environmental changes, such as our recycling bin shipping containers," says Vic Morrison, vice president at McCormick Distilling, of which Earth Friendly Distilling is a division. "We are also proud that 360 Vodka listens to the feedback of our mixologists, consumers and accounts, and provides them with eco-friendly solutions such as the reusable bottle handle."

Earth Friendly believes it has not only lived up to its name, but it has also set a higher standard for sustainability in the spirits industry.
| | |
| --- | --- |
| |  SHOPPING LIST |
| | | |
| --- | --- | --- |
| BE PREPARED Here's a neat item for a safety program – survivor kit includes seven-piece first-aid kit, five-tool-in-one compass, emergency blanket and rain poncho. Packaged in choice of pouch with Velcro strap or mini reflective triangle bag. Available from asi/90231. |   | SOLAR POWER   This flashlight which features a solar panel on top that recharges batteries would make a perfect item for your safety goody bag. Comes with two bright LED lights and keychain attachment. Choose from black or blue. Available from asi/35500. |
|   |   |   |
| PUCKER UP Don't forget lip protection. This refillable caddy with lanyard or carabiner comes with SPF-15 lip balm in four new beeswax flavors plus four original flavors. Caddy comes in 13 translucent colors or 16 solids; carabiner comes in six translucent colors. Made in the U.S.A. Available from asi/52840. |   | TERRIFIC TIPS A great item for travel, this compact manicure kit features five implements, and a convenient zipper storage pouch with deluxe matte finish.Available from asi/99030. |
|   |   |   |
| GOLF PRO Need a small item to giveaway at your company-sponsored golf tournament? This keychain golf kit features 13 pieces including sting-stop prep pads, golf tees and divot repairing tool. Available from asi/90231. |   | SAFETY FIRST This roadside accident kit includes camera, measuring tape, pen, LED flashlight, auto-accident report and forms. A necessity for every driver, the small size fits easily in glove compartment. Available from asi/50255. |
Successful Promotions® Trend Report™  is a trademark of the Advertising Specialty Institute. You were sent this newsletter as a benefit of your ASI membership. Copyright 2009, ASI. All Rights Reserved. 
If you'd like us to send Successful Promotions Trend Report FREE to anyone else at your company (or to your off-site sales reps), go to www.asicentral.com/newsletters and complete the online form.
Click here to subscribe to Successful Promotions® magazine. You must be a member of ASI to subscribe to this publication. The publisher has a right to refuse subscriptions to non-members.
Advertising Specialty Institute®, 4800 Street Road, Trevose, PA 19053