| | |
| --- | --- |
| promotional products • incentives • corporate gifts • meetings • events | Volume 124 / July 19, 2016 |
Click here to see other new and creative promotional products

| | |
| --- | --- |
| | PRODUCT SPOTLIGHT |
| | |
DNC Donkey Scavenger Hunt Includes T-shirt Prize

A city-wide scavenger hunt planned this summer, to correspond with the Democratic National Convention (DNC) being held July 25-28 in Philadelphia, has proved a perfect opportunity for a promotional product tie-in. Some winners of the "Donkeys Around Town" hunt will win custom T-shirts to commemorate their participation in the event.
On July 1, 57 fiberglass donkeys were installed throughout the city, each painted by a local artist to represent one of the Democratic delegations coming to the convention at the end of the month. Artist Lynette Shelley, who painted the Missouri and Oklahoma donkeys, says she participated in the project because of its uniqueness and the challenge of selecting the most compelling state elements in her design.
"This project is a fun way to engage delegates coming to Philadelphia and will enable them to connect with Philadelphians and the local arts community," said Ed Rendell, former Pennsylvania governor and chairman of the 2016 DNC host committee.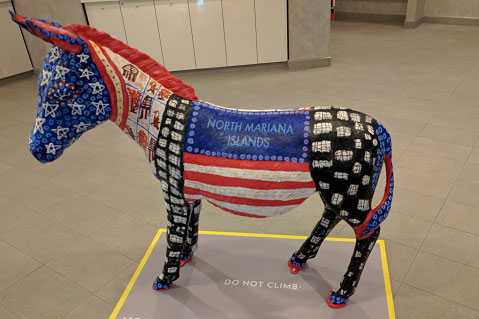 To build excitement for the "Donkeys Around Town" public art installation, the committee is planning a scavenger hunt from July 21 to 28. After downloading the free app Scavify, available here, participants will be able to complete challenges at each of the donkeys they find across the city. According to the host committee, each donkey will have a corresponding interactive challenge that can be completed with the app. Participants will be asked to answer questions, check in via GPS or take fun photos to accumulate points toward prizes. They are also encouraged to share the experience via social media using the hashtag phrase #DonkeysAroundTown.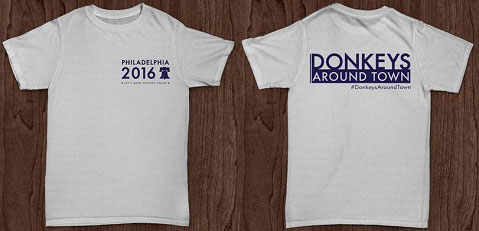 Each donkey will be worth 10 points, and prizes will be awarded based on a tiered system. Participants who find 15 donkeys, accumulating 150 points, will receive a commemorative Visit Philadelphia magnetic photo frame or an official T-shirt. In anticipation of the event, the host committee has printed 500 of the promotional tees, using a local custom screen-printing business, according to a spokesman for the DNC host committee. Other prizes include tickets to popular museums, complimentary cheesesteaks and a raffle ticket for a grand prize of either a two-night hotel stay and restaurant gift cards or a package of tickets to Philadelphia sporting events.
The grand prize drawing will take place July 29, and all prizes can be redeemed at the Independence Visitor Center at Sixth and Market streets. The donkeys themselves will remain in the city until Sept. 9.
VIDEO

The Joe Show reveals some of the latest products and promotional ideas available in the market today. Click here to see a brand-new edition of The Joe Show.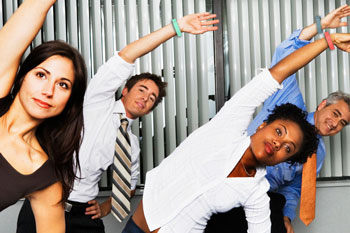 Promo Items Help Boost Employee Health
With group health-care rates spiking – some soaring by double digits in 2015 – companies are promoting healthier workplaces to help cut down on health-care claims. A Harvard University study, in fact, found that for every $1 invested in a corporate wellness program, companies could receive a $6 return on investment, a direct result of reduced medical costs and a drop in absenteeism.
Indeed, corporate wellness – which has evolved into an $8 billion industry according to IBISWorld – is clearly an important business strategy, impacting firms' bottom lines, as well as employee productivity and culture. Promoting these initiatives, and enticing employees to participate is critical to their success.
The approach is proactive versus reactive, encouraging employees to take charge of their health and make positive changes, rather than waiting until they develop serious health problems, which are much more expensive and harder to correct. Promotional products are important tools that companies can use as perks, as well as effective items that will energize and motivate their workforces.
One large firm that features a wellness program for its employees is Aetna. Of Aetna's 50,000 current employees, some 34,000 currently participate in its wellness programs, says communications director Ethan Slavin. About 40% of participants use a wearable device to log their healthy activities.
In addition to its year-round Healthy Lifestyles program, which uses cash incentives, Aetna also offers a "Get Active Aetna" initiative in the fall which is a team-based wellness challenge for employees. If they meet certain healthy activity requirements during this period, they have the opportunity to earn Aetna gear, like gym bags, yoga mats, water bottles and other apparel, or they can donate an equivalent to charity, Slavin says.
Incentives, no doubt, are key. "If there's no incentive, the engagement level is low," says Frank J. Grimm, a senior benefits adviser at LHD. "The most successful programs have multiple designs, which might be gift card programs, challenges that allow participants to enter drawings for gift cards or rewards, Web stores and promotional items. Sometimes something as simple as a water bottle gets employees excited."
If you're planning an employee wellness program, be sure to contact your distributor partner for expert service and the perfect promotional products to fit your needs.
Shake it with the confetti! Some like it hot & some like it cold - with this lid you can have both. Double-wall acrylic construction. Press-on lid with twist opening. Polypropylene straw with stopper for cold beverages. BPA Free. 24oz. Visit our website for more details.
Wellness Items
An unhealthy workforce is a financial strain for business. Be proactive by motivating staff to exercise, eat well, sleep more and manage stress. Check out the items in this showcase and contact your distributor for help in implementing a successful wellness program that can save your company in costs and create a happier work culture.
Stylish Workout

Active women will love this half-zip athletic top, which features moisture wicking, modern fit, thumbholes and reflective taping. asi/53404

No Sweat

Everything from simple logos to full pictures can be printed on the packs of these refreshing towels. asi/69801

Hydrate

A great item for 5K race sponsors, this recyclable water bottle features digitally printed custom labels. asi/95385

Walk It Off

The Woman-in-Charge pedometer comes in eight designer styles and features an easy-read LCD display. Excellent for promoting yoga and Zumba classes. asi/50287

Stretch and Flex

Excellent for gyms, the Resistor Strip is an exercise band that offers a large imprint area that can be decorated with photo-quality images. asi/34345

Happy Trails

Outdoors enthusiasts will enjoy this energy trail mix snack pack, which contains raisins, chocolate chips, banana chips, cranberries, peanuts and more. asi/71685
MARKETING CALENDAR ••• OCTOBER 2016
In October, we acknowledge Co-op Awareness Month to remind advertisers to take advantage of the vast amount of co-op funding made available from major brands. During National Work and Family Month, we are reminded to keep a balance between work and personal life. An employee picnic with family members and lots of logoed gifts will help strike a harmonious chord.
Keeping that balance of personal and professional life can be made easier during National Work From Home Week, 2-8. Desk and computer accessories with the company logo will keep employees in a "work" state of mind while at home. While telecommuting, reflect on the differences we all have and how those differences make for a better work environment during National Diversity Day, 7.
Don't let stress distract you from your work; release your anxiety on International Moment of Frustration Scream Day, 12. Organize a group scream or host a silly screaming contest. Be sure to hand out fun, logoed stress balls to all participants. Finally, use Make a Difference Day, 22, to perform community service with your co-workers and make a difference in someone's life. When out in the community, create a sense of affiliation and identification by providing everyone with branded caps, polos, T-shirts and more.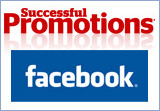 Win $100 & Gain Access to Great Ideas
Sign up now and enjoy The Joe Show, where our very own Joe Haley features cool new promotional product ideas. Access case studies in every industry that showcase the hottest new marketing campaigns. You can even submit your own case studies and be eligible to win a $100 MasterCard gift card. Plus, network with other businesspeople looking to pump up their marketing efforts. Click here to get started today.

Tell Us How Promo Products Worked For You
We want to hear your success stories on how promotional products played a pivotal role in your business strategy. Do you have a new employee welcome gift program? Have you used promo items in an awareness campaign, product launch or charity event? Let us know and we'll feature your case study in the Successful Promotions newsletter, and you'll also be eligible to win a $100 Visa gift card. Send an email to jchaykin@asicentral.com with a brief description of your case study, and we'll contact you for further details.


Successful Promotions® is a trademark of the Advertising Specialty Institute. Copyright 2016, ASI. All Rights Reserved.
Advertising Specialty Institute®, 4800 Street Road, Trevose, PA 19053