| | |
| --- | --- |
| promotional products • incentives • corporate gifts • meetings • events | Volume 112 / July 15, 2015 |

PRODUCT OF THE MONTH





PRODUCT SPOTLIGHT





Promo Items Help Raise Funds For Guide Dogs


Most charity runs and walks have a 'no dogs allowed' policy. Not so at the Southwestern Guide Dogs walkathons, a series of walking events in Florida that raise money for the organization.

"It's wonderful to see people bringing their dogs to these events," says Andy Kramer, the development director of the Palmetto, FL-based nonprofit that has trained hundreds of guide dogs. "You can't help but see families with their dogs and not smile."

At each of the nine events held during the summer, Kramer says, the organization's guide dog trainers are also invited to bring their puppies and current trainee dogs to the event. The puppies, which Kramer calls "Goldadorables," are a special cross breed of Labradors and Golden Retrievers. "This breed produces wonderful guide dogs that are able to form and nurture partnership with visually impaired individuals, facilitating their life's journeys with mobility, independence and integrity," he says.

Promotional items play a major part in the Southeastern Guide Dogs Walkathons, starting with fundraising awards. "For example, if someone raises $100 for an event, they get a monogrammed T-shirt," Kramer says, "$250 gets you a branded tumbler. In addition, every attending dog gets a logoed bandana and we also bring lots of branded promotional items from our gift shop, including hats, shirts and leashes, for sale at our events."

This year's events raised a whopping $835,000 for the charity – a new record.

The Guide Dog Walkathons are expanding to two new locations next year. "We've been able to grow new events in markets where we are not as well-known via grass roots fundraising campaigns that net us more friends and sponsors and help us provide more dogs to the visually impaired," Kramer says. "Recently, Publix and Subaru came on board, which shows that success breeds success."

Also on tap for the 2016 season: Participants will be invited to design the logoed T-shirts that will be used as event giveaways. "We work really hard to build excitement for these events each year, and the promotional products we incorporate really help do that," Kramer says.
VIDEO

THE JOE SHOW reveals some of the latest products and promotional ideas available in the market today. Click here to see a brand-new edition of The Joe Show.







Tell Us How Promo Products Worked For You
We want to hear your success stories on how promotional products played a pivotal role in your business strategy. Do you have a new employee welcome gift program? Have you used promo items in an awareness campaign, product launch or charity event? Let us know and we'll feature your case study in the Successful Promotions newsletter, and you'll also be eligible to win a $100 Visa gift card. Send an email to jchaykin@asicentral.com with a brief description of your case study, and we'll contact you for further details.
Swag That Rocks
When you're a hard-rocking punk band, you need swag that blares as brashly as your distorted bar chords. That's just what the four-piece group, KNIF, had to offer their audience of pogoing punkers at an early summer show at the Brighton Bar in Long Branch, NJ. T-shirts with brass knuckle graphics, vinyl stickers bedecked with skulls, buttons with song titles like "Get Dorked" – corporate swag this was not.
And yet, KNIF's reason for investing in branded merchandise was essentially the same as the most button-downed organization: To project its unique image to audiences with which they want to connect – to get broader, positive exposure that helps win new fans.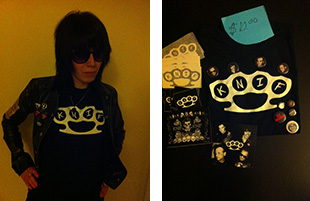 "It's cool to have real things you can put in people's hands and say, 'Here, this is what we're about,'" says Chloe Stewart, KNIF's drummer. "The hope is that somebody is out wearing your T-shirt or your button and then someone asks them about it. Word starts to spread."
At the Brighton Bar gig, KNIF had shirts, stickers, buttons and CDs arranged at a merchandise table. While items were for sale, it's common for the band to give products away, too. "It's good to just get stuff out there," says Stewart, whose bandmates are Steve Sherk (vocals), Deane Clapper (guitar) and Tom Sullivan (bass).
For KNIF, black T-shirts with the band's name spelled inside the finger loops of a brass knuckle design are particularly popular with listeners. Fans also especially appreciate the retro appeal of buttons that feature band members' faces in black-and-white. "It's an old-school style that people like," says Stewart.
And, as KNIF brings its chunky riffs and driving drums to bars, clubs and beyond, you can bet that their swag will go with them. "We have our merch," says Stewart, "at every show."
The Uno Cup

The Uno Cup is a BPA free, double walled, re-useable plastic tumbler. It is a Crown exclusive and is always available. A single color imprint is available. The Uno Cup is now available in 6 brand new colors: White/aqua, White/black, White/blue, White/hunter Green, White/purple, and White/red!

Crown • ASI 47700
Save 20% on Dozens of Items!

Save 20% right now on dozens of items, including stylish drinkware, brand-name bags, cool tech accessories and more. But don't wait too long to start shopping – these special savings end July 31.

Leed's • ASI 66887
Awareness Items
Annually, more than 4 million people raise much-needed funds and awareness to save lives from cancer through the Relay For Life movement. Relay is one of the many awareness campaigns that draw high-volume participation. Are you planning a fundraiser soon? Make sure to provide branded merchandise for your altruistic initiative. Contact your distributor for information on the items shown here and for all your promotional needs.
All Together Awareness ribbon clip is ideal for holding papers together, sealing open bags and spreading the messages of worthy causes. asi/52840
Drink to That A portion of the proceeds from the deep-etched and hand-painted "ONEHOPE" Chardonnay go toward breast cancer research. asi/30223
Wear It Well The BrandBand is a silicone bracelet that's perfect for awareness initiatives – and fashionable enough to be worn every day. asi/62660
Make an Impression Reusable white plastic cup can feature high-gloss full-color prints that make memorable impressions. asi/93975
Save the Animals Raise awareness with this magnetic bumper sticker, which is easy to remove and reposition. asi/56950
Defend Yourself The Guardian Angel doubles as a keytag and defensive tool. Ideal for campaigns that raise awareness about violence against women. asi/52263
marketing calendar ••• october 2015
| | | |
| --- | --- | --- |
| | | Plenty of people will be bathing themselves in pink in recognition of Breast Cancer Awareness Month, and that's a worthy cause for businesses to support. But October is also National Stop Bullying Month, perfect for a school-focused and workplace campaign to prevent bullying. Speaking of schools and businesses, it's also Co-op Awareness Month, which is an ideal time to think about working with local students by providing them with real-life work experiences. |
The week of the 4th is National Work From Home Week. Tie it into an employee-appreciation event and see if telecommuting is in your firm's future. October 12-16 is National School Lunch Week. Team up with a local school to see how you can help. Offer logoed lunch boxes, drinkware and other appropriate products. The World Championship Punkin' Chunkin' held in Delaware on the 23-25 is a great time to have a team-building event to see who can toss a pumpkin the furthest.

Throw a nostalgia-themed promotion in October celebrating one of many fun anniversaries. Leave It To Beaver TV Premiere, 4, a family-focused promotion; Launch of Sputnik Anniversary, 4, perfect for space- and science-related promotions.
| | | |
| --- | --- | --- |
| | | Finally, end the month with Halloween festivities. Invite local schoolchildren and hand out logoed trick-or-treat bags and reflective wristbands. Also have costume and pumpkin-decorating contests for employees in all departments. |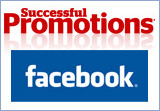 Win $100 & Gain Access to Great Ideas
Sign up now and enjoy The Joe Show, where our very own Joe Haley features cool new promotional product ideas. Access case studies in every industry that showcase the hottest new marketing campaigns. You can even submit your own case studies and be eligible to win a $100 MasterCard gift card. Plus, network with other businesspeople looking to pump up their marketing efforts. Click here to get started today.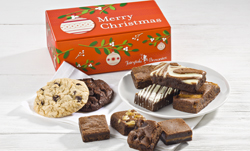 Fairytale Brownies
Christmas Treat Combo FC341
Small gift speaks volumes
Say, "Merry Christmas," loud and clear with this little combo. Snack-size brownies and cookies are tucked inside a vintage-inspired box with festive wishes printed on the lid.
asi/53518


Successful Promotions® is a trademark of the Advertising Specialty Institute. Copyright 2015, ASI. All Rights Reserved.
Advertising Specialty Institute®, 4800 Street Road, Trevose, PA 19053