| | |
| --- | --- |
| promotional products • incentives • corporate gifts • meetings • events | Volume 88 / July 2013 |
SPONSORED BY



Click here to see other new and creative promotional products

No Request Too Looney
The State University of New York's (SUNY) College of Environmental Science and Forestry (ESF) had its work cut out when it took ownership of the Adirondack Interpretive Center (AIC), an outdoor science and educational center, two years ago. "The AIC had no budget or staff. We had to incorporate it into our own educational outreach, using existing budget," says Paul Hai, program coordinator at ESF's Newcomb campus, where AIC is located. He knew some sort of creative fundraising was needed to support this newest addition to SUNY's environmental education and outreach efforts.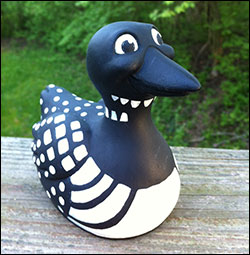 "I wanted to do something different and creative," says Hai. He came up with the idea of a duck race, given the facility's location on a stretch of Rich Lake, which formed a natural racecourse. Two bridges comprised a perfect start and finish line for the race, which would also help commemorate the Adirondacks' history of spring log drives on the lake, which took place annually in the early 1800s to mid-1900s.
Rather than using typical rubber ducks, Hai wanted to float rubber loons, aquatic birds that are a beloved symbol of the Adirondacks. Also, he wanted the loons to be USA-made to further connect the event to the local environment. "Many people come to the Adirondacks just to see the loons," Hai says. He never expected that it would be so difficult to find rubber versions. He was finally able to locate a promotional products company that could supply him with custom-made ducks.
The company delivered 1,000 rubber loons in time for the AIC's maiden "Loon Drive," held last year on Memorial Day. The AIC's second loon drive kicked off summer again this past Memorial Day. "We were extremely happy with the finished product," Hai says. "The loons helped us garner attention as a unique entity and helped to highlight that the AIC has a special mission of education and research. We are a nature center, tied to the local environment, and the loons fit in nicely and added to the uniqueness of the race."
VIDEO

THE JOE SHOW reveals some of the latest products and promotional ideas available in the market today. Click here to see a brand-new edition of The Joe Show.

Sponsored by
Cooler Graphics

Sponsored by
Clegg Promo

Sponsored by
Pepco Promotional
Products





Sponsored by
Pepco Promotional
Products





ADVERTISEMENT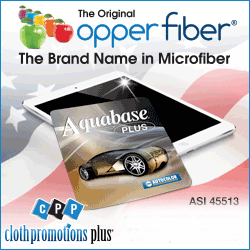 Tell Us How Promo Products Worked For You
We want to hear your success stories on how promotional products played a pivotal role in your business strategy. Do you have a new employee welcome gift program? Have you used promo items in an awareness campaign, product launch or charity event? Let us know and we'll feature your case study in the Successful Promotions newsletter, and you'll also be eligible to win a $100 Visa gift card. Send an e-mail to jchaykin@asicentral.com with a brief description of your case study, and we'll contact you for further details.
Wristbands Improve Fan Experience
The Dallas Mavericks scored big when they partnered with Big PlayAR to offer Mavs fans a new augmented reality (AR) experience on 11 collectible player slap bands.

"In 2011, the year we won the NBA championship, we tied in with Big PlayAR and introduced AR on the front side of our playoff tickets (all four rounds)," says Gina Calvert, corporate communications/community relations director for the Dallas Mavericks. "It was a big success, and fans enjoyed the interactive game tied into their game day ticket. We decided to use it in a collector series of slap bands."

Each Mavs AR slap band was designed with a different Mavs player and was handed out at select home games. All told, the Mavericks gave away 40,000 slap bands to the first 5,000 fans at eight home games. "The Mavs 'Tip-Off' program has staying power because fans are competing throughout the season," says John Robison, CEO of Big PlayAR.

Fans could download the Mavs Tip-Off app and use a smartphone or tablet device to scan the logo located on the front of the slap band. This allowed fans to watch interviews, highlights and previews of the player on their particular slap band. Fans were also able to compete in virtual games with others wearing the slap band to win prizes including home game tickets and autographed player jerseys.

Interested in items that you can use with smartphone apps and other mobile marketing efforts? Contact your ad specialty distributor to help with ideas and the perfect promo products that will make your campaign a success.
Say Hello to the GALAXY... in UNLIMITED FULL-COLOR!
All-In-One has introduced the NEW QuickTurn VibraColor case/cover for Samsung Galaxy S4... one of the top-selling phones in the world!

Advertise your brand with BIG FULL-COLOR imprint, printed in the USA for FAST lead times! Your vibrant, full color art on hard plastic cover, in Unlimited COLORS! Quick Turn with Low 100-pc. min.

From ALL-IN-ONE® • asi/34256.
Pet Products
Pet store owners, vets and groomers take note: The American Pet Products Association estimates that more than $55 billion will be spent on pets this year. Contact your ad specialty distributor to go fetch these promotional pet products.
KEEP A RECORD This pet medical history register makes a great gift for new clients for veterinarians. asi/72240
PET GREETINGS Pet cards are made in the USA and are perfect for any occasion. asi/66653
A WALK IN THE PARK Durable nylon pet leash has heavy-duty clip. asi/54100
KEEP IT CLEAN This pet waste bag dispenser comes with 15 bags and a clip to hook to leash. asi/52710
BEST FRIEND Doggie tennis ball and lanyard is ideal for indoor or outdoor play. asi/30051
PLAY TIME Kitty Boinks are safe, durable "spring-y" tube toys for cats. asi/79698
marketing calendar ••• October 2013
National Field Trip Month
While it's considered a month to recognize the importance of field trips as a learning tool for children, it's also the perfect opportunity for businesses to run a variety of different events. Treat staff members to a day at the zoo as a way to get them out of the office to unwind; it can help spark productivity and creativity. Also, host a field trip for top clients by inviting them to your facility for a fun and informative day. Your distributor partner can help you secure lots of great products to highlight the day.
4
National Diversity Day
Today we take time to recognize and celebrate our differences and what it is that makes us unique. In business we can use what we learn to better serve our clients. Run a campaign via social media to cultivate ideas to implement in the future. Reward all who participate with a nice logoed product.
14-18
National School Lunch Week
Many public schools are cash strapped and could use the help of local businesses. In return, you can take part in molding future employees. Plus, the goodwill you generate within the community will go a long way. You can promote healthy eating by providing activity books and portion control plates. In addition, all students should receive an insulated lunch tote with the school's mascot and your corporate logo emblazoned on it. Call your distributor for more ideas.
31
Halloween
Time to get your local merchants association in gear for a Halloween event for the area children. In addition to handing out candy treats, you can give out reflective buttons, flashlights, glow-in-the-dark trick-or-treat bags and more.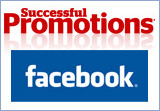 Win $100 & Gain Access to Great Ideas
Sign up now and enjoy The Joe Show, where our very own Joe Haley features cool new promotional product ideas. Access case studies in every industry that showcase the hottest new marketing campaigns. You can even submit your own case studies and be eligible to win a $100 MasterCard gift card. Plus, network with other businesspeople looking to pump up their marketing efforts. Click here to get started today.

The Best Beverage Insulator At The Lowest Price. Fast Delivery Low Minimums! asi/63681


Bug Bands Will Keep The Mosquitoes OFF. No Deet, Safe for Kids, Made in the USA. asi/80345

Diamond Cosmetics offers professional health and beauty products providing companies with high quality cosmetic items for Corporate Sponsors of Women's Events, clothing, shoes & accessory manufacturers, health and medical companies, entertainment industry, media, and many more industries and institutions. asi/49640

Unique color-changing products with highly detailed bright colors that appear in natural sunlight or UV light. asi/36961

Custom Deluxe Bar, Sprite & Cookie Combo CF363X
Send a sampling of enchanting flavors with this combination of snack-size brownies, moist, chewy cookies and buttery bars. Your full-color logo or photo is printed on the gift band. asi/53518

Successful Promotions®  is a trademark of the Advertising Specialty Institute. Copyright 2013, ASI. All Rights Reserved.
Advertising Specialty Institute®, 4800 Street Road, Trevose, PA 19053