| | |
| --- | --- |
| promotional products • incentives • corporate gifts • meetings • events | Volume 76 / July 2012 |

Building Relationships With The Help Of Promo Products
Ubiquitor Inc. acts as the IT department for companies that don't have their own. "Everything we do is at a low, fixed, monthly rate, and we're all-encompassing," says President Doug Grabowski. "It's what I like to call location independence, so our clients can do anything from any place."
ADVERTISEMENT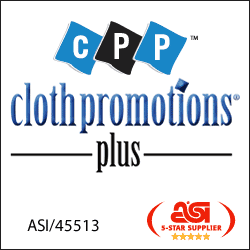 As Grabowski's career has evolved, so has his understanding of the importance of using the right promotional items in the right settings. "What I learned is it's all relationship-driven," he says. "I try to do things with my business that will be lasting and won't have my logo all over it, but while people are using the products, they'll be pleasantly reminded of our company."

Grabowski makes sure to give his customers products that won't be thrown away. For example, he mails every new client a four-gigabyte USB ballpoint pen. "Two weeks into the agreement, they'll get a lumpy envelope in the mail – I'm a big fan of lumpy envelopes," he says. The pen has the company logo on it and is preloaded with all the system tools.

"People really get into it because it's a thicker pen vs. just a normal pen, and they like the idea that we had the forethought to preload it with our system tools," he says. "Those are the types of things that give me positive word-of-mouth."

Grabowski has also utilized high-end pens with clients' names on them for his top customers. "They're all black with a thick barrel. One end has our laser-etched logo, and on the other end, we laser-etch the client's name," he says. Personalizing the pen makes it less likely people will throw it away. "Since it has their name on it, they're prone to use it more than other pens for no other reason than it's got their name on it," he says. "It's expensive, but it's worth it."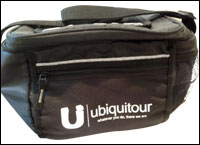 And Ubiquitor's 12-pack cooler bags have been an unexpected hit with clientele, according to Grabowski. "The first holiday that we were in business, I invested in the cooler bags. They were all black and said 'Ubiquitor' on the side," he says. "People really took toward that more than a lot of the other stuff. I got a lot of requests like, 'Can you get one for my wife?,' which I didn't expect coming out of it, but it's really been a nice side effect."
Bottom line: Grabowski has learned that investing in higher-end promotional materials that people use and keep is always worthwhile. "If we take our clients to play golf, we give them a $100 shirt vs. a $10 shirt, or the Titleist golf ball vs. the cheap golf ball," he says. "Trade show junkie guys walking around with their little bags trying to get all the free stuff – there's really no relationship there. It's a favorite thing of mine to do the unexpected."
VIDEO

THE JOE SHOW reveals some of the latest products and promotional ideas available in the market today. Click here to see a brand-new edition of The Joe Show.

Sponsored by
Promo Matting

Sponsored by
365 Source Custom World





Sponsored by
Vitronic Promotional Group

Sponsored by
Promo Matting

Sponsored by
Clothpromotions Plus

Sponsored by
365 Source Custom World
ADVERTISEMENT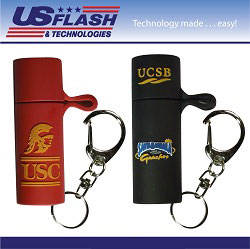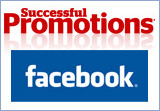 Win $100 & Gain Access to Great Ideas
Sign up now and enjoy The Joe Show, where our very own Joe Haley features cool new promotional product ideas. Access case studies in every industry that showcase the hottest new marketing campaigns. You can even submit your own case studies and be eligible to win a $100 MasterCard gift card. Plus, network with other businesspeople looking to pump up their marketing efforts. Click here to get started today.
Mugs Attract Support For Outreach Program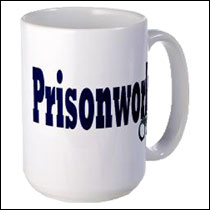 Founded in 2007, Prisonworld is a publication that's dedicated to prisoners and their families and friends. "It's a new and enlightened form of entertainment, bringing information to an uninformed, and pretty much uneducated society," says Jenny Triplett, co-founder of Prisonworld and co-owner of Dawah International. Dawah is a family-owned multimedia company that encompasses various forms of media, including print, audio, blogs, e-mail marketing, merchandise marketing, social media marketing and charitable efforts.
Promotional products have played a big role in helping to spread the word about the organization and its publication. Triplett, who also hosts a weekly radio show for Prisonworld, says there are many reasons the company invests in promo items. The first is fundraising. "Most people cannot fathom prison, but many wonder how they can help. Purchase a product, and the profits go to prison outreach," she says.

Other reasons include brand marketing and promotional marketing. "We can use the magazine and its content in blog posts, speaking engagements, Facebook fan page giveaways, radio promotions, etc.," she says. Also, for gifts, since "most corporate companies have swag bags for events, and we can offer something for those who are accepting," Triplett says.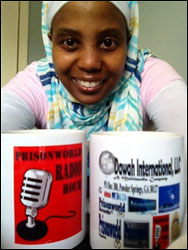 Recently, the company attracted a lot of positive attention by using promotional mugs. "We have a radio-themed mug, and a general Prisonworld mug," she says. "I'm a collector of mugs, and most places I go, I'll pick up a mug; we found that other people are interested in the same thing. It's a very popular product."
Triplett says she used mugs to boost Prisonworld's Facebook fan page. "I think it was at 800 Likes that we said that if we got to 1,000, we'd give away a mug, and if we got to 1,500, we'd give away another mug," she says. The mugs were so popular that people actually purchased them. All proceeds went to prison outreach. Mugs were also used for a recent fundraising event.
Prisonworld is about to celebrate its fifth anniversary, and promotional items have become an integral part of its continued success. "We didn't know what was going to happen, and it's just taken off and blossomed greatly," Triplett says.
A pink polar bear?

Check out the Brand Gear™ Coolest™ Lunch Bag & 6-Pack+ Cooler, available in 26 eye-catching colors!

Made of 50% recycled, durable 600 denier polyester PVC, this insulated bag keeps your lunch & drinks fresh and cool, with reflective insulation and zipper top.

VibraColor imprints are now also available, to showcase your logo in beautiful four-color process!

From ALL-IN-ONE® • asi/34256.
  
Promote your brand with a custom cell phone, iPod, Ipad, or laptop skin. Custom 4-color process skins are printed on a durable 3M vinyl and precisely cut to fit the contours and buttons of the selected device(s). Made in the USA, production 5-business days.

CFS Promotions for Now!
Incentive Travel
It's time to reward your superstar employees with an awe-inspiring incentive trip to an unforgettable getaway – and make sure promo products are part of the mix. These showcase items can help top performers remember the experience.
TOP PERFORMER Before the trip, give star employees this leather getaway bag to carry their belongings. It has café accents, a fully lined interior, pockets, detachable shoulder strap and bottom feet, and it comes in blue, green and pink. asi/45335
TAG ALONG Naturally, they'll need luggage tags. This one is made with fluorescent acrylic, and its laser-cut edges appear to glow when illuminated by light. Business-card-size ID card is placed in vinyl pocket on back of each tag. Bag strap included. asi/30985
CARD HOLDER This ID/passport case features a clear slot on front for ID or business cards, as well as a clear pocket on back for passport or auto insurance card. Available in black, navy and burgundy. asi/94770
HAVE A LOOK To see all the sights on this once-in-a-lifetime trip, gift them with these binoculars which feature 30-mm lenses, 4X magnifying power, rubber-coated grips and rubber eye cups for comfort. Comes with black nylon carrying case with belt loop and lens cleaning cloth. asi/43442
FLASH FORWARD Employees will want to snap photos of this special travel event and will appreciate this disposable camera with custom full-color wrap, 27 exposures and built-in flash. asi/49727
NEVER FORGET After the trip, give this rectangular slate award as a keepsake to remind them of the special event. Handcrafted with four-color process imprint, its supports are included with each award to allow for easy display. asi/68507
marketing calendar ••• OCTOBER 2012
It's the Little Things That Matter Month
As cliché as it is, sometimes it is the little things that matter most. But, often we're too harried to stop and notice those things, let alone recognize them in a public setting. This month is the perfect time to run an employee recognition program that rewards people not for the biggest sale but for delivering the mail, or unjamming the copier or retrieving a lost document. While those tasks might appear mundane, someone will certainly appreciate the effort. Your distributor can help you develop a program where employees can recognize each other with logoed products, both small and practical, like Post-it notes, and larger and decorative, like plaques and awards.
5
Lee National Denim Day
Since 1996, Lee Jeans has been inviting teams, schools and companies to participate in Lee National Denim Day. The organization has raised over $80 million for breast cancer research and treatment programs. Having your company participate in Lee National Denim Day is a great way to raise money for the Women's Cancer Programs of EIF. Allow employees to wear denim to work for a $5 donation (collected upon arrival to work). To thank them for their donation, participants can receive a breast cancer awareness ribbon-shaped stress reliever.
15
National Cake Decorating Day
Have a cake decorating contest at the office for employees. Also, having teams can make a great bonding experience. Supply aprons complete with your logo that the participants can take home! The winners can also receive imprinted jackets or sweatshirts to remind them of their amazing cake decorating win. Your distributor is just the person to help you with colors, sizes and fits to make sure everything runs smoothly on contest day.
31
Halloween
Time to be a good corporate citizen by providing the local community with bright-colored trick-or-treat bags, as well as reflective zipper pulls, bracelets and stickers. This gesture will insure that the kids in town will be better seen at night. In addition, local merchants can have a special trick-or-treat night where the kids not only get candy, but logoed products like pencils, pens, rulers and other school supplies.
Solve This Dilemma
Every month, Successful Promotions launches a new contest where we ask you, our readers and Facebook fans, for your most creative ideas for solving businesses' dilemmas. Each entry should be 50 words or less, and a promotional product must be part of the solution to the challenge. Send all entries to jhaley@asicentral.com by the specified deadline in order to qualify for a free gift. Winners will be randomly selected from all entries.
Soar To New Heights. A local airfield is home to a company that provides bi-plane rides and glider rides. It's about to celebrate its 25th year in business and is setting out to have a big weekend bash. The challenge is to get people to come to the event and then eventually pay to take a flight. What can be used as an invitation to the event, and what free gift can be given to those who sign up for a flight? Send your best ideas to jhaley@asicentral.com by August 12, 2012.

Create A Well Polished Awareness Campaign. We have shades for every cause. Customized packaging to fit your client's budget. One color direct imprint included in price. All products made in USA. Production time 6-8 weeks. asi/49640 * PPAI 319488 *SAGE 68050 UPIC #Diamond1.

Free Shipping plus Next Column Pricing Limited Time Only July is your month for great savings! Thousands of distributors can't be wrong! asi/62088

Your fans will love this schedule magnet! With the fun football shape and your favorite pro team schedule, it's sure to catch and keep their attention all season long. asi/68507

Eco-friendly laser engraved bamboo cutting board. Great for gifts, Christmas, and self promos. asi/30236

Armitron watches by Castle Merchandising
Custom logo imprinting on dials, and caseback engraving services. Great for corporate gifts and awards, incentives, event prizes, and much more.
Quality product and excellent service, we'd be glad to quote your next project. asi/44315

Who framed your logo? We did...with 44 delicious chocolate squares stacked in two layers. Choose from a Holiday or Thank You motif or design your own outer squares to complement your custom 4" x 6" centerpiece. Net wt. 16 oz. asi/44897

Available in Aqua, Clear, Purple, Pink, and Orange; the Slide Lid Carnival Cup is double walled and BPA Free. The top lid slides to reveal the sipping straw. With a 16 oz. capacity, this is perfect for those on the go!! asi/71920

Discover what makes us unique among all the wineries of the world! When you serve or give a wine with your name on the label, our long tradition of highest quality and greatest value says a lot about you. asi/97278

SailorBags offers stylish, yet practical, sailcloth products. Whether you need something to use at conferences, give as client or employee appreciation gifts, distribute at sporting events, or use as incentive prizes - we have something for everyone on your list. asi/84293

Custom Keepsake Tin Dozen KT112
When you need a tasteful thank-you gift, send one they will remember. Full-color logo printed on lid; gift includes individually-wrapped gourmet brownies in 12 flavors and personalized gift card. Kosher asi/53518

Spice up your travels with custom branded Footzyfolds. Use our established product to help expose your brand to new customers while on-the-go. The foldable shoe can be customized with your brand name on bags, packaging, or the insole of the Footzyfolds itself. asi/54915

Dancing Deer Baking Co.'s Brownie & Cookie Medley pairs 16 classic Chocolate Chip cookies with 8 rich and fudgy Caramel Pecan Brownies. This perennial best selling gift set comes in several packaging choices. Ask about customization options. All products are all natural and certified Kosher. asi/48310

Let your logo sparkle inside this beveled Optical Crystal Keychain with Heavy Duty Chrome Hardware. Arrives packaged in Gift Box and is available in 10 styles! GW Crystal asi/55609

These handsome boxed gift sets feature a wine bottle opener corkscrew and a wine stopper - an ideal and practical gift for any wine connoisseur. Whether your company is celebrating a corporate milestone or a successful product launch, the recipient of this gift set will sure feel appreciated. asi/78150

Free Embossing on iPhone/iPad Cases, No Set up charge, & Up to 65% off w/low Minimums. SENA CASES, the leader in premium leather handcrafted luxury cases is the perfect fit for corporate gifts and promos with 5 day turn time. asi/86389

Crazy Low Pricing, superb quality and fast turnaround on our custom lapel pins. asi/62088

Corporate gifting? Our specialty. Family owned for 15 yrs, we ship the world over, and we're extremely fast. Our client list includes countless companies, celebrities, athletes, and 168,000 private individuals. Gifting made fast and easy! asi/44366 ppai/263595 SAGE/67208 UPIC/CELLARS

The Golfer's Buddy makes a unique and affordable promotional gift or tournament tee prize. Our patented auxiliary golf bag stands up in the fairway or beside the green. TGB keeps your grips clean & dry and there's no bending over to pick up your clubs. asi/57694

Gourmet Sea Salt Collection – 6 Tube
A selection of some of the world's finest sea salts showcased in a handcrafted wooden base made from recycled lumber.asi/88719

The leather Money Clip from Rustico is handmade with high quality leather and is 2.75" x 4.75" in size. It has a sleek machine stitching, an interior and exterior sleeve holding up to 3 cards each and a subtle interior cash pin to keep your money secure. asi/84264

Successful Promotions®  is a trademark of the Advertising Specialty Institute. Copyright 2012, ASI. All Rights Reserved.
Advertising Specialty Institute®, 4800 Street Road, Trevose, PA 19053