| | |
| --- | --- |
|   |  BECOME OUR FACEBOOK FAN  |
Win $100 & Gain Access to Great Ideas
Successful Promotions magazine now has a Facebook fan page! Sign up now, and enjoy The Joe Show, where our very own Joe Haley showcases cool new promotional product ideas. While you're there, access case studies in every industry that showcase the hottest new marketing campaigns. You can even submit your own case studies and be eligible to win a $100 American Express gift card. Plus, network with other businesspeople looking to pump up their marketing efforts. Click here to get started today.
| | |
| --- | --- |
|   |  SUCCESSFUL PROMOTIONS CONTEST |
ADVERTISEMENT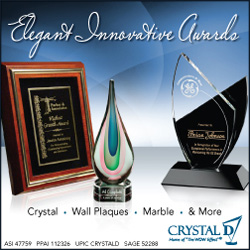 Every week Successful Promotions will launch a new contest where we ask you, our readers and Facebook fans, for your most creative ideas for solving businesses dilemmas. Each entry should be 50 words or less and a promotional product must be part of the solution to the weekly challenge. Send all entries to jhaley@asicentral.com by the specified deadline in order to qualify for a free gift. Winners will be selected randomly from all entries.
Week 1 Contest: From July 21 to July 25
Working On Labor Day. A local community group has organized a Labor Day clean-up campaign for the local parks. Volunteers range in ages from 16 to 65. Organizers want to recognize everyone with an imprinted product but are stumped. Help.
Week 2 Contest: From July 26 to August 1
Ride For The Kids. Rebel Riders is hosting its annual 50K bike ride to raise money for a local children's hospital. Participants are given a bag of brochures and promotional products at registration and the organizers are looking for new and cool products that tie into bike riding and/or the hospital to put in the bag. What are your best ideas? 
Week 3 Contest: From August 2 to August 8
Plug In To Retail. A new electronics store is about to celebrate its grand opening. It's looking for as much foot traffic and media attention as possible. What can they do to ensure a successful event?
Week 4 Contest: From August 9 to August 15
Keeping Parents In The Loop. Before the beginning of the school year, a local district wants to find an imprinted product that includes all pertinent school info, phone numbers, mascot, sports schedules, etc. The product is for all parents and it needs to be ready for the first PTA meeting being held on the second Tuesday of October. Any ideas on what they can use?
| | |
| --- | --- |
|   |  THE JOE SHOW: HOT NEW PRODUCTS |
The Joe Show is a weekly video program where Managing Editor Joe Haley presents and demonstrates a variety of ad specialty products. He also offers useful tips and information on how they can be used in ad campaigns and other promotions. This collection features new products being offered by your distributor partner.

Click here to see a brand-new edition of The Joe Show.
| | |
| --- | --- |
|   |  SPIRITED BEVERAGE PROMOTION |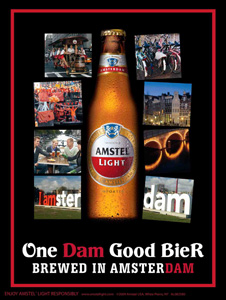 Amstel Light Unlocks a Little Amsterdam
Want to know what the Netherlands taste like? Then drink an Amstel Light. But, rather than just rely on taste, the popular imported beer attacked drinkers' other senses, like sight and touch, with a bevy of ad specialties.
Its "Unlock the Taste of Amsterdam" promotional effort centered around a national under-the-cap sweepstakes. Consumers could visit www.amstellight.com to enter codes that could win a variety of prizes, including 10 Amsterdammer bicycles and a trip to Holland.
The effort, which ties in with its "One Dam Good Bier" advertising campaign, was brought to life in the sales channel via a separate "Win an Amstel Light Experience in Amsterdam" giveaway. People purchasing the product in liquor and convenience stores were invited to enter to win the trip and other prizes, including Ogio backpacks and bicycles. A mail-in offer for a "One Dam Good Bier" T-shirt was included. Pole-topper displays, price cards and other point-of-sale materials promoted the effort.
A similar offer appeared in grocery stores, with cross-merchandising offers including Dutch-inspired recipes from Chef Jake Linzinmeir. Materials encouraged shoppers to "whip up a little progressive Amsterdam spirit" at their next party.
"For Amstel Light, we leverage promotional materials to help drive consumer awareness for the brand long after they have left the event or venue," says Kheri Holland Tillman, vice president of marketing for Amstel Light. "It is critical that all of our communications reflect the brand's premium quality and the spirit of Amsterdam – the city in which Amstel Light is brewed."
Check out the Shopping List below for some great promo product ideas.
| | |
| --- | --- |
|   |  CLEVER PRODUCT CAMPAIGN |

Axe Hops to it With its Latest Press Promo
A 20-pound yellow, Greystripe-branded pogo stick arrived recently at the desks of select journalists and influencers. Why? To commemorate the launch of the first pogo stick game for the iPhone, compliments of Axe. The not-so-subtle maker of men's body spray and other personal products was looking for a little attention for its Pogo Xtreme by Axe game with this big promotional product. Greystripe, which created the game along with WildTangent, took the liberty of reaching out to the press with the pogo stick and a note that read: "Why was a giant pogo stick delivered to your office? It's not an environmentally friendly way of getting to work in the morning. Duuude! Pogo to work day!"
The note goes on to explain that the toy is a way to get a sense of the new game. Points are gained by completing tricks across six levels and collecting cans of Axe. Those with enough cans will be able to achieve the ultimate "double pits to chesty move." Players are rewarded with "extra special lady treatment at the end of each level." The game is available for free at the Apple App Store and as a Web-based flash game.
Vijay Chattha of AppLaunch PR says, "Greystripe and Axe are known for innovative marketing approaches to reach people in new ways. We wanted to extend that philosophy in our way of reaching the media for this campaign. Essentially, when everyone gets 1,000 e-mails per day, why not go contrarian and send a 20-pound pogo stick? That's more for everyone and communicates the game better than a press release."
Contact your ad specialty distributor for more information on the products below.
| | |
| --- | --- |
|   |  PRODUCT SPOTLIGHT |
asi/42989 Custom Skin Cards
Customize your iPod, cell phone or laptop by selecting from 1000s of top sports, entertainment or collegiate branded skins, or by uploading your own picture. 
| | |
| --- | --- |
| |  SHOPPING LIST |
| | | |
| --- | --- | --- |
| PINT-SIZE The perfect giveaway for restaurant and bar openings, this compressed T-shirt package includes a screen-printed 100% cotton shirt, full-color insert card and biodegradable shrinkwrap. asi/31940 |   | FILL TO THE BRIM Another great item for bars and restaurants is this pitcher, which come in a variety of styles and ounce measurements. Provides ample room for advertising. asi/79933 |
|   |   |   |
| NAME THAT SHAPE  In addition to the T-shirt and pitcher, make sure to include coasters to protect bar surfaces. They come in a variety of shapes to suit any business, including Sport Coasters with punch-out games. asi/45540 |   | TOOL TIME It's time to plan those tailgate parties, and one must-have item is this eight-piece portable BBQ set. It includes a stainless-steel spatula, fork, tongs, basting brush and four skewers all with hardwood handles. asi/63344 |
|   |   |   |
| CHEESE HEADS Give your top reps a nice party item like this natural clamshell-style case. It includes four stainless-steel cheese utensils with bamboo handles. The closed cover doubles as a cutting board. asi/63344 |   | BAG DINNER Say thanks to a favorite vendor by giving this authentic Italian dinner pack. It includes pasta sauce, pasta and everything else needed for a home-cooked meal. asi/57926 |
Successful Promotions® Trend Report™  is a trademark of the Advertising Specialty Institute. Copyright 2010, ASI. All Rights Reserved.
If you'd like us to send Successful Promotions Trend Report FREE to your colleague, click here and complete the online form.
Click here to subscribe to Successful Promotions® magazine. The publisher has a right to refuse subscriptions to non-qualified subscribers.
Advertising Specialty Institute®, 4800 Street Road, Trevose, PA 19053