| | |
| --- | --- |
| |  Winning Web Site Launch |
ADVERTISEMENT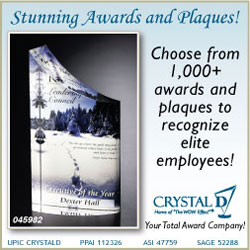 Fishing Web Site Hooks Users with Postcard
Bodies of water aren't the only place you'll find fishing and boating enthusiasts, now that the Recreational Boating & Fishing Foundation (RBFF) has its own online community, Fishington, at www.takemefishing.org. When the site launched recently, the promoters used postcards to lure in potential users.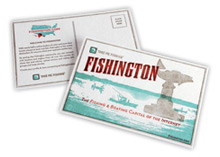 "Since the postcards were going to a special, influential group of beta testers for the site, we wanted the postcards to feel special and invitation-like, which is why high-quality letterpress was used," says Mike Caguin, executive creative director at Colle+McVoy, the Minneapolis-based agency that worked on the campaign. "The online community and Web site are also considered a new, special destination. Therefore, we designed the postcards to mimic classic tourism postcards that celebrate travel destinations."
The team at Colle+McVoy designed a fishing-village scene for the cards. The front copy reads, "Take me fishing. Fishington, the fishing and boating capital of the Internet," and the back invites recipients to check out the Web site. The cards were sent to key stakeholders of the RBFF, such as state Department of Natural Resources officials, boating manufacturers, fishing gear manufacturers, etc.
The mailing definitely caught the attention of the groups the RBFF was angling for. "The client response was overwhelmingly positive and supportive," Caguin says. "Visitors to the site are helping to populate content on the site, since it allows users to add anything boating and fishing related."
Catch some hot ideas in the SHOPPING LIST below.
| | |
| --- | --- |
| |  Super Summer Promotion |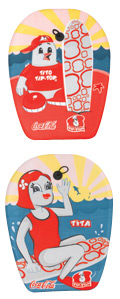 Boogie Fever Hits Nicaraguan Restaurant Chain
Who says a restaurant meal promotion has to fit in the container the meal comes in? Definitely not Tip Top, a Nicaraguan-based chain focused mostly on chicken offerings. Just in time for the start of the summer, the chain offered boogie boards as a purchase-with-purchase promotion, co-sponsored by Coca-Cola.
"Once per year, Tip Top launches a summer promotion using a self-liquidator giveaway," says Angel Morales, managing director for C3i, the kids' marketing agency behind the boogie boards. "This is typically an item that is destined to create traffic and generate sales of a specific combo meal."
In this case, when a customer bought a family-size combo that included 12 pieces of chicken, rolls, fries and a two-liter bottle of Coke, they could also get the board for less than $5 U.S. Tip Top promoted the offer on TV commercials, on their Web site and in restaurants.
Given the global economic squeeze, recouping the investment on the boogie boards was a bit of a concern, but it turned out to be a non-issue.
"They ran out of all the boogie boards," Morales says. "Customers were happy that Tip Top was able to offer such a large/useful item while keeping the combo-meal price down. All of this translates to adding high perceived value to the brand and to the promotion."
| | |
| --- | --- |
| |  SHOPPING LIST |
| | | |
| --- | --- | --- |
| TUNDRA TOTE Stop using plastic bags and get on board with eco-friendly products with this reusable and recyclable non-woven tote bag with a plastic bottom for added support. Available from asi/30270. |   | CHALK IT UP  Promote kids' need to have fun and be creative. An easy way to do this is to hand out a 12-pack of non-toxic sidewalk chalk. These chalk sticks feature assorted colors. Available from asi/68670. |
|   |   |   |
| ECO-FRAME Made from 100% recycled material, this frame features a distressed Mountain Honey finish with a flat border for screen printing or laser engraving, perfect for capturing memorable moments. Comes in four standard and custom sizes. Available from asi/68920. |   | PLAY TIME Sales reps would appreciate some time to unwind and de-stress. One way to do that is with an executive game like this brushed-aluminum tic-tac-toe set. It features one location laser engraving on case lid. Available from asi/79903. |
|   |   |   |
| CUTE CAMO Need an idea for an outdoorsy-type promotion? Try this USA-made, camouflage tank top. Constructed of 50% cotton/50% polyester with double-needle hemmed collar and armholes, it comes in woodland, desert or sky blue – either ribbed or without ribs. Available from asi/59490. |   | STAY COOL This double-wall stainless-steel water bottle with carabiner is an ideal product to give out at benefit walks, fishing derbies or any outdoor event. It features a wrap-around jean design and 2.5" x 2" imprint area. Available from asi/40261. |
Successful Promotions® Trend Report™  is a trademark of the Advertising Specialty Institute. You were sent this newsletter as a benefit of your ASI membership. Copyright 2009, ASI. All Rights Reserved. 
If you'd like us to send Successful Promotions Trend Report FREE to anyone else at your company (or to your off-site sales reps), go to www.asicentral.com/newsletters and complete the online form.
Click here to subscribe to Successful Promotions® magazine. You must be a member of ASI to subscribe to this publication. The publisher has a right to refuse subscriptions to non-members.
Advertising Specialty Institute®, 4800 Street Road, Trevose, PA 19053