| | |
| --- | --- |
| promotional products • incentives • corporate gifts • meetings • events | Volume 106 / January 21, 2015 |
| | |
| --- | --- |
| Click here to see other new and creative promotional products | |

ADVERTISEMENT

Red Dress Pin Works As Powerful Reminder


The Heart Truth hosts its annual Red Dress Collection Fashion Show during New York's Fashion Week each February to warn women of their number-one killer. The show is always a huge success with thousands of attendees, many notable celebrities, media personalities and fashion designers, and the event gets a boost with the effective use of branding elements.

The Heart Truth created and introduced the Red Dress as the national symbol for women and heart disease awareness in 2002, and each year at the fashion show, the hype and enthusiasm is tangible.

Diet Coke sponsored the show, and its national promotional partner provided the branding. Banners and signs displaying the brand's support of the Heart Truth could be seen throughout the venue, complete with spokespeople and reporters, all donning their brightest red garments.

Brochures, pamphlets and other educational materials were handed out to attendees as well as the iconic Red Dress pin. According to Mariana Eberle-Blaylock, account director of social marketing at Ogilvy Washington, the Red Dress pin has become the organization's staple promotional product throughout the years.


"We give away pins at different campaigns year-round, but the fashion show is a big night for us," Eberle-Blaylock says. "Each attendee gets a Red Dress pin and we always secure it to a postcard that lists facts and messages about heart disease. We change the messages to fit our audiences because every race faces different risks."

Eberle-Blaylock notes that they translate all the materials into Spanish (heart disease hits Hispanic women especially hard). "The message is always customized to the audience, but the colors and symbols are the same in order to keep our Heart Truth brand consistent," she says.

Show attendees also received goodie bags of Diet Coke-branded products including a notebook, a straw and a bottle of the famous carbonated soft drink designed specifically for its partnership with the Heart Truth.

Although February is donned Heart Health Month, the National Heart, Lung and Blood Institute outreach continues throughout the year with social marketing campaigns and events. Red Dress pins, DVDs, cookbooks, fact sheets, posters and other marketing materials are distributed to communities worldwide and the organization grows every year with new partnerships and campaigns.
VIDEO

THE JOE SHOW reveals some of the latest products and promotional ideas available in the market today. Click here to see a brand-new edition of The Joe Show.







Tell Us How Promo Products Worked For You
We want to hear your success stories on how promotional products played a pivotal role in your business strategy. Do you have a new employee welcome gift program? Have you used promo items in an awareness campaign, product launch or charity event? Let us know and we'll feature your case study in the Successful Promotions newsletter, and you'll also be eligible to win a $100 Visa gift card. Send an e-mail to jchaykin@asicentral.com with a brief description of your case study, and we'll contact you for further details.
Promo Products Are Perfect Partners For IT Firm

Back Bay Networks, an IT consulting firm, regularly employs promotional products in its marketing efforts. "We have been sending fun toys or funny products – along with an info sheet – to companies just to have them pick it up, see our logo and remember us in the future if they have computer problems," says Jake Lang, business development and marketing coordinator.
The giveaways serve as a conversation starter. "They have definitely received interest and helped us build our potential client list," says Lang.
The price point varies depending on the type of client. Since Back Bay is an IT service company, it has a lower volume of clients but a high- and long-term profit margin, as the majority of its customers purchase yearly service contracts. "In our case, we believe the extra expense for customized marketing is worth the money to obtain a multi-year customer," he says.
The company's biggest success to date came from a local soccer club. "We had worked with them in the past, but when they realized our increased marketing initiatives, they reached out to us and offered us an incredible deal – to become their official IT partner," Lang says. Back Bay got advertising rights throughout all of the soccer club's facilities and events, including promotional ceiling banners, indoor soccer wall boards and an entire indoor soccer goal wrap in return for a discounted IT service rate.
"This new partnership put us in contact with a number of new clients and thousands of potential clients," he says. "This one partnership will easily cover the expenses of running the promotional campaign."
Some of Back Bay's giveaways that have been particularly well received include a Rubix Cube with the company's logo replacing the white squares, and a note that reads, "If your computer issues are tougher than this Rubix Cube, give us a call." Back Bay also has sent out "Boogie Bots," logoed dancing robots. "This usually gets some laughs and a phone call or email saying 'thanks,'" Lang says.
Another popular giveaway was a Magic 8 Ball with the company logo and a note, "Ask the magic IT ball about your IT issues. And if that doesn't work, give us a call because we have the answer."
The company attends a lot of trade shows and local town events, and brings along promotional materials like pens, key chains, bottle openers, flash drives, water bottles and T-shirts to hand out to potential clients.
Make sure to partner with your ad specialty distributor for help procuring promotional items and great ideas for your next event or marketing campaign.
The Orbit Infuser #ORBINF

The Orbit Infuser #ORBINF is the newest addition to our Orbit Family! This BPA Free tumbler is 24oz and is double wall insulated and made of acrylic. A lid and infuser is included in color of choice. Colors are: aqua, black, blue, lime, orange, purple and red. This tumbler will fit into most car drink holders. Perfect for the health conscious crowd and people who are on the go.

Crown • ASI 47700
Helping Hands

Our A448 Hometown Helpers are the perfect bags for showing community spirit. Made from 210D polyester, these sport packs feature exclusive copyrighted designs and fun 3-dimensional features. Our helpers include a doctor, policeman, nurse, fireman and dentist.

Vitronic Promotional Group • asi/93990
Toys & Fun Items
The size of the global toy industry is more than $84 billion – a fact that suggests there's a strong market for branded toys like stuffed animals, games, and light-up products. Why not show off your fun side and incorporate a unique toy into your next campaign. Contact your distributor for information.
Frequent Flyer Keep your marketing campaign flying high with this USA-made 9" Frequent Flyer. Available in 20 colors. Adheres to CPSIA guidelines. Ideal for bookstores, gift shops and fundraisers. asi/52840
Monkey Business Monkey around with the monkey ball stress reliever. Great for zoos and wildlife fundraisers. Safety tested. Not intended for children under 3-years-old or for pets. asi/36730
Beach Party Measuring 15'' this ball includes a no-leak valve allowing you to play games in pools or the ocean! This is the perfect item for pool supply stores, beach parties or any promotional event. Comes in a variety of colors. asi/66224
Little Links Be the talk of your office with the Par 3 Golf desktop golf game. Includes mini putter, ball and felt putting green with flag stick. Make your set complete by adding a personal message, business name or logo. asi/66887
Fan The Fun The LED light-up handheld fan works with the simple press of a switch. The fan blades produce a colorful lightshow. Perfect for concerts, sporting events and outdoor activities. AA batteries included and installed. asi/42016
Sound Check This 10" plastic toy microphone looks realistic and is a fun way to promote your music-related business, a karaoke night or as a handout to announce a company-wide talent show. asi/44888
marketing calendar ••• April 2015
National Card & Letter Writing Month
The handwritten note is a dying art, but it needn't be. Most people appreciate a letter that was written by hand over an email. This is an ideal time to get back into the habit of writing clients notes and letters, and your distributor partner can help you secure customized greeting cards. You can jot notes about a number of things, including your customer appreciation, future business, current business, etc. Cards should be sent from company executives, as well as from sales reps and customer service reps.
7
National Beer Day
Benjamin Franklin said that beer was proof that God wanted us to be happy. Today is the perfect promotional day for craft breweries, bars, pubs and for anyone who loves a sudsy brew. And there are a number of great promotional items to brand with a logo: steins, mugs, growlers, beer coolers, can wraps, bottle openers and more.
17
Blah Blah Blah Day
No matter what you want to celebrate, today's your day. Grand opening? Done. New product release? Yes! Customer appreciation? Absolutely. Work with your distributor partner who will not only help you define your celebration, but will also help you pick the best promo product for the event/campaign.
22
Earth Day
Celebrations will be held locally all over the country and your firm can get involved. Set up a booth at a local event to let people know about how you've gone "green." Or have an open house for the community and customers so they can see firsthand what the organization is doing to lessen its carbon footprint. Talk to your distributor to find the best eco-friendly promo products around.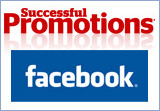 Win $100 & Gain Access to Great Ideas
Sign up now and enjoy The Joe Show, where our very own Joe Haley features cool new promotional product ideas. Access case studies in every industry that showcase the hottest new marketing campaigns. You can even submit your own case studies and be eligible to win a $100 MasterCard gift card. Plus, network with other businesspeople looking to pump up their marketing efforts. Click here to get started today.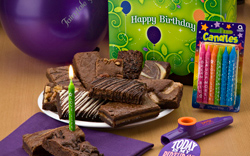 Fairytale Brownies Birthday Surprise CB272. Celebrate Their Special Day! Instant party! Twelve mouthwatering flavors of brownies are packed with balloons, a kazoo, candles and a birthday button in a gift box wrapped with a Birthday band. Great employee gift! asi/53518


Successful Promotions® is a trademark of the Advertising Specialty Institute. Copyright 2015, ASI. All Rights Reserved.
Advertising Specialty Institute®, 4800 Street Road, Trevose, PA 19053