| | |
| --- | --- |
| promotional products • incentives • corporate gifts • meetings • events | Volume 94 / January 2014 |
SPONSORED BY



Click here to see other new and creative promotional products

Caped Crusade at Comic-Con
Warner Bros. Entertainment was flying high at the San Diego Comic-Con (SDCC) last summer, when it gave away branded backpacks with a detachable cape that allowed every attendee at the convention to be a superhero. It was the "must-have" accessory of the show, and fans with capes bearing titles from the media monolith's TV, motion picture and animated movie offerings could be spotted throughout the convention center.

"Con is a huge showcase for us. It's the one time where Warner Bros. TV is front and center with the fans and with our brands," says Lisa Gregorian, chief marketing officer of Warner Bros. Television Group. "At Comic- Con, we all stand together and the entire company is represented – the power of the shield."

SDCC is the world's largest gathering of pop culture fans under one roof, a four-day event that draws some 150,000 passionate fans of a wide variety of pop culture mediums. Many of the attendees show their enthusiasm for the event by wearing costumes honoring their favorite characters of comic books, movies and TV series.

Warner Bros. has been making the official Comic-Con bag since 2008, and its booth at the convention sparks a frenzy of fans. "We give away the bags as a thank you to our fans," says Gregorian. "There is always complete insanity at our booth." Fans use the Warner Bros. bags to tote all the swag and licensed merchandise they pick up at the convention. Over 130,000 bags were distributed at last year's convention.

Each year, Warner Bros. offers something unique. Last year, it changed its bag style to a backpack, to make it easier to carry. Gregorian has been lobbying for a cape for years, and finally, at the 2013 SDCC she got her wish. The capes, which were easily detached from the backpacks, were a big hit.

Each of the backpacks featured double-sided artwork: One side carried the official Comic-Con design, and the other showcased titles from the Warner Bros. entertainment stable. Warner Bros. usually offers 10 designs per convention, and incorporates all of the company's divisions, including DC Comics, WB Gaming, Theatrical and Television, says Gregorian. The planning process for the artwork and the bag starts about 8 months ahead of SDCC, held annually in June.

Gregorian estimates some 40% of convention goers of all ages were wearing the capes. "We know it's a hit when our stuff ends up on eBay," she says. There is also an active aftermarket for the bags, as fans trade among themselves to get the show or movie they follow. Attendees were tweeting each other, seeking to trade bags. Some of the stars of the Warner Bros. shows were tweeting links to the bags. When Warner Bros. posted the cape backpacks on its "Media To Go" press site, they got so much traffic the site went down for a half hour.

The company also distributed a host of other products at Comic Con, including T-shirts, hats, books, masks, figurines, iPhone covers and medallions, as well as nearly 40,000 branded hotel key cards that provided Warner Bros. TV points of interest to the top hotels in the area.
VIDEO

THE JOE SHOW reveals some of the latest products and promotional ideas available in the market today. Click here to see a brand-new edition of The Joe Show.
















ADVERTISEMENT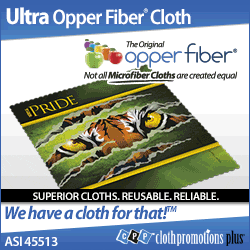 Tell Us How Promo Products Worked For You
We want to hear your success stories on how promotional products played a pivotal role in your business strategy. Do you have a new employee welcome gift program? Have you used promo items in an awareness campaign, product launch or charity event? Let us know and we'll feature your case study in the Successful Promotions newsletter, and you'll also be eligible to win a $100 Visa gift card. Send an e-mail to jchaykin@asicentral.com with a brief description of your case study, and we'll contact you for further details.
Shirts & Selfies Spark Interest In CRM Firm
Customer relationship management firm SugarCRM produced a fun "disruptive" campaign for Dreamforce, the biggest cloud computing event of the year, which took place at the Moscone Center in San Francisco in November. The program, named Escape Dreamforce, promoted its CRM tool for businesses, and an Escape from Dreamforce sweepstakes offered a chance to win a $5,000 Hawaiian vacation.
In addition to taxi-top ads and mobile banners, SugarCRM street teams engaged with Dreamforce attendees, distributing SugarCRM T-shirts and encouraging everyone to tweet a "selfie" with #SugarSelfie and #DF13 while wearing the shirt. Those without a SugarCRM shirt could create their own shirt or sign. Dreamforce participants could win additional on-the-spot prizes if seen wearing their SugarCRM shirt during the conference.
"Escape from Dreamforce is a great opportunity for attendees to take a break from the convention's packed schedule and share a selfie with their friends," says Jennifer Stagnaro, senior vice president of marketing with SugarCRM. "We're focused on the individual. This fun campaign provokes individuals to think about CRM from their perspective: 'This is How I CRM.'"
There were 4,000 T-shirts, 14 street team members and one SugarCRM branded truck as part of the event. The street team handed out fliers with the shirts explaining the program. Participants had a chance to win additional on-the-spot prizes if seen wearing their SugarCRM shirt during Dreamforce.
Have an event coming up in which you'd like to make an impression? Experts suggest you use bold colors to stand out at a conference or trade show. "The bright red T-shirts stood out from the blue of Dreamforce," says Stagnaro. Make sure you contact your distributor partner to give you great ideas and help you find the best products to make a splash.

Hot for 2014... 2-in-1 Stylus Pens!
ALL-IN-ONE® is the Write Choice® for Pens, and for 2014, we're adding more NEW 2-in-1 Stylus Pens. These pens are super de- pendable and feature smooth-writing Easy-Glide™ ink, and they have a built-in capacitive touchscreen stylus... perfect for use with iPhones, smartphones, iPads and tablets.

From ALL-IN-ONE® • asi/34256.
Accessories
Fun products in bold colors will help you stand out from the crowd, and the following accessories sure fit the bill. Contact your ad specialty distributor for these and all your promotional needs.
WARM & FUZZY Street teams and sports fans will stand out with these fuzzy leg warmers. Can also be worn on the arms. asi/62677
SHOW YOUR PRIDE Trendy and comfortable, this unisex scarf is made from recycled polyester microfleece. asi/40705
MULTI-COLORS Make a splash with a power-washed colorblock pocket tee featuring four colors. asi/35297
IN THE BAG Another colorblocked item, this Puma duffel makes a great fitness incentive gift. asi/75912
SMART GLOVES Smartphone users will appreciate these stadium gloves which have conductive threads. asi/84863
WATCH THIS Need an employee anniversary gift? This bright green watch is just the ticket. asi/91282
marketing calendar ••• APRIL 2014
Customer Loyalty Month
Regardless of how good your products or services are, without your customers you're nowhere. Neglect them and you'll regret it. Use April as a month to commit to offering your customers better service. Launch the campaign with a handwritten note that vows to make positive changes. Run daily testimonials on your website and Facebook fan page. Create a customer Bill of Rights and tweet each right daily. Finally, celebrate at month's end with an appreciation party in which customers are gifted with lots of logoed items. Call your distributor today to get their help in planning this month's long event.
1
April Fools' Day
Fun and frivolity make the workplace a happy and productive place. Consider running a fun stunt today that will garner media interest. Mail clients rubber chickens with a note telling them that your company is "no joke when it comes to …" Or make up weird news and post it to your social media channels to see who is paying attention. Your distributor partner knows how to get an imprinted rubber chicken, and more.
15
National Take A Wild Guess Day
Yuck, today is Tax Day, but it's also National Take a Wild Guess Day. So what to do? Run a day-long promotion where you tweet out a trivia question on the half hour. Those who answer should win a logoed item like a cap, T-shirt, desk accessory, etc. The fun campaign will have your clients transfixed on your company's every move today.
22
Earth Day
For companies looking to reduce their carbon footprint, today is the perfect day to participate in local events. Man a booth at Earth Day fairs and demonstrate how your firm is committed to the Earth. Make sure all you literature is on recycled paper. Give away products like tote bags made from recycled bottles, organic T-shirts logoed with water-based inks and jar openers manufactured from recycled automobile tires. Your distributor can acquire the products and help with developing the Earth-friendly message.
Win $100 & Gain Access to Great Ideas
Sign up now and enjoy The Joe Show, where our very own Joe Haley features cool new promotional product ideas. Access case studies in every industry that showcase the hottest new marketing campaigns. You can even submit your own case studies and be eligible to win a $100 MasterCard gift card. Plus, network with other businesspeople looking to pump up their marketing efforts. Click here to get started today.

Diamond Cosmetics offers professional health and beauty products providing companies with high quality cosmetic items for Corporate Sponsors of Women's Events, clothing, shoes & accessory manufacturers, health and medical companies, entertainment industry, media, and many more industries and institutions. asi/49640


Successful Promotions®  is a trademark of the Advertising Specialty Institute. Copyright 2014, ASI. All Rights Reserved.
Advertising Specialty Institute®, 4800 Street Road, Trevose, PA 19053