| | |
| --- | --- |
| promotional products • incentives • corporate gifts • meetings • events | Volume 82 / Jan 2013 |
SPONSORED BY



Click here to see other new and creative promotional products

GIFTS ARE THE ICING ON THE WEDDING CAKE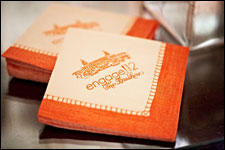 Engaging Concepts, strategic consultants to the wedding industry, gather the top tastemakers in wedding planning twice a year at the Engage! luxury wedding business summits. The events are famous for beautifully wrapped gift bags and branded merchandise, which incorporate function, fashion and fun. Attendees receive gifts before and during the three-day affair, including pre-arrival gifts that build buzz.
Rebecca Grinnals and Kathryn Arce are the masterminds behind Engaging Concepts. "There are lots of wedding and event conferences, but most are targeted to specific groups like caterers, photographers or florists," says Grinnals, company founder and president. "At Engage! we bring together everyone who touches the luxury wedding market."
Wedding and event planners mingle and network with high-end wedding personalities, including party planner Colin Cowie, bridal fashion designer Monique Lhuillier and cake maker Sylvia Weinstock. Gift planning begins five to six months out, since many products are custom designed. "We are willing to invest in our gift bags to keep the brand, event and story consistent," says Grinnals.
ADVERTISEMENT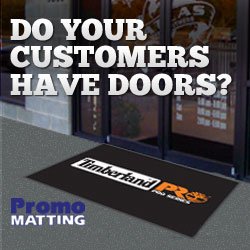 Alison Howard, a San Diego-based wedding planner, was so impressed by the gift bags that she devoted a 10-minute videoblog to the bag she received at Engage! Las Vegas last summer. "This was the first time I'd done a swag bag blog," she says. It was one of her most popular posts.
Each Engage! event has its own color story and logo, coordinated with the location. Engage!12 Palm Beach took place in December at The Breakers hotel. Its signature colors were "Tangerine Tango," silver and white. Two months before the event, Engaging Concepts sent out "countdown cubes" (photo cubes) to generate enthusiasm and mark the days until the conference. Three weeks before, guests received shoe bags and packing tags with suggested items to pack.
The "bling ball," a signature giveaway at Engage! events, is a name tag bearing a silver chain with Swarovski crystal balls that indicate how many of the Engage! events you've attended. Orange Lucite clipboards, pens and notepads were given out at the opening session. Male and female guests received separate gift totes with gender-specific items. For example, men received shaving items, while women got makeup, nail polish, accessories and orange pashminas. Everyone's bag contained other items too, including a Tango Trio cocktail kit in a branded suitcase, snack tins and an assortment of cleverly labeled products such as a clear vinyl luggage tag with shoe shine wipes for men, makeup remover for women, sunscreen and stain-remover wipes.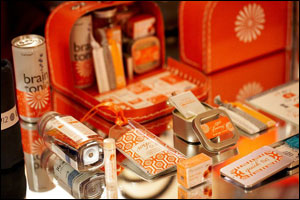 On day two, guests got a "Vitamin E!12" meeting kit in a customized orange juice box, with a custom USB drive, logo journal, eboost packet, logo microfiber screen cloth, and lip balm and striped pencil as a straw for the carton and more.
The events generate lots of social media feedback, as guests blog, tweet and post photos that may be relevant and useful to their clients. Grinnals notes a boost in attendees' use of Instagram, with over 700 Instagram photos transmitted from the Las Vegas Engage!.
VIDEO

THE JOE SHOW reveals some of the latest products and promotional ideas available in the market today. Click here to see a brand-new edition of The Joe Show.

Sponsored by
Cooler Graphics



Sponsored by
365 Source Custom World

Sponsored by
Clegg Promo





Sponsored by
Pepco Promotional Products


ADVERTISEMENT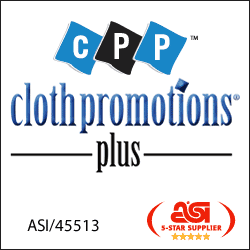 Tell Us How Promo Products Worked For You
We want to hear your success stories on how promotional products played a pivotal role in your business strategy. Do you have a new-employee welcome gift program? Have you used promo items in an awareness campaign, product launch or charity event? Let us know and we'll feature your case study in the Successful Promotions newsletter and you'll also be eligible to win a $100 Visa gift card. Send an e-mail to jchaykin@asicentral.com with a brief description of your case study, and we'll contact you for further details.
Fighting Hunger with the Help of Promo Products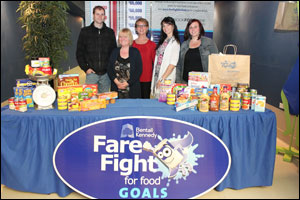 Bentall Kennedy, one of North America's largest real estate investment providers, was determined to make a difference in the communities in which its employees live and work. In Canada, food bank usage is on the rise, so leaders of Bentall Kennedy made it their mission to raise awareness about hunger in their communities and across the country.
In February 2012, they launched the Fare Fight for Food Challenge, a national initiative that partnered their 19 shopping centers across Canada with local food banks. Bentall Kennedy created the slogan, and their distributor partner sourced useful products to showcase the campaign message in a highly visible way while aiding the teams with their mission. The initial goal was to raise a total of $75,000 and collect 20,000 pounds of food.
From February until October, shopping center teams hosted special events and promotions. Teams competed to raise the most money, pounds of food and online supporters. The target audience consisted of all of the shopping center customers, Bentall Kennedy employees, suppliers and the general public.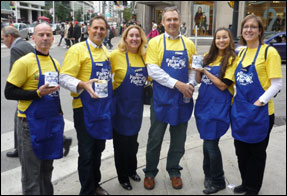 To launch the campaign, six fundraising street teams – including the entire Bentall Kennedy retail division – invaded downtown Toronto for an afternoon. Teams were given a survival kit that included donation cans, aprons, candy and a bottle of water. One team's adventure generated $30,000. To enhance the competition, the top five teams overall received an additional $10,000 grant from Bentall Kennedy's head office for their food bank.
Promotional products printed with the Fare Fight for Food logo were created as practical tools to reinforce and support the campaign. Bags were given out at the store level and delivered door to door. Donation cans were used for the original launch and then reordered for individual stores, entrance tagging and 50/50 ticket sales. Aprons were worn by the Bentall Kennedy teams, retail partners, dignitaries and even the prime minister. Cookies were distributed to thank customers and to extend awareness of the campaign.
Bentall Kennedy exceeded its original objectives halfway through the campaign. By the end of the campaign, teams raised $155,000 in funds and 150,000 pounds of food donations – more than double the amount of money and 7.5 times the amount of food projected. More than 19 food banks across the country are the beneficiaries of this campaign.
If you'd like to get involved with a community outreach program or some other charitable cause, contact your ad specialty distributor for advice and products for your campaign.
New! FULL-COLOR imprints are available on
ALL-IN-ONE® Brand Gear™ items!
It's shown here on the Durable, soft Neoprene zipper sleeve, which protects your iPad or tablet, and features a HUGE imprint to dvertise your brand in VibraColor® Full-Color Process!

The sleeve is now available for both 9" and 10" sizes, so it works with iPad and many popular tablets! From ALL-IN-ONE® • asi/34256.
Meetings and Events
Hosting a sales meeting or special event at your hotel or restaurant, or planning the event for your company? You need the perfect promo product that will best represent your brand. Contact your distributor partner to help you choose items that will keep your establishment or event in the memories of all attendees.
SOME LIKE IT HOT. Hot and cold tumbler gift set includes cold lid with straw and hot lid with twist cap. Comes assembled in a free retail-ready gift box. asi/57653
ROOMY MATES. Laminated nonwoven four-bottle tote features sturdy construction, reinforced handles and a permanent panel bottom. Comes in a variety of colors. asi/74400
DOMINO EFFECT. Custom domino set contains imprinted maple-colored wooden box with slide-out lid and 28 green, red or white dominoes. asi/55750
MUG SHOT. Robusta mug features matte black exterior with glossy interior and rim. Holds 15 oz. Interior/rim colors include white, red, ocean blue, orange and lime green. asi/71920
SPICE IT UP. Grinder with 5.64-oz. of sea salt and 2.64-oz. black peppercorn grinder come in a clamshell kit. Freshly ground spices retain more of the oils lost in the pre-ground form. asi//43805
ON THE MEND. First-aid kit comes in water-resistant pouch includes Band-Aids, alcohol pads, antiseptic cleaning wipes, sting relief and anti-mosquito towelettes. asi/43442
marketing calendar ••• APRIL 2013
International Customer Loyalty Month
Business experts will tell you it cost significantly more money to attain a new customer than it does to retain a current customer. Because of that you'll want to run a month-long campaign aimed at showing your best clients some love. Start with your social media by posting daily "customer of the day" declarations on your Facebook page and via Twitter. Send handwritten notes to clients thanking them for their loyalty and asking them for ways to improve your products and service. Visit top clients and don't forget to bring along logoed products like iPhone/iPad accessories, high-tech polo shirts or fine leather padfolios.
1
April Fool's Day
Have a little fun today with your clients and employees. Send out faux press releases declaring new hirers or new product offerings. In 1996 Taco Bell purchased full-page newspaper ads stating that it had purchased the Liberty Bell and was changing its name to the Taco Liberty Bell. Fun promotions show that you have a lighter side. Your distributor can help you with the perfect product – imprinted rubber chickens maybe – to accompany your fun promotion.
16
Companies That Care Day
As a corporation, you care about your employees and your community, but do you let them know that? Well, take that opportunity today. Have an open house and invite local vendors, businesses, civic organizations, etc., to tour the facility and partake in a wine-and-cheese party. Focus on how your company contributes to the local economy and all the other important things you do like sponsoring local sports teams. Also, do something special for your employees and provide them with thoughtful gifts. Your distributor can help you hash out all the details.
29
National Mom & Pop Business Owners Day
The backbone of the U.S. economy is small business. If you own a small business, use today to tout your many accomplishments. If you work with smaller businesses, let them know how much you appreciate everything they do for you. Use social media to shout your message loud and clear. Also, use a variety of logoed products as thank-you gifts.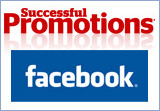 Win $100 & Gain Access to Great Ideas
Sign up now and enjoy The Joe Show, where our very own Joe Haley features cool new promotional product ideas. Access case studies in every industry that showcase the hottest new marketing campaigns. You can even submit your own case studies and be eligible to win a $100 MasterCard gift card. Plus, network with other businesspeople looking to pump up their marketing efforts. Click here to get started today.

IDProductsource now offers high quality drinkware in our new 2013 line. Our new line features the hottest styles of reusable drink ware for all your promotional needs! BPA FREE. asi/62088


Our lip balms contain SPF 15 and are made in a FDA approved facility in the U.S.A. Containing premium natural and organic ingredients our lip balms are quickly becoming a customer favorite! Perfect for fundraisers, charity events, school functions, spas, dentist offices and so much more! asi/62088

Diamond Cosmetics offers professional health and beauty products providing companies with high quality cosmetic items for Corporate Sponsors of Women's Events, clothing, shoes & accessory manufacturers, health and medical companies, entertainment industry, media, and many more industries and institutions. asi/49640

Expires February 28th
Promo code 1779
Best Prices! Guaranteed asi/51205

Successful Promotions®  is a trademark of the Advertising Specialty Institute. Copyright 2013, ASI. All Rights Reserved.
Advertising Specialty Institute®, 4800 Street Road, Trevose, PA 19053