| | |
| --- | --- |
| |  EYE-OPENING PROMOTION |
ADVERTISEMENT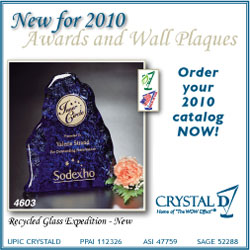 The Weather Channel Makes it Easier to
Rise and Shine
There are two things most people do when they get up in the morning. One is grab a hot cup of coffee. The other is to turn on The Weather Channel to see what the weather has in store for them. Playing off of these two rituals, The Weather Channel, Dunkin' Donuts and Al Roker all teamed up for the "Wake Up With Al" promotion.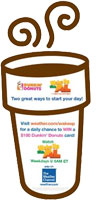 Consumers who visited www.weather.com/wakeup from October 7 to November 24 could enter to win a $100 Dunkin' Donuts gift card. The co-branded sweepstakes entry page also reminded people to tune in weekdays at 6 a.m. to watch Al Roker and co-host Stephanie Abrams tell them whether it was going to be a raincoat or sunglasses kind of day.

"Waking up with Al Roker and Dunkin Donuts are both popular morning rituals. This is a great way to reach consumers who need to be alert and ready to go in the mornings and let them know about 'Wake Up With Al,'" says Cynthia Ashworth, vice president of consumer engagement at Dunkin' Donuts, in a statement. "It's a natural fit – watch America's favorite weatherman while sipping America's favorite coffee, then visit www.weather.com for a chance to win."

The six-week sweepstakes was advertised via a 15-second TV spot on The Weather Channel. In-store displays including a life-size stand-up featuring Roker popped up at many of the nearly 6,000 Dunkin' Donuts locations. Online, banner ads appeared at www.weather.com. People who opted in to Dunkin' and Weather Channel databases received an e-mail blast trumpeting the limited-time gift card offer.

See Shopping List below for some great product ideas. 
| | |
| --- | --- |
| |  CELEBRITY VOLUNTEER EVENT |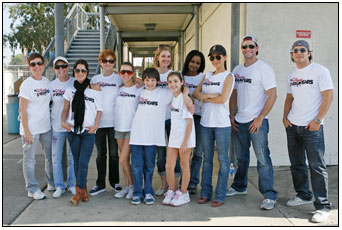 ABC Soap Stars Align for a Cause
Soap operas give daytime TV viewers hours of guilty pleasure. However, in October, many of the top soap actors and actresses got together with their fans to partake in a program that was truly guiltless pleasure: volunteering to beautify schools.

During the week of October 19, the Entertainment Industry Foundation debuted its "iParticipate" program. The multi-year initiative's goal: to get the entire entertainment community and millions of Americans to volunteer regularly.

The highlight of this year's effort was ABC Daytime and SOAPnet's Soap Nation Tour joining forces with City Year, a national youth service organization. The stars of All My Children, General Hospital and One Life to Live banded together with City Year members to spruce up some schools in Los Angeles and New York. The event was held on October 24.

Clad in branded "Disney VoluntEARS" T-shirts (Disney owns ABC), Brandon Barash, Jane Elliott, Kent King, Lisa Lo Cicero and others from General Hospital were on hand at Ramona Elementary school in L.A. In New York, Chrishell Stause, Melissa Claire Egan and Jori Petersen from All My Children and One Life to Live pitched in at the John H. Finley Campus School PS 129. Fans interested in joining the stars were able to sign up at www.soapnet.com to reserve their spot.

Those who missed their chance to join in shouldn't be too disappointed – iParticipate is planning more events. Plus, the Soap Nation Tour regularly brings stars from ABC Daytime and SOAPnet to cities across the country to meet their fans.  
| | |
| --- | --- |
| |  PRODUCT SPOTLIGHT |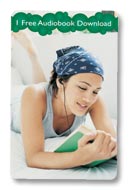 The Power of Audiobook Download Promotions – In today's tough economic times, cost-efficient promotions that deliver measurable results are more important than ever. The Audiobook Download Card benefits include:
Drive Web traffic to the brand's site – redemption process can be linked off any Web page. 
Facilitate the capture of marketing data – add a custom survey... you provide the questions and CFS handles the rest. 
Low-cost, high-value promotion – a $25 value as low as $3.99 
Target hard-to-reach demographic – research shows audiobook listeners are 30+ years old, well educated, and are professionals or businesspeople. 
Choose from over 60,000 top-selling titles.
Download to a Blackberry, MAC, PC, iPod, or other portable device.
Exclusively from CFS Promotions for Now! (asi/42989). Ask about CFS' environmentally friendly production options, 5-Star ASI distributor rating, low minimum quantities, and quick production times.

For other new and creative products,
visit the Product Central section on ASICentral.com.
| | |
| --- | --- |
| |  SHOPPING LIST |
| | | |
| --- | --- | --- |
| BRAIN POWER This Puzzle Cube Keychain allows the colors to move and mix through movement of its body. An excellent brainteaser and fun giveawy for auto clubs and body shops. Available from asi/45100. |   | BREAK THE ICE A great item for the car is this ice scraper that features a sponge handle for a comfortable and secure grip. Comes in red, white, pink and blue. Available from asi/98360. |
|   |   |   |
| A LITTLE LAMB Reward an on-the-go rep with a stylish and practical gift like these women's lamb-leather dress gloves. They feature a decorative buckle and microfleece lining. Also comes in men's styles. Available from asi/39275. |   | TIME AFTER TIME See time as never before with this round desk clock that shows skeletal gear movements. An ideal gift for an employee anniversary or other milestone. Available from asi/68507. |
|   |   |   |
| MEMORY MAN This cute guy is actually a USB drive. You can customize your message in two print areas and it comes in a variety of memory sizes. A nice idea to use as a student reward. Available from asi/63053. |   | GREEN THUMB Show your green side by giving your customers this smog-reducing planting kit. It features easy-grow seeds, biodegradable fiber pot, growing medium and nutrients. Available from asi/58295. |
Successful Promotions® Trend Report™  is a trademark of the Advertising Specialty Institute. You were sent this newsletter as a benefit of your ASI membership. Copyright 2010, ASI. All Rights Reserved. 
If you'd like us to send Successful Promotions Trend Report FREE to anyone else at your company (or to your off-site sales reps), go to www.asicentral.com/newsletters and complete the online form.
Click here to subscribe to Successful Promotions® magazine. You must be a member of ASI to subscribe to this publication. The publisher has a right to refuse subscriptions to non-members.
Advertising Specialty Institute®, 4800 Street Road, Trevose, PA 19053