| | |
| --- | --- |
|   |  Humorous Ad Promotion |
ADVERTISEMENT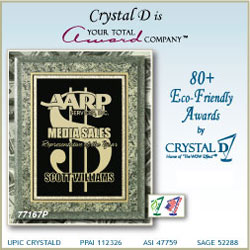 Bag Company is on a Roll with Latest Campaign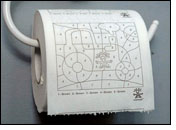 If quirky marketing is your bag, then Crumpler may be your bag company. The Aussie carrying-accessory maker has been known to promote its line by holding "Beer for Bags" trading events in its stores and by putting its logo on fruit stickers in supermarkets. "We like the idea of our logo appearing subtly in unusual places, where it's least expected," says Marketing Manager Natasha Prendergast.
In keeping with that line of thinking, the company recently distributed 100,000 rolls of imprinted toilet paper in bathrooms in their stores plus in select bars and clubs around the USA, Australia, Asia, Canada and New Zealand. Besides the Crumpler logo, the rolls sported paint-by-number designs on which all numbers were designated brown.
Crumpler stepped into the realm of bathroom advertising earlier in 2008 when it sponsored custom-decorated restrooms at the Next Wave arts festival in Melbourne, Australia. Why did they decide to expand on the theme with a toilet-paper program? "It's practical, it's fun and it's pretty much a necessity," Prendergast says. "We're not saving lives but providing a service: Crumpler, Servicing the Butts of Humanity since 2008!"
The company is happy with the response it's getting to the imprinted TP. "People are finding it fun and having a good laugh," Prendergast says.
Check out the Shopping List below for some nifty ideas.
| | |
| --- | --- |
|   |  Healthy Product Launch |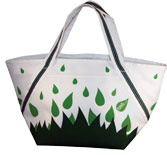 Chiquita's Fresh Idea
We all know it's good to eat our fruits and vegetables. Now, Chiquita Brands is trying to make it even better. Consumers who purchase Chiquita and Fresh Express fruits and vegetables can earn "Fresh Funds." The "Healthy Rewards for Healthy Living" consumer loyalty program, launched in September, presents consumers with points redeemable for a host of prizes.
Fresh Funds participants can redeem their points for a branded tote bag or free Chiquita or Fresh Express products. They can also use their points to participate in auctions for items like a Cannondale bicycle, as well as make donations to charities.
           
Chiquita hopes the program will help its products stand out in the produce aisle. It also expects Fresh Funds to increase frequency of purchases as well as promote awareness. "This program fits the direction we're headed as a consumer-focused company," says Bryan Brown, corporate communications director for Chiquita Fresh Express. "It connects with our Chiquita and Fresh Express brands, and just as important, it attracts consumers to the produce aisle and encourages a healthy lifestyle habit of eating fresh fruits and vegetables."
Chiquita Brands, a $4 billion company, is using direct mailers and in-store displays as well as an online push to get the word out. Leading up to the launch of Freshfunds.com, the company launched an online teaser campaign. Six viral videos drew 400,000 views to the site. It also leveraged Facebook and MySpace to get social with consumers. 
| | |
| --- | --- |
|   |  PRODUCT SPOTLIGHT |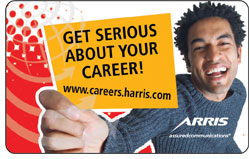 The Power of Music Download Promotions - In today's tough economic times, cost efficient promotions that reach across demographics and drive results are more important than ever.  The music download cards offer you a powerful, low cost marketing tool that delivers results, drives web traffic and captures valuable customer data for ongoing marketing.  
Reduce Storage Needs – Our music download cards are light-weight and require virtually no storage space.
Support U.S. Economy – Our music download cards are developed and produced in the United States
Preserve Our Environment – We offer fully recycled and recyclable plastic cards.
Ask about our ASI distributor rating - 5-Stars, Latin Music Store, U.S. – Canada solutions, consumer friendly experience (the only music store without a software download requirement), low minimum quantities, and quick production time.  Quality, Service, Competitive-Price.
CFS Promotions for Now! (ASI/42989).
For other new and creative products,
visit the Product Central section on ASICentral.com.
| | |
| --- | --- |
| |  SHOPPING LIST |
Here are some fun, health-improving ideas to pump up your next promo:

| | | |
| --- | --- | --- |
| Step by Step Promote a walking club at work with this pedometer. Features digital clock, step counter, distance-traveled display, calorie counter, reset function, cover and belt clip. It allows user to set stride. Available from asi/43442. |   | Stay-at-Home Chef Recycled bib-apron with pockets will encourage healthy cooking at home. Available from asi/51654. |
|   |   |   |
| On the Pulse Reward employees that sign up for gym membership with this pulse-rate watch with alarm. It calculates heart rate when sensor pad is touched with thumb. Available from asi/30111. |   | Bio Bottle Host a charity run and hand out water bottles. This one is safe for food contact, and the plastic in this water bottle contains no BPA, DEHA or DEHP. Available from asi/79898. |
|   |   |   |
| Take the Plunge Swimming is excellent exercise. Hand out fun swimwear to motivated reps. These swim trunks are available in print or solid fabrics. Available from asi/62179. |   | Track Progress Writing down daily stats like diet and exercises performed will help employees keep on the road to fitness. This Wellness journal tracks calories, exercise, medications, weight, blood pressure and measurements. Available from asi/50873. |
Successful Promotions® Trend Report™  is a trademark of the Advertising Specialty Institute. You were sent this newsletter as a benefit of your ASI membership. Copyright 2009, ASI. All Rights Reserved. 
If you'd like us to send Successful Promotions Trend Report FREE to anyone else at your company (or to your off-site sales reps), go to www.asicentral.com/newsletters and complete the online form.
Click here to subscribe to Successful Promotions® magazine. You must be a member of ASI to subscribe to this publication. The publisher has a right to refuse subscriptions to non-members.
Advertising Specialty Institute®, 4800 Street Road, Trevose, PA 19053