| | |
| --- | --- |
| |  THE JOE SHOW: 2010 NEW PRODUCTS  |
The Joe Show is a weekly video program where Managing Editor Joe Haley presents and demonstrates a variety of ad specialty products. He also offers useful tips and information on how they can be used in ad campaigns and other promotions. This month's collection features new products being offered by your distributor partner.

Click here to see another brand-new edition of The Joe Show.
| | |
| --- | --- |
| |  PROMOTION WITH STAR POWER |
ADVERTISEMENT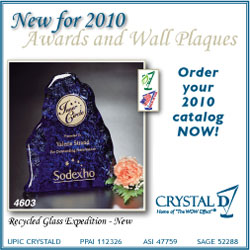 Will Ferrell's Sunscreen Is Nothing to Laugh At
We know him as George W. Bush, newscaster Ron Burgundy and a deranged elf. Now, we also know comedian Will Ferrell as a swimsuit model. The prolific Saturday Night Live alumnus is featured on bottles of Hot Sexy Tan, Sun Stroke and Forbidden Fruit SPF-30 sunscreens. The line was created by the nonprofit organization Cancer for College.
Ferrell's foray into branded merchandise came about because of his friendship with Craig Pollard. Pollard, a fraternity brother of Ferrell's at the University of Southern California, is a two-time cancer survivor. He is also a double amputee. Pollard started Cancer for College in 1993 to help cancer survivors pay for their education. The charity provides financial aid for scholarships as high as $16,000, as well as textbooks.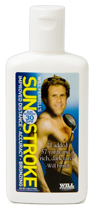 Ferrell has been a supporter of Cancer for College since it began, and has served as the celebrity host of its fundraising events since 2002. However, this is the first time he has appeared half-naked on a bottle of sunscreen on the organization's behalf.
"Cancer for College is such a pure strategy," Ferrell said in a statement. "The work that Craig and Cancer for College have done helping kids who have had cancer go to college is so noble. I'm proud to help them any way I can, and if that means adding my face to a line of sunscreen products, I'm all for it."
Pollard said, "The feedback from everyone has been so positive. Everyone gets the humor behind it. None of this would be possible without our friend Will Ferrell and his generosity."
See Shopping List below for products that protect and promote. 
| | |
| --- | --- |
| |  AD SPECIALTIES PROMOTE HEALTHY CHOICES |
Campaign Aims to Make Colorado Leaner Than Lean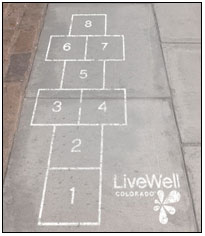 Colorado residents rank as the nation's leanest, and they're not resting on their laurels. "The fact that nearly 19% of adults in our state are obese is cause for concern," says Maren Stewart, president and CEO of LiveWell Colorado, a nonprofit committed to reducing obesity by inspiring healthy eating and active living. "LiveWell Colorado is leading the way in challenging Colorado to become healthier."
The organization kicked off a campaign on September 30 with flash mobs in Denver, Greeley and Grand Junction. In each city, more than 100 people wearing 1980s-inspired workout gear did aerobics, to the amusement of passersby. (View video at www.livewellcolorado.org/challenge.)
Since then, billboards and TV commercials have urged residents to eat right and be more active. Naturally, the campaign also includes ad specialties. LiveWell distributed stencils of its logo and spray chalk to groups in 25 communities across the state, where local organizers are using them as they draw hopscotch courts and start/finish lines for footraces. The local groups also got stickers to place on elevator buttons. The stickers read, "Take the stairs."
"The elevator buttons are just perfect examples of an easy, small, free way of incorporating a little bit of physical activity in your life by taking the stairs up a flight or two as opposed to the elevator," Stewart says. "Hopscotch is a game everyone remembers how to play, and it's something fun and whimsical that will hopefully grab people's attention."
The idea behind the campaign is not to try to talk people into onerous workouts but to incorporate little activities that are easy to sustain. "I'm hoping that it will catch people off-guard, because they are unexpected tactics," Stewart says, "and adults in business suits and kids out of school and everybody in between will be participating in some of these things."
For more information on the products below, contact your distributor.
| | |
| --- | --- |
| |  SHOPPING LIST |
| | | |
| --- | --- | --- |
| MUSIC TO THEIR EARS This music download card offers the choice of 3 million+ songs for download to iPod/MP3 players.  Features: 4-color card, link from client's Web-site and optional data capture (survey). Available from asi/42989. |   | SUNNY PROTECTION This sun kit comes with everything you need for a safe day in the sun. It contains SPF-30 sunscreen, hand sanitizer gel and SPF-30 lip balm and comes packaged in a vinyl drawstring bag. Available from asi/54100. |
|   |   |   |
| GERM FREE Consider keeping a bowl of alcohol-free hand sanitizers on your reception desk. Folks will appreciate the sentiment and carry this bottle in their pockets or purses. This one is all-natural, FDA-approved and features a citrus scent. Available from asi/88060. |   | FIRST AID For your next company outing, make sure your employees are prepared for minor scrapes by giving out this first-aid kit. It features a vinyl pouch containing bandages, sunscreen packets, towelettes and Blistex packet. The pouch is refillable and features a handy clip. Available from asi/52840. |
|   |   |   |
| ORGANIC COMPOUND Spas, beauticians, dermatologists and surf shops are just some of the businesses that would benefit by handing out this FDA-certified lip balm to their clients. It's made in the U.S. of all organic ingredients, and comes with or without SPF-15 sunscreen in pink grapefruit, spearmint, tea-tree mint, orange citrus, sweet basil or unflavored. Available from asi/88148. |   | HEALTHY WRITING If you have multiple guests and clients that use the same pen over and over, why not use one that's anti-microbial to help fight the spread of germs? This wide-design pen features a soft comfort grip and is made from anti-microbial plastic and silver-ion technology. The Swiss-made tungsten carbide ballpoint guarantees smooth writing. Available from asi/34256. |
Successful Promotions® Trend Report™  is a trademark of the Advertising Specialty Institute. Copyright 2010, ASI. All Rights Reserved. 
If you'd like us to send Successful Promotions Trend Report FREE to anyone else at your company (or to your off-site sales reps), go to www.asicentral.com/newsletters and complete the online form.
Click here to subscribe to Successful Promotions® magazine. The publisher has a right to refuse subscriptions to non-qualified subscribers.
Advertising Specialty Institute®, 4800 Street Road, Trevose, PA 19053