| | |
| --- | --- |
| promotional products • incentives • corporate gifts • meetings • events | Volume 69 / December 2011 |
SPONSORED BY



12 Great Meeting Destinations for 2012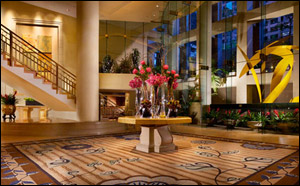 We cover the gamut from boutique hotels perfect for retreats and incentives to megasites that can handle anything and everything. Each property featured has something fresh and innovative to offer, from recent openings to exciting renovations and guest-friendly additions.
Omni Los Angeles
Meeting and incentive guests will appreciate brushed silver accents combined with midnight blues and rich chocolates and new wide hallways featuring distinctive LA murals. The rooms have flat screen TVs, plush carpeting and linens. Be sure to check out the eclectic new menu at Noé restaurant. Features: 453 guest rooms and suites; 20,000 square feet of meeting space.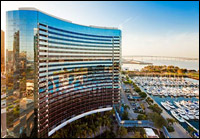 San Diego Marriott Marquis
A previous $200 million overhaul served as the prelude to a just-completed $52 million guest room renovation. The room's new urban seashore décor features sand and wood hues accentuated by sleek granite countertops and top-grain leather accessories. The pool area is new with private cabanas, fire pits and a separate kids' play area. Features: 1,305 guest rooms; 75,000 square feet of meeting space.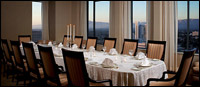 Fairmont Scottsdale Princess
The $20 million addition is underway now, but that won't stop your visitors from enjoying the Fairmont's current amenities, which include an award-winning spa, two championship golf courses and a view of Scottsdale's mountains. Features: 649 guest rooms; 72,000 square feet of meeting space (doubling to over 150,000 square feet in October).
The Aria City Center Las Vegas
The Aria City Center opened in 2009, but it has yet to be surpassed as the newest, sleekest and most meeting-friendly Vegas hotel. No gathering is too big for the Aria to handle, with over 300,000 square feet of meeting space and four ballrooms, accessible freight docks and vehicle ramps and megavators that make set-up and tear-down easy. The north façade features a spectacular glass curtain wall that brings the outside in and uses natural light to provide a lush, landscaped backdrop. Features: 4,004 guest rooms; 300,000 square feet of meeting space.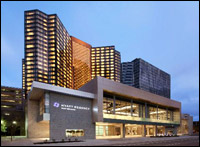 Hyatt Regency New Orleans
The Hyatt New Orleans isn't exactly new, but it sure as heck looks like it. Katrina closed the doors on this grand New Orleans landmark, but a massive six-year, $275 million rebuilding effort led to the hotel's recent reopening, featuring 1,193 all-new guest rooms, a James Beard restaurant and the Lagniappe Exchange, a 24-hour fresh market. In 2012, your guests can celebrate Mardi Gras at Hyatt as it regains its position as the Big Easy's premier meeting and convention hotel. Features: 1,193 guest rooms; 200,000 square feet of meeting space.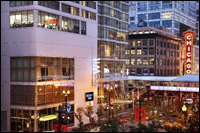 Wit Hotel Chicago
At the Wit, you'll relax in lush accommodations while enjoying breathtaking views of the Chicago River and Millennium Park. It features the ultimate in high-speed wired and wireless Internet access and everything you'll need for video conferencing. Features: 298 guest rooms and suites; 7,000 square feet of meeting space.



The Crowne Plaza Hotel Minneapolis Airport


The newly-renovated Crowne Plaza Minneapolis Airport with The Mall Of The Americas only a free shuttle ride away feature upgraded rooms with HDTVs, a junior Olympic-size pool, arcade games, fitness center and a 24-hour business center. Features: 430 guest rooms; 19,000 square feet of meeting space.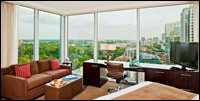 Loews Atlanta
The hotel serves as the artistic nexus to the Woodruff Arts Center, the High Museum of Art and the legendary Fox Theatre, as well as providing access to leading law firms and the corporate headquarters of the city's Fortune 500 corporations. Innovative southern cuisine adds flavor to the meet-and-dine mix. Features: 414 guest rooms; 25,000 square feet of meeting space.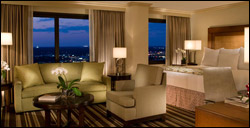 The Peabody Orlando
The Orlando Peabody is a favorite because of its ideal location across from the 7-million-square-foot Orange County Convention Center and its proximity to Disney, Sea World and Universal Orlando. A recent $420 million expansion includes a Napa Valley wine-themed restaurant. Features: 1,641 guest rooms; 300,000 square feet of meeting space.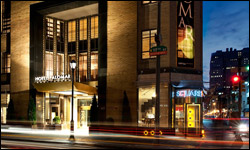 Kimpton Palomar Philadelphia
This Center City gem underwent a total transformation from staid office building to upscale boutique hotel featuring a new ground floor chef-driven restaurant, a high-tech boardroom that's perfect for top-level executive meetings and a meticulously preserved penthouse ballroom with sweeping views of the city. Features: 230 guest rooms and suites; 6,000 square feet of meeting space.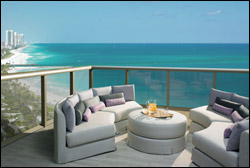 St. Regis Bal Harbour
January 9th is the opening date for the new St. Regis Bal Harbour Hotel located across from the exclusive Bal Harbour shops. The resort's three glass towers include 24 club residences, the 12,000-square-foot Remede Spa, multiple pools and the beach-chic Mister Collins restaurant. Bal Harbour is the perfect destination for incentive gatherings and upscale retreats. Features: 243 guest rooms; 10,000 square feet of meeting space.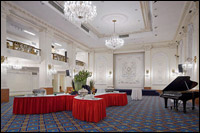 New Yorker Hotel Manhattan
New lobby murals evoke the hotel's historical grandeur with images of the Brooklyn Bridge, the Chrysler Building and Rockefeller Center. The new guest rooms feature silver-brown furniture, flat-panel TVs and elegant marble tables. Best of all, you're at Big Apple center with the Empire State Building just across the street and Times Square a short walk away. Features: 910 guest rooms and suites; 25,000 square feet of meeting space.
VIDEO

THE JOE SHOW
The Joe Show reveals some of the latest products and promotional ideas available in the market today. Click here to see a brand-new edition of The Joe Show.

ADVERTISEMENT



ADVERTISEMENT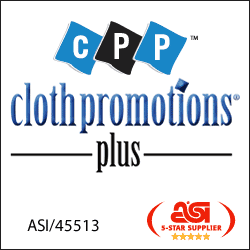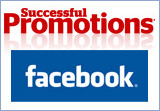 Win $100 & Gain Access to Great Ideas
Sign up now and enjoy The Joe Show, where our very own Joe Haley features cool new promotional product ideas. Access case studies in every industry that showcase the hottest new marketing campaigns. You can even submit your own case studies and be eligible to win a $100 MasterCard gift card. Plus, network with other businesspeople looking to pump up their marketing efforts. Click here to get started today.
Junk Nobody Throws Out
While waste disposal company 1-800-GOT-JUNK? is in the business of removing clutter from the businesses and residences it serves, there is one thing its customers never want to throw out: the 1-800-GOT-JUNK? branded dump truck toys used to promote the company. The blue Hot Wheels-style toy is a miniature version of the company's recognizable trucks, carrying its name and tagline, "The World's Largest Junk Removal Service."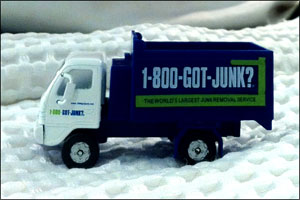 Employees at the company's corporate headquarters and its more than 200 franchises in the U.S., Canada and Australia keep a number of the toy trucks on hand and give them out whenever an opportunity presents itself. Whether during office tours, on jobs at houses with kids or when meeting with prospective customers, the trucks have become ubiquitous branding tools for the company.
"I bring a bag full of them and I leave them everywhere – on my seat when I leave a plane, at restaurants – even when I leave my hotel room, I put the tip for the housekeeper in the bed of the dump truck," says Natalie Burgwin, public relations manager for 1-800-GOT-JUNK?, who makes decisions with the marketing department about all promotional initiatives.
The company keeps a warehouse full of the trucks and goes through 50 to 100 each month, according to Burgwin. "In deciding on the trucks for our promotional product, we really looked into what our company is known for," says Burgwin. "The answer is: our cute dump trucks. In the end, it was more about having fun with promotions and getting the idea across that we are a creative yet professional company."
While the toy trucks are the standard promotional product for 1-800-GOT-JUNK?, it also incorporates a number of other products into its marketing. The company's marketing team has started giving out squeezable "stress trucks" that are particularly popular with corporate clients who can keep them on their desks at work. 1-800-GOT-JUNK? also warehouses a huge number of refrigerator magnets, pens, mugs and lanyards that franchisees give away to create brand awareness in their communities.

Want to Build a Buzz?
ALL-IN-ONE's brand new Buzz products feature Microfiber pad for
cleaning screens of smartphones, laptops, iPhones + iPads!
BuzzBrush® has a brush to clean keyboards, or make the Write Choice® with the smooth-writing BuzzWrite® Pen with Easy-Glide™ ink! USB BuzzDrive™ includes a super-handy USB Flash Drive!
From ALL-IN-ONE® • asi/34256.

  
Financial Industry
In addition to keeping plenty of pens on hand for customers, gifts for executives and incentives for attracting new investors, banks and other financial institutions can target young savers with piggy banks and eco-friendly totes.
 
SAVE SOME DOUGH Coin bank comes in six animal styles and is excellent for any bank, credit union or financial institution to give to youngsters who open a new account. asi/34044
 
BROWN-BAG IT Another idea for customers with children is to hand out an eco-friendly lunch tote. This Natural Kraft tote is made with sturdy Kraft paper that is lined and trimmed with coated nonwoven polypropylene. asi/93990
 
MOUSETRAP Financial institutions looking to appeal to young adults would do well using a tech-related product. This liquid-filled mouse features a rubber floater printed with a company's logo, or a custom molded shape of the company's product inserted inside. Wired optical mouse and a wireless mouse are available. asi/61013
 
DESK TREASURE A great gift for a bank executive, this paperweight is 24-kt. solid gold-plated, rectangular and measures 2" x 3-7/8" x 3/4." asi/71370
 
SWEET TOOTH Thank your clients and vendors with a little treat. This gift box includes choice of sweets: milk chocolate raisins, milk chocolate malt balls, milk chocolate peanuts, rainbow delight mix and gummy bears. asi/44900
 
JOT IT DOWN One of the staples of financial institutions is a pen. This Javalina pen has a comfortable body shape and ultra-smooth writing cartridge, and comes with vibrant accent colors: lime green, orange, pink, purple and sky blue. asi/61966
marketing calendar ••• March 2012
National Ethics Awareness Month
Every business talks about ethics, but sometimes they may stumble and act in a less than ethical way. Well, March is the time to get moving along on the right track and launch an ethics awareness campaign. Begin with a new mission statement that you send via e-mail and post to all your social media outlets like Facebook. Next, visit clients and commit to being the best business partner for them in words and action. Bring logoed gifts. Finally, have a more intimate affair, like a wine and cheese party, with staff members and select guests. Parting gifts can include etched bottles of wine. Your distributor can help you craft a month's worth of events for productive and positive results.
8
International Women's Day
Today is set aside to honor women, especially working women. Run a campaign today focusing on the women at your company who contribute in so many ways. Also, give shout-outs to your female clients and vendors. Post videos to your website, tweet messages and recognize everyone on Facebook. Consider giving everyone a special lapel pin as a thank-you.
13
National Agriculture Day
Agriculture is so important to our way of life. Today anyone in that industry can run awareness campaigns. And schools and local businesses can run events for students teaching them the joy and benefits of growing a garden. Provide everyone with imprinted garden products like gloves, hoes, shovels, seeds and watering cans. Your distributor partner can help you secure the items and help you come up with great catch phrases as well.
20
Won't You Be My Neighbor Day?
Mr. Rogers spent nearly 40 years on TV as a friendly and warm neighbor to millions of children. Today, the anniversary of his birth, take the time to reach out to your corporate neighbors to find ways to get along better (not that you don't get along). In a nod to Mr. Rogers, outfit your staff with corporate cardigan sweaters. If you work in an industrial park with other businesses, organize a mixer or other event that gives everyone the chance to network. You never know, you might find new customers.
Solve This Dilemma
Every month, Successful Promotions launches a new contest where we ask you, our readers and Facebook fans, for your most creative ideas for solving businesses' dilemmas. Each entry should be 50 words or less, and a promotional product must be part of the solution to the weekly challenge. Send all entries to jhaley@asicentral.com by the specified deadline in order to qualify for a free gift. Winners will be randomly selected from all entries.
This Month's Contest: Spring Fling. A mountain resort has all the amenities – hotel accommodations, spa, gym, pool, lake, hiking trails, etc. It does healthy business during the summer, fall-foliage months and during the winter ski season. The one time it's underbooked is during the spring. It wants to boost occupancy between its winter and summer business by luring either families or college students on spring break. The resort wants to include an imprinted product with a discounted room offer, but is unsure what it should be. Send your best ideas to jhaley@asicentral.com by January 15, 2012.

Promote your brand with a custom cell phone, iPod®, iPad® or laptop skin. Custom 4-color process skins are printed on a durable 3M® vinyl and precisely cut to fit the contours and buttons of the selected device(s). Made in the USA, production 5‐business days.
CFS Promotions for Now! asi/42989

 

Premium quality laser pointers and presenters. Long lasting giveaway items to maximize your brand with customers and business partners. Perfect ideas for corporate, education, healthcare, engineering, and manufacturing clients. Over 90 unique styles to choose from. 5-star supplier. asi/34375

Fairytale Brownies Holiday 3 Box Tower
Towering Treasures! They'll be amazed box after box.
Holiday 3-Box Tower spoil your loved ones and friends this holiday season with warming helpings of full-size Fairytale Brownies, snack-size Fairytale Sprites, bite-size Magic Morsels and classic Fairytale Cookies. asi/53518

 

Is your company using QR codes? We will give you access to your own FREE QR code dashboard where you can create, manage, edit and view analytics of your QR campaigns. SCAN the code above to see how! asi/57851

Just for Women Promos is highlighting 4 bottle options with white caps and red polish for February's Heart Health Awareness. PL-1 (on left) is filled with #276 Red Hot Nights; imprint area is 3.5" X 5/8". PL-35 is filled with #2 Deep Red; imprint area is .75" X 1-3/16". $31.25 (v) set up charge for a one color customized imprint. Production time 6-8 weeks. All products made in USA. asi/49640

Successful Promotions® Trend Report™  is a trademark of the Advertising Specialty Institute. Copyright 2011, ASI. All Rights Reserved.
Advertising Specialty Institute®, 4800 Street Road, Trevose, PA 19053