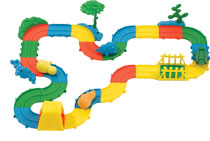 Kids' Meal Promo on Track to be a Winner
When your restaurant chain is called Biggest, naturally you want big promotional ideas – even for your kids' meal toys. For help, the El Salvador-based hamburger chain of that name turned to kids' promotion specialist C3 International (C3i).
"The client had been using your average toys," says Angel Morales, managing director at C3i, "but with increased competition, they wanted to raise the bar with larger toys."
Knowing that the client was a racing fan, Morales and his team designed a set of four modular toy racing kits. Each includes a racer presented with four sections of track that fit together to make up a small oval. As kids collect additional kits, the track pieces can be combined to create a larger, road-course type circuit.
But C3i took the concept a step further. "After doing focus groups with F1-like cars, parents were not too keen on the idea of having only cars," Morales says. "Wild animals threw a better score overall." The concept for the promotion evolved into racing animals with an educational twist. "We decided to include an educational card in Spanish to promote knowledge of these specific animals: elephant, rhino, crocodile and hippo," he adds.
Even though the promotion had just gotten underway at Biggest restaurants throughout El Salvador, early results look huge. "Right now, it is doing well in the first week of sales – increases of over 50%," Morales says.