| | |
| --- | --- |
| promotional products • incentives • corporate gifts • meetings • events | Volume 125 / August 17, 2016 |
Click here to see other new and creative promotional products

| | |
| --- | --- |
| | PRODUCT SPOTLIGHT |
| | |
Harry Potter Fans Load Up On Cursed Child Giveaways

The release of the latest Harry Potter book once again cast a spell on thousands of the wizard's biggest fans, who congregated in midnight parties across the country while dressing up in costume and angling for giveaways.
They all eagerly awaited the release of Harry Potter and the Cursed Child, which (long after the series was thought to be concluded) returns to the Potter universe to follow Harry as an adult and father of three children. The book is a printed script from the London play penned by Potter author J.K. Rowling and other collaborators. With anticipation sky high – it was the most pre-ordered book in Barnes & Noble history – publisher Scholastic chose to release the book at midnight on Sunday, July 31, as was traditionally done with Rowling's other Potter titles.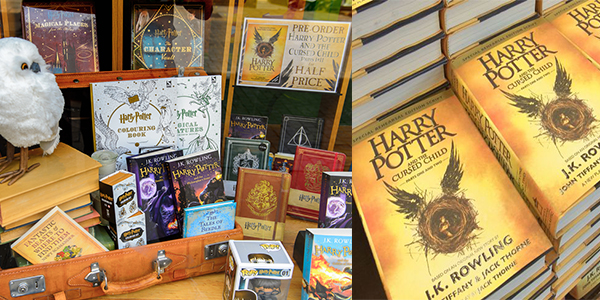 Bookstores throughout the U.S. celebrated with midnight release parties that included costume and trivia contests, readings from the series and latest book, a Hogwartsian "Sorting Ceremony" and all manners of games and activities.

Included among them was a whole host of giveaways. New York-based Books of Wonder offered a bevy of free premiums, including a set of full-color prints of each book cover, a full-color holographic Harry Potter bookmark, a lightning bolt temporary tattoo and decals for Fantastic Beasts and Where to Find Them, a side book in the Potter universe penned by Rowling that is being made into a movie. Any patron that purchased two or more Harry Potter hardcover titles that night also received a free full-color mug with images of Harry from the seven book covers. More Potter prizes – including bookmarks, keychains, posters and even a signed first U.S. printing of The Prisoner of Azkaban­ – were won by customers who bought the book and then drew from the "Books of Wonder Sorting Hat."

Others joined in with the giveaways. Skylight Books in Los Angeles offered Harry Potter tattoos and pins. Harvard Square in Cambridge, MA, was transformed into "Hogwart's Square," with a movie screening, Harry Potter selfie stand and giveaways that included tattoos, decals and Wizard Glasses. Target even offered an exclusive poster for people who purchased the book.

"The announcement was that it was a play in script form, [and] we weren't sure how it was going to be received," Bryan Samsone, manager of Austin, TX-based BooPeople, told Entertainment Weekly. "But it became pretty apparent quickly after word came out that people still wanted to congregate together to celebrate Harry Potter, dress up, and relive all these memories that formed their childhood."
VIDEO

The Joe Show reveals some of the latest products and promotional ideas available in the market today. Click here to see a brand-new edition of The Joe Show.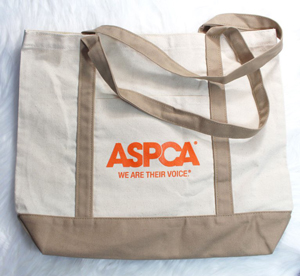 ASPCA Promotes APP With Branded Items
Pet owners have to be extra careful during the summer months as their furry friends are more prone to go missing, drown in backyard pools or suffer from heat exhaustion after being left in parked vehicles.
The American Society for the Prevention of Cruelty to Animals (ASPCA) urges pet owners to prepare for such situations by downloading the Pet Safety App, which tracks lost pets and issues emergency alerts.
To entice downloads, the ASPCA, in conjunction with fashion and lifestyle blog MyBeautyBunny.com, is giving away a summer prize package full of promotional products. The package includes a tote bag, Frisbee, beach ball and towel – all emblazoned with the ASPCA logo – and a Subaru yoga mat.
The app provides a personalized missing pet recovery kit, including step-by-step instructions on how to search for a lost animal in a variety of circumstances. You can also build a lost pet digital flyer that can be shared instantly on social media channels. Additionally, you can store and manage your pet's critical health records and access advice on what to do with your pet before, during and after a major storm, even if there's no WiFi or data connectivity.
In order to enter the giveaway, pet owners (18 years or older) had to download the ASPCA mobile app and then submit their information through the Rafflecopter widget.
Shake it with confetti! Some like it hot & some like it cold – with this lid, you can have both. Double-wall acrylic construction. Press-on lid with twist opening. Polypropylene straw with stopper for cold beverages. BPA free. 24 oz. Visit our website for more details.
Pet Products
Nearly two-thirds of U.S. households own pets, and more than 54 million of those are dog owners. These branded pet products are a great option for any event or fundraiser where four-legged friends are welcome.
Well-Groomed

Kit comes with moisture-wicking microfiber towels in two sizes and a pet mitt. asi/79750

Pampered Pet

Handy disposable shower towel is great for pet grooming businesses. asi/90026

Clean Up

Sturdy bone-shaped pet waste bag holder holds 15 biodegradable, leak-resistant bags. asi/68507

Good Dog

Pet stores can give these snack bags with 3" x 6" imprint space to new customers. asi/31516

Cozy Bed

Machine-washable bed has a sherpa pillow top and sides and a non-skid bottom. asi/64632

Neckwear

Pet collar has heavy-duty clips and includes your logo woven in up to 12 thread colors. asi/30250
MARKETING CALENDAR ••• NOVEMBER 2016
November 1 is Extra Mile Day, a day to recognize going beyond the capacity we all have to create positivity in our firms and organizations.

With the season changing, send out friendly reminders (logoed ones) that 11/6 is the end of Daylight Savings.
Job Action Day, 11/7, is a day of empowerment for workers and job seekers. Put your company at the forefront by making plans and taking action. A morale-boosting event with company-branded items will assist with your goals.
Keep your offices green on America Recycles Day, 11/15. Promote an eco-friendly environment with logoed recycling bins and branded literature to give tips on how to reduce your carbon footprint.
During Family Week, 11/20-11/26, we are reminded to keep a balance between work and personal life. An employee "Thanksgiving-theme" luncheon with family members and lots of logoed gifts will help strike a harmonious chord.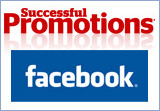 Win $100 & Gain Access to Great Ideas
Sign up now and enjoy The Joe Show, where our very own Joe Haley features cool new promotional product ideas. Access case studies in every industry that showcase the hottest new marketing campaigns. You can even submit your own case studies and be eligible to win a $100 MasterCard gift card. Plus, network with other businesspeople looking to pump up their marketing efforts. Click here to get started today.

Tell Us How Promo Products Worked For You
We want to hear your success stories on how promotional products played a pivotal role in your business strategy. Do you have a new employee welcome gift program? Have you used promo items in an awareness campaign, product launch or charity event? Let us know and we'll feature your case study in the Successful Promotions newsletter, and you'll also be eligible to win a $100 Visa gift card. Send an email to jchaykin@asicentral.com with a brief description of your case study, and we'll contact you for further details.


Successful Promotions® is a trademark of the Advertising Specialty Institute. Copyright 2016, ASI. All Rights Reserved.
Advertising Specialty Institute®, 4800 Street Road, Trevose, PA 19053