| | |
| --- | --- |
| promotional products • incentives • corporate gifts • meetings • events | Volume 113 / August 19, 2015 |
Click here to see other new and creative promotional products

PRODUCT OF THE MONTH





PRODUCT SPOTLIGHT





Gear-Up for Gift-Giving Season


Gifting clients and employees around the holidays isn't just a nice way to spread some cheer – it's a smart business tactic, according to a recent study by the Advertising Specialty Institute (ASI). About three-quarters of U.S. companies give holiday gifts to employees and clients, spending an average of $64 per employee and $38 per client, the study reports.

Why the generosity? Nearly 70% of the respondents said that business gifts are an important tool in developing relationships with clients and prospects. With that in mind, here are five corporate gift-giving tips to help you prep for the upcoming holiday season.

Start Early.
According to the study, 68% of businesspeople give gifts branded with the company's logo on them. But personalization takes time. Experts recommend clients start talking to their promotional products distributors about holiday gifts in August and September, and "place all of their orders by early fall," says promotional expert Marcia Gasca. "That way, there's plenty of time to be creative with personalization and packaging."

Be On-Trend.
Useful items that take up real estate on a recipient's desk or wall (think logoed pen sets and calendars) are always popular, but electronics remain the hot ticket on everyone's list, says Gasca. Think branded power banks, tablet covers and logoed microfiber screen cleaners. One hot item for this year: a portable charger leash, which has an alarm in it that sounds when you remove your device from it (great for globetrotters who are constantly leaving their travel chargers behind in hotel rooms). Other fun ideas include smart watches, apparel that monitors your heart rate and fitness-tracking wristbands.

Think Beyond the Gift Card.
While gift cards remain one of the most popular gifts for employees, get creative and present the card with something the recipient will hold onto much longer, suggests Gasca. For instance, put the card inside of a branded tumbler mug or water bottle, or zip it into the pocket of an embroidered fleece jacket. Another idea: Place the card inside a branded picture frame that will sit on the recipient's desk after the card is used.

Wrap It Up.
Forget plain holiday wrap for your gifts. Use packaging as another branding opportunity. As an example, you might roll up an imprinted T-shirt and slip on a logoed band that recipients can later use as a trendy accessory. Create gift tags as well. For instance, instead of a traditional paper gift tag, handwrite your recipients' names on a paper luggage tag insert; they can enjoy the branded luggage tag long after the gift is opened. Also, ask your promotional products distributor about customized gift wrap that will further showcase your company's branding.

Consider Cards.
Don't have the budget to send a gift to every client or prospect? Customized gift cards with personalized, handwritten notes are a nice touch. A growing trend is to send a "thanks for your business" in late November (just before Thanksgiving) so that your card can be the first holiday card to arrive in a recipient's mailbox. Sending cards early is "a great and affordable way to stand out from the pack," Gasca says.
VIDEO

THE JOE SHOW reveals some of the latest products and promotional ideas available in the market today. Click here to see a brand-new edition of The Joe Show.







Tell Us How Promo Products Worked For You
We want to hear your success stories on how promotional products played a pivotal role in your business strategy. Do you have a new employee welcome gift program? Have you used promo items in an awareness campaign, product launch or charity event? Let us know and we'll feature your case study in the Successful Promotions newsletter, and you'll also be eligible to win a $100 Visa gift card. Send an email to jchaykin@asicentral.com with a brief description of your case study, and we'll contact you for further details.
Picturesque Promos
There are a lot of marathons that claim to be scenic, but few can eclipse the Deadwood Mickelson Trail Marathon and Half Marathon which help to support local charities including Black Hills Habitat for Humanity.
These picturesque events run through the sacred homeland of the Lakota Sioux, starting at Rochford, South Dakota and ending in the historic town of Deadwood. "Great scenery and an opportunity to tie in the runs with a vacation in the beautiful Black Hills make it a family-friendly venue," says race director Emily Wheeler of Rapid City-based Wheeler Events Management. "We had a fantastic turnout for this year's runs with over 3,400 registrations from 44 states, Canada and as far away as New Zealand."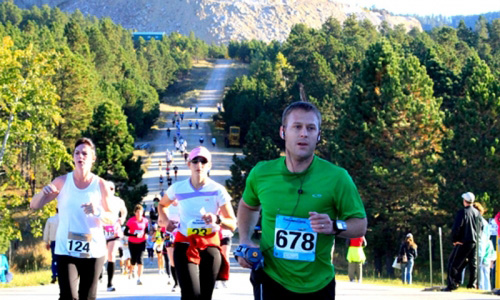 A wide selection of branded products including hats, hoodies, shirts, badges and jackets helped make the marathons a success. "Our most popular promotional items were quarter-zip jackets emblazoned with the race logos," says Wheeler. "These are something for the racers to take back home with them and wear as a memory of the event. Participating moms and dads also bought jackets and shirts for their children."
According to Wheeler, the Half Marathon garnered the most entries, "because it's obviously shorter and mostly downhill which makes it attractive for folks who want to compete but aren't able to put in as much training time." Wheeler also sponsors the Run Crazy Horse event in October where runners end their journey at the giant hand of the fabled Crazy Horse Monument. This event features unique promotional items such as branded horse tank and shooter shirts.
Holiday Gifts

There are a lot of reasons to give during the holidays – to express appreciation, to acknowledge great work or simply in the spirit of the season. Leave a lasting impression by finding the perfect gift at Leed's.

Leed's • ASI 66887
Support Our Heroes!

Show your support with this eye-catching accessory! Our Hometown Helpers Sport Pack is made of 210D polyester and features exclusive copyrighted designs. It also has fun 3-dimensional features and a double draw cord closure. Customize this item to create a one of a kind giveaway recipients will love showing off!

Vitronic • ASI 93990
Greeting Cards
Americans love greeting cards. According to estimates, they buy 6.5 billion cards a year, with Christmas cards being the most purchased. Whatever the holiday or reason, make sure to send a warm message to your employees, clients and vendors with a personalized greeting card. Contact your promo products distributor for information on the cards shown here.
Give Thanks Thanksgiving Path card includes your choice of verse and lettering style for personalization line and choice of standard ink or foil color and blank envelopes. Fastick envelopes are available and can be personalized with return address in choice of lettering style. asi/43920
Show Appreciation Your business associates will appreciate this Thanksgiving card that depicts a prominent thank-you in gold foil with an autumn scene of leaves reflecting in a stream. It features gold-lined white envelopes. Back flap dimensions 7 7/8" x 2 ¼". asi/40580
Happy Holidays Christmas card features Santa's sign, wildlife and silver foil-lined white envelope. Suggested inside verse: Season's Greetings; May the holidays deliver an abundance of happiness and good cheer! Standard font: Baskerville, centered in all caps, maximum 45 characters per line. asi/97270
Season's Greetings Holiday card is adorned with a seed-paper snowflake that sends an earth-friendly message. Made with recycled cardstock and attached seed-paper shape. Outside printed in four-color process with stock art; inside is custom-printed with your logo and the greeting of your choice. When planted, the shapes will grow into wildflowers! asi/40646
Celebrate 2016 Spread holiday cheer with this 8" H X 5.19" W SuperSealed laminated greeting card! Available in several holiday-themed prints, it includes an additional gift of a magnetic one-year calendar. Card can be customized with four-color process imprinting. asi/68507
Birthday Wishes Scenic landscape is featured on 7 1/2" x 5 1/2" silver-foil embossed "Happy Birthday" card. Card personalization is available. Add a logo, signature and/or photo. Choose one-color, four-color and/or foil imprints. Add envelope personalization with a return logo and/or return address. asi/43823
marketing calendar ••• november 2015
| | | |
| --- | --- | --- |
| | | Thanksgiving falls on the 26th this year. But turkeys and yams aside, there are other opportunities to run month-long promotions. November is National Aviation Month, a perfect fit for airlines and aviation museums to spread the story of flight. |
| | | |
| --- | --- | --- |
| | | During Movember, any business can run a mustache-growing competition to raise awareness of prostate cancer and other men's health issues. Weekly updates on the growth posted online will enhance the fun. |
| | | |
| --- | --- | --- |
| | | Veterans Day, 11, is a time to salute the men and women of the armed forces. International Girls Day, 14, is on target for a promotion to help young girls build their confidence and harness their unique "girl power." For offbeat promotions, you can run a wacky "Have A Bad Day" Day on the 19th to get back at all those loose-lipped "have a good day" well-wishers. Finally run a company-wide employee appreciation event on Celebrate Your Unique Talent Day, 24. The event can be recorded and shared on all your social media platforms. |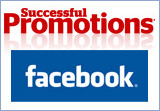 Win $100 & Gain Access to Great Ideas
Sign up now and enjoy The Joe Show, where our very own Joe Haley features cool new promotional product ideas. Access case studies in every industry that showcase the hottest new marketing campaigns. You can even submit your own case studies and be eligible to win a $100 MasterCard gift card. Plus, network with other businesspeople looking to pump up their marketing efforts. Click here to get started today.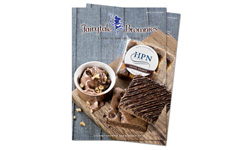 Fairytale Brownies New 2016 Catalog Now Available See what's new in custom holiday packaging and flavors. It's not too early to plan your fall campaigns.
asi/53518


Successful Promotions® is a trademark of the Advertising Specialty Institute. Copyright 2015, ASI. All Rights Reserved.
Advertising Specialty Institute®, 4800 Street Road, Trevose, PA 19053