| | |
| --- | --- |
|   |  BECOME OUR FACEBOOK FAN  |
Win $100 & Gain Access to Great Ideas
Successful Promotions magazine now has a Facebook fan page! Sign up now, and enjoy The Joe Show, where our very own Joe Haley showcases cool new promotional product ideas. While you're there, access case studies in every industry that showcase the hottest new marketing campaigns. You can even submit your own case studies and be eligible to win a $100 American Express gift card. Plus, network with other businesspeople looking to pump up their marketing efforts. Click here to get started today.
| | |
| --- | --- |
|   |  SUCCESSFUL PROMOTIONS CONTEST |
ADVERTISEMENT

Every week Successful Promotions will launch a new contest where we ask you, our readers and Facebook fans, for your most creative ideas for solving businesses dilemmas. Each entry should be 50 words or less and a promotional product must be part of the solution to the weekly challenge. Send all entries to jhaley@asicentral.com by the specified deadline in order to qualify for a free gift. Winners will be selected randomly from all entries.
Week 1 Contest: From August 16 to August 22
Health Nuts. The HR department of a manufacturing plant with 500 employees wants to launch a health and fitness campaign for its employees. Besides the health benefits, the company sees it as a way to cut increasing insurance costs. The executives are looking for a variety of imprinted products to not only announce the program but also as incentives to give out throughout the year to keep everyone on track. We need your ideas.
Week 2 Contest: From August 23 to August 29
Fore Top Sales Reps. After having two terrific quarters, a sales department has beat its profit and revenue budget by 75%. As a thank-you the president is inviting all sales reps to a golf weekend, which will include a two-night hotel stay and two rounds of golf. He wants to have a room gift in place when everyone arrives. What do you think would be appreciated and memorable?
Week 3 Contest: From August 30 to September 5
Battle of the Bands. A local high school band parents' association is looking for ways to support their sons and daughters at football games and band competitions. The school district, however, has just put the kibosh on noisemakers, so they have to give up their cowbells. What can they use to sell support in a quiet way?
Week 4 Contest: From September 6 to September 12  
Turning Over a New Leaf. A college fraternity is looking to raise funds by handling leaf removal for town residents in the fall. The brothers give out an imprinted product at the town's Octoberfest to announce the new venture. What item can they hand out that will identify both the organization and the leaf-removal business?
| | |
| --- | --- |
|   |  THE JOE SHOW: HOT NEW PRODUCTS |
The Joe Show is a weekly video program where Managing Editor Joe Haley presents and demonstrates a variety of ad specialty products. He also offers useful tips and information on how they can be used in ad campaigns and other promotions. This collection features new products being offered by your distributor partner.

Click here to see a brand-new edition of The Joe Show.
| | |
| --- | --- |
|   |  PROMOTION FOR KIDS OF ALL AGES |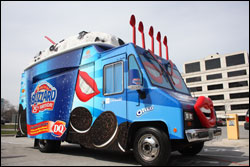 Dairy Queen Throws a Blizzard Birthday Party
Dairy Queen's flagship Blizzard treat has turned 25 years old, and to celebrate, DQ hit the road at the beginning of April for a five-month, 25-city Blizzardmobile tour, thanking customers and reminding them about the classic dessert. DQ reps are touring the country in a colorful ice-cream truck, complete with red spoon windshield wipers, upside-down blizzard cups for rearview mirrors, and a mound of cookies 'n cream flavor ice cream overflowing out of the top of the truck (not real ice cream, sadly).
At each stop, representatives from DQ hand out free Mini Blizzards (they expect to give out 100,000 before the end of the promotion), play music and interact with fans. At some locations, they are also giving customers a chance to hop into the Blizzard Blaster – a giant, upside-down Blizzard cup with coupons and giveaways swirling around inside.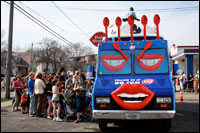 DQ is keeping in touch with fans through social media by doing a huge promotion on its Facebook page, including video updates from the event and user-generated content, as well as commercials and information about DQ's offerings.

"Five or 10 years ago, if you did event marketing you would pretty much impact the people you served at the event," says Michael Keller, chief brand officer for Dairy Queen. "With the advent of social media, if you have the right visuals and right story at your event, the events really just serve as the platform to amplify your message."

But Keller emphasizes that, "This all starts with the stores." DQ is offering a special "25 flavors for 25 years" menu at its more than 5,000 locations in North America, as well as six special flavors tied around the celebration. "While we have a lot of website traffic, and a lot of Fan Club members, the real action is occurring at the stores, and we're trying to turn our stores a 25th anniversary party central," he says

Check out the Shopping List below for some great promo product ideas.
| | |
| --- | --- |
|   |  GREEN PROMOS GET RESULTS |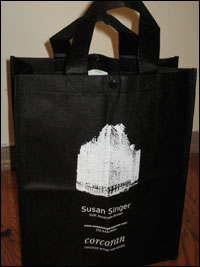 "Green Queen" Uses Eco Message to Connect With Clients
Sustainability has become a key selling point in the real estate industry. This is why Susan Singer, senior vice president of sales for The Corcoran Group and a self-proclaimed "eco-broker," has branded herself "The Green Queen;" she promotes the sustainability of the properties she is offering, and drives potential clients to her website with an eco-friendly promotional product.  
"Years ago, I used refrigerator magnets and a mouse pad, and they both got me a lot of mileage," says Singer. "But I wanted to do something that was eco-friendly this time and that could be used in an eco-friendly way."
To help spread the word about her business, Singer ordered plenty of imprinted tote bags made of recycled plastic material. The bags feature a stenciled image of the historic London Terrace apartment building, which she is a broker for, as well as her contact information and branding for Corcoran Group Real Estate. She says she decided not to include the name of the London Terrace building so that the bag would have wider appeal – she wanted it to be, "just about living in New York and having an eco-friendly bag … that way people will want to use them and it's just free advertising."
Singer sent the totes to her neighbors, clients and potential clients – and gave one to every unit in London Terrace. She also distributes them at events when the opportunity arises. For example, she recently offered the bags after she spoke at an Earth Day seminar at Baruch College in Manhattan.
The totes direct people to Singer's website, www.susansingerspaces.com, where they will find information about her properties ranging from Brooklyn to Uptown Manhattan, as well as Tales of the Green Queen, a regular comic strip in which a cartoon version of Singer tours the city, helping people save on energy costs.
While Singer acknowledges that these days the economy often weighs on real estate buyers more than the environment does, she says the totes get an enthusiastic response. "I've had people call me or e-mail me saying, 'I am so grateful for this tote, it's so sweet and reminds me of the building,' and people from the building have just stopped me on the street," she says. "It's really been very good for me."
Contact your ad specialty distributor for more information on the products below.
| | |
| --- | --- |
|   |  PRODUCT SPOTLIGHT |
| | |
| --- | --- |
| Top 40 Supplier Sunscope is the exclusive licensed Industry Supplier of HoodieBuddie™. HoodieBuddie™ integrates HB3 Technology™ into fun, functional, and wearable garments. Patent-pending machine washable headphones provide dynamic sound wash after wash with proven durability. Never before has apparel kept its wearer connected to MP3 players and other digital media devices.  | |
| | |
| --- | --- |
| |  SHOPPING LIST |
| | | |
| --- | --- | --- |
| CUSTOM SKIN CARDS Customize your iPod, cell phone, or laptop by selecting from thousands of top sports, entertainment or collegiate branded skins, or by uploading your own picture. asi/42989 |   | MAKE SOME FUN Keep summer going all year long with this ice cream maker with candy crusher. It creates ice cream in 10 to 20 minutes, and kids will love watching the process through the clear lid. asi/88168 |
|   |   |   |
| A BEAUTIFUL ENDING   This exquisite Kosta Boda ice cream bowl will make plain vanilla seem like the best ice cream they've ever tasted. asi/75256 |   | CARRY SOME RESPONSIBILITY This tote bag is made of 51% post-consumer recycled PET from soda bottles, yogurt cups and more. The total fiber content is 85% PET, 15% nylon. asi/47700 |
|   |   |   |
| COLORFUL WRITING  This click-action ballpoint pen is made with environmentally friendly plastic that will biodegrade in a regular landfill within 18 to 60 months. asi/43442 |   | MIGHTY MOUSE PAD This eco-friendly mouse pad is made of 100% recycled tire rubber and features your logo in vibrant four-color process or rich PMS colors. asi/49716 |
Successful Promotions® Trend Report™  is a trademark of the Advertising Specialty Institute. Copyright 2010, ASI. All Rights Reserved.
If you'd like us to send Successful Promotions Trend Report FREE to your colleague, click here and complete the online form.
Click here to subscribe to Successful Promotions® magazine. The publisher has a right to refuse subscriptions to non-qualified subscribers.
Advertising Specialty Institute®, 4800 Street Road, Trevose, PA 19053