| | |
| --- | --- |
|   |  PROMOTIONAL PARTNERS |
ADVERTISEMENT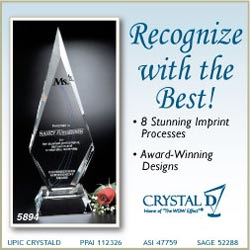 Kid Rock, Jim Beam Offer Promos All Summer Long
When Kid Rock hit the tour circuit with Lynyrd Skynyrd this summer, he brought along Red Stag by Jim Beam bourbon and plenty of promotional products to support it. The Detroit rocker inked a deal to be the face of the new cherry-infused bourbon during his 25-city "Rock 'N' Rebels" tour.
The partnership includes heavy brand integration, ranging from Rock weaving Jim Beam into the lyrics of his hit song All Summer Long, to playing a Jim Beam/Red Stag branded guitar. The bourbon was hard to miss at the shows, thanks to 20-foot inflatable bottles, roaming Red Stag models and the opportunity to have a picture taken at the show with Kid Rock superimposed alongside the subject (compliments of Red Stag).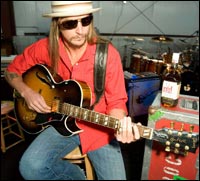 Co-branded concert T-shirts were on hand, and when fans got home, they could download remixes of Kid Rock songs at www.theredstag.com with the help of co-branded download cards. Logoed table tents and coasters were also peppered throughout the VIP areas. Even the tour buses were co-branded.

"Through our premium giveaways and promotional products, we aim to extend and deepen the brand's relevance to legal-purchase-age men and women in their 20s and 30s," says Brian Gallagher, sponsorship manager for Jim Beam. "Co-branded T-shirts, exclusive music download cards and inflatable bottles at Kid Rock's concert are ways to reach our targeted demographic in a style most relevant to them."

It's worth noting that Kid Rock himself also gave something away during the tour. For every ticket sold, he donated 50 cents to Operation Homefront, a nonprofit organization that provides assistance to U.S. military veterans returning home to their families.

Check out the SHOPPING LIST below for some spirited specialties.
| | |
| --- | --- |
|   |  PRESS KIT WITH A BITE |
Discovery Channel Gets Chummy With Journalists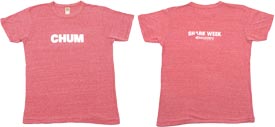 In 1916, the New Jersey shore became a feeding ground for hungry sharks. Five people were attacked within a span of 12 days. This turn of events sent the nation into a panic and inspired the story Jaws. It also prompted The Discovery Channel to air a two-hour reenactment during its highly-rated annual "Shark Week."

Shark Week 2009 explored the attacks of 1916, sent Survivorman's Les Stroud into shark-infested waters to find out which is the most dangerous shark, and looked at the summer of 2001. During the "Summer of the Shark" in 2001, these predators attacked more than 50 swimmers off U.S. beaches.

Realizing that it's not enough to just have compelling content, the popular cable network reached out to journalists to make sure they knew what was in store. About 500 select reporters received a press kit that included DVDs of the show, shark facts and a red T-shirt that said "Chum" on the front and "Shark Week Discovery Channel" on the back.

"We know that journalists are inundated with press screeners, premiums and pitches," says Elizabeth Hillman, senior vice president of communications for Discovery Channel. "When we thought about what to create for our Shark Week press kit, our goal was to create something people would actually use. We decided to continue our tradition of high-quality concert-like T-shirts. We knew that if we've done our job and the Shark Week shirts are clever enough, people would wear them proudly and create excitement about Shark Week. We hope that reporters look forward to seeing what we do next year."
| | |
| --- | --- |
| |  SHOPPING LIST |
| | | |
| --- | --- | --- |
| AUDIOBOOK DOWNLOAD CARDS Give customers and prospects their choice from more than 60,000 top-selling book titles. Enjoy best-selling books while commuting to work, exercising, traveling for business or relaxing at home. Available from asi/42989. |   | LITTLE BLACK BOOK   Help out staff members who are on a diet plan with a handy journal. This one helps the user stay on track with weekly progress checks, targets and tips, and also includes nutrition data. Available from asi/41010. |
|   |   |   |
| STAY HYDRATED This reusable, stainless-steel, BPA-free sport bottle promotes sustainable hydration. Twist-off lid and carabiner make it sport-friendly. Available from asi/32145. |   | LUNCH HOUR It's back to school time and parents and students will be packing lunches. This tote cooler makes an ideal gift to hand out at the end-of-summer picnic. It features a front pocket, side mesh pocket for a water bottle and thermo-lining. Available from asi/56070. |
|   |   |   |
| STAR PERFORMER Another idea for a school-themed promotion is this star-shaped clip. It features a strong magnet for superior holding power. Choose from three translucent colors and white. Available from asi/57653. |   | TIMELESS ACCENTS Show your appreciation for a job well done with a classic timepiece. This watch features a two-tone metal case and matching bracelet. Available from asi/84360. |
Successful Promotions® Trend Report™  is a trademark of the Advertising Specialty Institute. You were sent this newsletter as a benefit of your ASI membership. Copyright 2009, ASI. All Rights Reserved. 
If you'd like us to send Successful Promotions Trend Report FREE to anyone else at your company (or to your off-site sales reps), go to www.asicentral.com/newsletters and complete the online form.
Click here to subscribe to Successful Promotions® magazine. You must be a member of ASI to subscribe to this publication. The publisher has a right to refuse subscriptions to non-members.
Advertising Specialty Institute®, 4800 Street Road, Trevose, PA 19053