| | |
| --- | --- |
| promotional products • incentives • corporate gifts • meetings • events | Volume 121 / April 20, 2016 |
Click here to see other new and creative promotional products

| | |
| --- | --- |
| | PRODUCT SPOTLIGHT |
| | |
WrestleMania Promos Take Over Texas

A week of BBQ and bodyslams has wrapped up as World Wrestling Entertainment (WWE) presented WrestleMania 32 – professional wrestling's annual promo-filled Super Bowl inside AT&T Stadium in Arlington, TX.
An all-time WWE attendance record of 101,763 people from 50 states and 35 countries made the pilgrimage to witness their favorite athletes clash at the nearly seven-hour event. "On behalf of the Dallas Cowboys organization, we congratulate WWE on their historic achievement," said Dallas Cowboys Chief Brand Officer Charlotte Jones Anderson in a press release. "WrestleMania was an incredible spectacle like none other, and we look forward to hosting it again at AT&T Stadium."
WrestleMania 32 also became the highest-grossing live event in WWE history, grossing $17.3 million. The record was set last year, as WrestleMania 31 in Santa Clara, CA, grossed $12.6 million. It also generated $139 million in economic impact for the Santa Clara/San Jose area; $22 million of which was spent on hotels and accommodations. That's why cities bid on hosting the pop culture extravaganza each year – Orlando has been chosen over Philadelphia and Minneapolis to hold WrestleMania 33 next year.

"We are thrilled that we made history tonight at WrestleMania, further cementing its place as one of the top sports and entertainment events in the world," said WWE Chief Brand Officer Stephanie McMahon.
As soon as fans arrived at Dallas/Ft. Worth International Airport, they were greeted by WrestleMania signs and life-size WWE Superstar cutouts at baggage claim and rental car stations. Even the streets of downtown Dallas were plastered in WrestleMania banners showcasing top stars such as The Rock and John Cena. StubHub handed out free lanyards with plastic pouches to securely hold tickets to the event while fans scooped up hats, shirts, wristbands and posters emblazoned with the WrestleMania and WWE logos.
Throughout the week, fans mobbed the Kay Bailey Hutchinson Convention Center in Dallas for WrestleMania Axxess, an annual fan fest with autograph signings, exhibits and merchandise. Snickers sponsored the event, giving out free candy bars and sharing clips through social media and YouTube. During the WrestleMania broadcast, an ad featured WWE Hall of Famer Ric Flair and WWE Superstars Charlotte and Zack Ryder as part of the "You're Not You When You're Hungry" campaign.
VIDEO

The Joe Show reveals some of the latest products and promotional ideas available in the market today. Click here to see a brand-new edition of The Joe Show.






Printed Tee Raises Awareness for Nonprofit
Poor self-image and an unhealthy view of food and weight can have devastating effects on a person. Eating disorders like anorexia, bulimia and binge eating disorder affect millions of people around the world, so to help raise awareness, February 21-28 is designated as National Eating Disorders Awareness Week.
To help bring these disorders to light and offer support, many organizations across the country, such as colleges and universities, held special events. For example, West Chester University sponsored a "scale bashing" session meant to empower young women. Missouri University held a variety of educational events, including a viewing of the film Fattitude, along with a question and answer session with health-care professionals. Students also participated in "Magic Mirror on the Wall," where people stopped by and wrote body-positive phrases on mirrors.
One women's intimate apparel brand, Aerie (by American Eagle), ran a marketing campaign to promote positive body image in their stores and online in February and March. Aerie is a supporter of the National Eating Disorder Association (NEDA), a New York City-based nonprofit that supports people affected by eating disorders.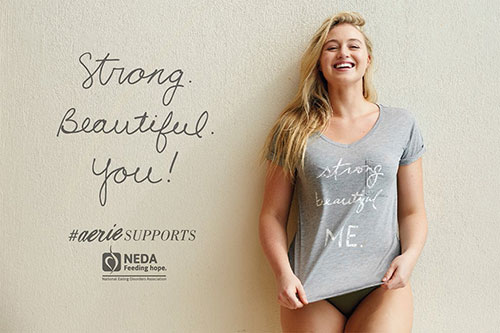 According to NEDA's website, the goal of National Eating Disorders Awareness Week (#NEDAwareness) is to "improve public understanding of the causes, dangers and treatments for eating disorders. Eating disorders have the highest mortality rate of any mental disorder, so early intervention can mean saving lives." NEDA's website features an online screening test called "3 Minutes Can Save a Life: Get Screened. Get Help. Get Healthy," to determine if professional help is needed (http://nedawareness.org/get-screened).
Aerie's campaign, called "Strong, Beautiful, ME," featured a printed, limited-edition T-shirt that was available online only, with 100% of sales being donated to NEDA (www.Aerie.com/AerieSupports). In addition, all Aerie stores had a gift-with-donation bracelet.
"We are thrilled to have ongoing support from Aerie, and we thank the company for its socially responsible campaigns," said Claire Mysko, interim CEO of NEDA in a press release. "Walking into stores that are promoting a healthy body image is a huge step for helping all women develop high self-esteem. Body negativity is so prevalent in our society, but Aerie is taking a stand and making an impressive impact."
In addition to the eating disorder awareness week campaign, Aerie will also be working with NEDA as the presenting sponsor of the nonprofit's ongoing national walk awareness program called "NEDA Walk. Save a Life," which raises funds for advocacy and educational programs and provides support for local communities. "We are excited to continue our partnership with NEDA for the second year in a row," said Jennifer Foyle, Aerie global brand president in the press release. "Our work with NEDA continues to allow us to provide information and resources to our customers helping to reduce the stigma often associated with eating disorders, as well as reinforce our commitment to #AerieREAL and authentic body positivity."
One Of The Hottest New Tech Items Of The Season

Considered one of the hottest new tech items of the season, the remote control drone with camera is sure to be a home run. The Drone features an advanced stability system that makes the drone easy to operate. After one or two practice flights you will have the drone flying with ease. Once you advance your skills you can start performing aerial flips, taking video, or a still photo. Visit our website for more details.
Tote Bags
Studies show that bags generate more impressions in the U.S. than any other promotional item, making them the perfect vehicle to spread your company name. For information on the bags shown here, contact your distributor.
Flat tote with full-color sublimation is made is from recycled plastic water bottles. asi/67557
Extra-strong nonwoven tote's polypropylene material is recyclable and reusable. asi/62660
Natural cotton canvas tote has contrasting color straps and matching color bottom. asi/49809
Waterproof wheelchair tote has nylon straps that fit over wheelchair handles. asi/36558
Made-in-the-USA cotton canvas tote bag has a large imprint area and 3-inch gusset. asi/47971
Three-tone tote has 26-inch reinforced handles and two front pockets. asi/52840
MARKETING CALENDAR ••• JULY 2016
In addition to Independence Day, 4, July offers other opportunities to launch a fun month-long promotion. National Grilling Month is perfect for retailers who sell grills, grill accessories and for those who build patios and decks. There are lots of related promotional products. While you're at it, throw a good old-fashioned cookout for your employees, clients and vendors. It's also National Make a Difference to Children Month, where people are asked to get involved with children by doing something special, supporting child-focused organizations and advocating on behalf of children. Corporate outreach to children's groups in the community goes a long way to building goodwill.
Celebrate the 40th Anniversary of Family Feud, 12, by hosting a game show at your company, pitting employees against management. This corporate bonding event can include lots of logoed prizes for the winners. On National Ice Cream Day, 17, line up a late afternoon treat for employees, or treat the residents of a local assisted living facility with ice cream and companionship.
Patch things up with a client whose order went horribly wrong on National Get Out of the Doghouse Day, 18. Make sure you have logoed gifts for drop-by visits. Finally, the Anniversary of the First Singing Telegram (1933), 28, is time for a fun client visit. Serenade them with a little ditty about your fondness for them and the business they send your way.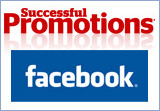 Win $100 & Gain Access to Great Ideas
Sign up now and enjoy The Joe Show, where our very own Joe Haley features cool new promotional product ideas. Access case studies in every industry that showcase the hottest new marketing campaigns. You can even submit your own case studies and be eligible to win a $100 MasterCard gift card. Plus, network with other businesspeople looking to pump up their marketing efforts. Click here to get started today.

Tell Us How Promo Products Worked For You
We want to hear your success stories on how promotional products played a pivotal role in your business strategy. Do you have a new employee welcome gift program? Have you used promo items in an awareness campaign, product launch or charity event? Let us know and we'll feature your case study in the Successful Promotions newsletter, and you'll also be eligible to win a $100 Visa gift card. Send an email to jchaykin@asicentral.com with a brief description of your case study, and we'll contact you for further details.


Successful Promotions® is a trademark of the Advertising Specialty Institute. Copyright 2016, ASI. All Rights Reserved.
Advertising Specialty Institute®, 4800 Street Road, Trevose, PA 19053