| | |
| --- | --- |
| promotional products • incentives • corporate gifts • meetings • events | Volume 109 / April 15, 2015 |
Click here to see other new and creative promotional products

| | |
| --- | --- |
| | PRODUCT SPOTLIGHT |

Bobbleheads Dominate MLB Promo Calendars


Garden gnomes, soap dispensers, fedoras and replica championship rings are just a few of the new promotional items MLB teams will give away at ballparks this season. Still, the promo product that remains the most collectible and universally popular in stadiums is the bobblehead. In fact, there are more than 130 bobblehead promotional nights scheduled at MLB parks in 2015, featuring replicas of current players, broadcasters and movie characters.

"We give away a bobblehead, it automatically becomes a sellout," Rick Schlesinger, COO of the Milwaukee Brewers, recently told ESPN. "Every year we think we might have exhausted the bobblehead craze here in Wisconsin, and it doesn't happen."

For 2015, the Brewers have sold out multiple packages of promotional tickets – entitling fans to a bobblehead of Bob Uecker's character from the film Major League and a bobblehead of catcher Jonathan Lucroy with a green light saber in his hand for Star Wars night. The Cincinnati Reds, meanwhile, have nine promotional bobblehead dates planned, and the Los Angeles Dodgers and St. Louis Cardinals each have eight. The Yankees are giving away four bobbleheads this year in the images of Masahiro Tanaka, Thurman Munson, Jacoby Ellsbury and Babe Ruth.

Bobblehead technology will also improve for 2015. The Brewers' Uecker figurine has a chip in it that will belt out three phrases from Major League and the Cardinals' Harry Caray bobblehead will also talk – a giveaway meant to honor the legendary voice of the rival Chicago Cubs.

The popularity of bobbleheads is far from a fad – plans were recently announced to open a National Bobblehead Hall of Fame and Museum in Milwaukee. The museum will host bobblehead events, autograph signings and mascot appearances, and it will include a bobblehead-themed restaurant. Alternatively, as an ongoing display, the Miami Marlins have a collection of about 600 baseball bobbleheads inside Marlins Park.

If bobbleheads aren't what you're looking for, though, MLB teams are offering quite a list of distinctive giveaways this year. A few top picks: Hisashi Iwakuma bear hats (Mariners) on April 25; BBQ branding irons (Twins) on May 25; and Star Wars-themed Death Star balls (Red Sox) on May 4 and R2D2 can coolers (Nationals) on July 19.
VIDEO

THE JOE SHOW reveals some of the latest products and promotional ideas available in the market today. Click here to see a brand-new edition of The Joe Show.







Tell Us How Promo Products Worked For You
We want to hear your success stories on how promotional products played a pivotal role in your business strategy. Do you have a new employee welcome gift program? Have you used promo items in an awareness campaign, product launch or charity event? Let us know and we'll feature your case study in the Successful Promotions newsletter, and you'll also be eligible to win a $100 Visa gift card. Send an email to jchaykin@asicentral.com with a brief description of your case study, and we'll contact you for further details.
Football Team Scores Equipment – Through Golf
Mission Viejo High School's Diablo football team needed to raise money for new training and safety equipment and facilities, and they had a small timeframe to work with. Traditional fundraising efforts taking weeks or months weren't the answer. The solution was to pump up the previous year's fundraiser – the high school's annual Diablo Classic Golf Tournament.
California-based Mission Viejo chose one of South Orange County's finest golf courses to host the event, and used the Diablo Classic website and a variety of online and personal communication efforts to advertise it. The tourney featured a round of golf plus lunch, dinner and opportunities to win Diablo-branded promotional gifts via hole-in-one contests and other on-course events. Prizes included branded golfers' gift-packs featuring shoe bags, divot fixers and tee pouches. Diablo-branded thank-you gifts were also given to golfers to encourage them to donate to the football team.
Tournament participants and donors enjoyed the promotional gifts, and the branding helped keep the Diablos in mind well after the football season ended. The tournament itself was a success as the effort exceeded expectations, raising more than enough money to cover the season's football needs.
Are you looking to raise money for your school or sports team? Make sure to use innovative techniques to connect prospects to a school's offerings to boost school enrollment or raise funds for teams. The best methods to do this use promotional products and a strong partnership with your distributor who can show you great ways to incorporate branded items into your campaign.
The iSelfie

The iSelfie is compatible with iPhones 3 and newer. The 3.5 mm audio jack connects to your phone which is connected to a 38" cord with a camera shutter. There are two imprint locations on the camera shutter. Take pictures with ease! Fun for company parties, vacations and more!

Crown • ASI 47700
Golf Items
Congratulations to Jordan Spieth, the young man who just won the Masters golf tournament in Augusta, GA. If you're looking to create a winning event at your next tournament, check out the products below. They would make perfect incentives, prizes and thank-you gifts. Contact your distributor for more information.
Style & Function The new Wilson Staff travel gear line is designed with style and modern functionalities, manufactured with premium fabrics and detailing. Those items will follow you from your business travels to your golfing vacation. asi/79680
Practical Matters Shoe bag is made of soft black jersey cloth with mesh vents and features a zippered closure and flat storage. Customize with an imprint and hand out at your next event. Perfect giveaway for golf tournaments and country clubs. asi/47700
Frequent Flyer Get into the "swing" of your campaign by handing out this jumbo, eco-friendly golf ball luggage tag made from recycled styrene plastic. The reverse side has an imprinted identification panel for writing name and address information. asi/62660
Versatile Gift Your customers and employees will appreciate this 3-in-1 hat clip from the Cutter & Buck tour collection. It's a bottle opener, a removable magnetic ball marker and a clip that can easily attach to your hat, sleeve or bag. asi/66887
The Champ Commend employees with this unique 3-D award, handcrafted from business cards. Great for sales recognition, executive gifts and athletic awards. Includes personalized plate, matting and shadow box wood frame. asi/54100
Fore! Designed for golfers seeking exceptional soft feel and low spin, the custom Titleist Velocity golf ball will get your brand noticed. Made of Ionomer material, each ball provides fast speed for explosive distance. asi/74400
marketing calendar ••• JULY 2015
National Grilling Month
Whether people use gas or charcoal, the fact remains that millions of Americans love grilling outdoors. A month-long promotion to customers and potential customers built around grilling is perfect for July. And, you needn't be in a related industry, though grill retailers, patio furniture sellers and deck construction companies can use the month to promote their services or reward their new clients. Branded barbeque utensil sets, aprons and lighters are ideal gifts. You can also thank current clients with special steaks or seafood that they can throw on the grill at home. And, consider shooting a weekly video of your favorite grilling techniques and posting it to social media. Talk to your distributor to find out how she can help you plan out the entire month.
4
Independence Day
Businesses needn't feel left out on the Fourth of July. You can get involved on a local level by sponsoring a float in a parade or walking the parade route handing out logoed bottles of water. Small American flags with imprinted sticks can also be given to parade goers. For the fireworks display, hand out fireworks-enhancing glasses that have a detachable coupon which can be for money off your goods and services. Your distributor partner can help you secure all of these products.
13
Embrace Your Geekness Day
Hit TV shows like The BIG Bang Theory have brought nerdom into the mainstream making it hip to be square. A cool promotion could center on super heroes, comic books and fantasy role-playing games like Dungeons & Dragons. Create your own fantasy world online and blog about your newly discovered middle Earth. Branded items could include temporary tattoos and logoed capes.
23
Hot Enough For Ya Day
People are permitted on this day to ask the totally mindless question: "Is it hot enough for ya?" Play off that with a fun promotion where you send clients and prospects lemonade kits that include logoed drinkware and lemonade mix. Ask the question, and then provide the answer: "It's never too hot when you're working with us."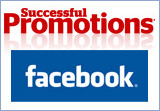 Win $100 & Gain Access to Great Ideas
Sign up now and enjoy The Joe Show, where our very own Joe Haley features cool new promotional product ideas. Access case studies in every industry that showcase the hottest new marketing campaigns. You can even submit your own case studies and be eligible to win a $100 MasterCard gift card. Plus, network with other businesspeople looking to pump up their marketing efforts. Click here to get started today.
| | |
| --- | --- |
| | |
| The patented switchblade action golf divot tool, available exclusively from BCG in Canada. Available in 3 styles and many color options. Now also available the NEW TWISTER model from Pitchfix. Call us for free virtuals. asi/37693 | Fairytale Brownies Photo Sprite Dozen HP212X Show Some Realtor Love! They trust you enough to send business your way. Thank them for the referral or sale with irresistible gourmet goodness - 12 snack-sized, individually wrapped brownies. asi/53518 |


Successful Promotions® is a trademark of the Advertising Specialty Institute. Copyright 2015, ASI. All Rights Reserved.
Advertising Specialty Institute®, 4800 Street Road, Trevose, PA 19053