| | |
| --- | --- |
| promotional products • incentives • corporate gifts • meetings • events | Volume 61 / April 2011 |
SPONSORED BY



Click here to see other new and creative promotional products

Cover Story
Royal Wedding: Promo Products Bonanza
The wedding of England's Prince William and Catherine Middleton, taking place on April 29, has become almost impossible to miss in London, and one of the main reasons is the huge number of souvenirs and promotional products that fill shops on nearly every highly trafficked block. While austerity and budget cuts have become the norm in England, the wedding has given tourists a timely reason to visit and locals a reason to spend. The moment the engagement of the couple was announced, manufacturers began churning out mugs, plates and commemorative pens. Neil Saunders, consulting director of retail researchers Verdict, predicted to The Telegraph that the sale of royal wedding merchandise could top £26 million ($42.5 million U.S.).

ADVERTISEMENT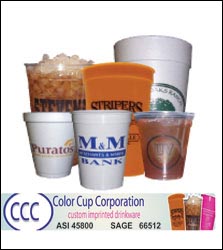 Walking through the streets of London, visitors come across everything from William & Catherine compacts, commemorative tea tins, ashtrays and shot glasses to pens, cookie tins, bookmarks, reusable bags, car flags, and yes, even condoms. Some promotions offer a more irreverent take on the event, such as a commemorative plate reading "Thanks for the free day off," a "Keep Calm and Marry On" poster, and "Kiss Me Kate" beer.
"A lot of promotional products manufacturers have seized this opportunity and are working with distributors to offer a huge variety of products suitable for all occasions," says Annette Scott, CEO of PROMOTA, a trade association for the ad specialty industry in the U.K. "Products such as flags, pens, hats, mugs and badges are the perfect giveaways at community parties or business events." The interest has been so high that PROMOTA created an entire website where manufacturers can upload images of wedding-related products, such as commemorative coaster sets and crystal diamonds, engraved with the couple's image.
ADVERTISEMENT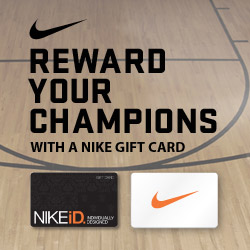 James Biggin, co-owner of Yorkshire, U.K.-based Steel City Marketing, has seen quite a bit of interest, with clients buying up branded paper crowns, hand-held flags and decorated bunting to incorporate into events they are hosting to correspond with the celebration. But while the prices for William and Kate merchandise can run as high as $3,000 for an 18k white gold replica of Kate's engagement ring, Biggin has primarily seen interest in less-expensive offerings. "It's been bits and bobs really, the low-price range stuff," he says. "Clients want to focus on things that they can give away to kids at their events."

Lucy Stuart, co-owner of Norfolk, U.K.-based distributor S R Print and Design, has filled orders for mugs and small flags for clients that are giving them out at royal-wedding-themed events or in gift bags. The breadth of products available, Stuart says, has made this occasion the biggest for promotional product consumer sales since the change of the millennium in 2000.

The promotional products frenzy in London is sure to keep up its fervent pace following the Royal Wedding. Manufacturers and distributors in the area say they're already gearing up for the 2012 Summer Olympics, taking place in London.
VIDEO

ADVERTISEMENT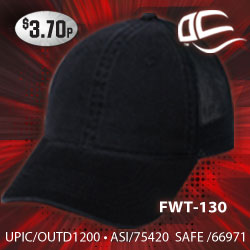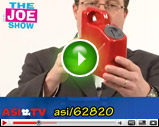 THE JOE SHOW
The Joe Show reveals some of the latest products and promotional ideas available in the market today. Click here to see a brand-new edition of The Joe Show.
ADVERTISEMENT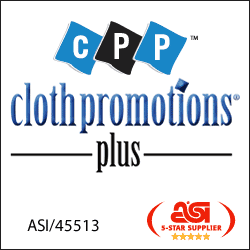 Win $100 & Gain Access to Great Ideas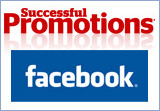 Sign up now and enjoy The Joe Show, where our very own Joe Haley features cool new promotional product ideas. Access case studies in every industry that showcase the hottest new marketing campaigns. You can even submit your own case studies and be eligible to win a $100 MasterCard gift card. Plus, network with other businesspeople looking to pump up their marketing efforts. Click here to get started today.

High-Tech Hand Warmers Deliver Warm Message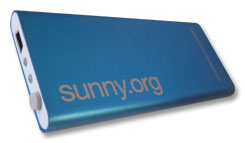 The Greater Fort Lauderdale's Convention and Visitors Bureau (GFL CVB) can have an easy job during the winter months. Few destinations in the United States are as inviting to the convention and meeting groups looking for somewhere warm to take their team, and describing the clear blue skies and beach weather goes a long way to getting freezing Chicagoans or New Yorkers to start thinking about packing their bags.
ADVERTISEMENT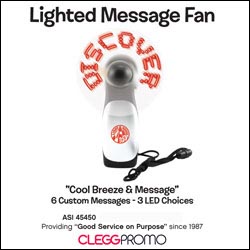 But to really make a convincing case and help potential clients "feel" what they were talking about, this year members of the GFL CVB gave away high-tech, branded hand warmers.
The warmers, which look just like an iPod mini, down to the simple design and smooth surface, can be plugged into a computer's USB drive to charge. After two hours of charging they can be unplugged to provide warmth for up to six hours. They also come branded with the GFL CVB's website, Sunny.org.
The hand warmers were used for the GFL CVB's East Coast publicity tour this past winter as representatives met with meeting and event planners, as well as journalists reporting on the industry. As soon as they began giving the warmers out, first in Chicago, then Toronto and New York, it became clear that there was plenty of interest in them.
ADVERTISEMENT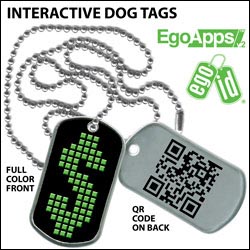 "I don't think we gave one to someone who didn't ask, 'Can I have one for my coworker?' or 'Can I have one for my husband?' " says Nicki Grossman, president of the GFL CVB. "We try to use the highest level of technology and at the same time, the most basic person-to-person relationship-building."
The idea grew from the concept of, "warm hands, warm heart," that the GFL CVB wanted to use as a marketing pitch, emphasizing both the great weather and hospitality of the region. The organization worked with a distributor that has exclusive rights to the design.
The media tour continued through the winter, making stops in Canada, at trade shows and in cities suffering from chilly weather that made them particularly receptive to the GFL CVB's sunny message.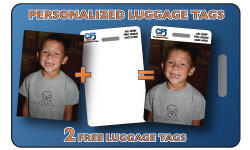 Individual's Picture + Brand Logo = Successful Promotion
Turnkey, low cost promotions. Each recipient receives 2 personalized luggage tags and straps. Made from durable laminated Teslin®. Available from 5-star supplier asi/42989 CFS Promotions for Now!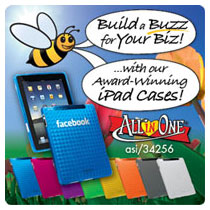 Build a Buzz for Your Biz!
Put your name on the world's hottest products... the iPad and iPhone!
All-In-One's new myPhone™ Case for (iPhone 4), and myPad™ Case (for
iPad 1), both feature a sleek design, made of tough, durable TPU plastic
that looks amazing, and have huge imprint areas that shows off your logo
and attract tons of attention!
The myPad Case just won "Most Likely to Build a Buzz" at the ASI Show!
Only from All-In-One, the Write Choice!® asi/34256

Apparel
From performance wear and golf shirts to professional button-downs and fashion-forward tees, there's an apparel item to fill the need and produce results for any occasion.
TEE TIME Golfers on the sales tournament team will like this performance polo. It features a rib-knit collar, open sleeves and two-button placket with Callaway embossed buttons. asi/77715

WE ARE THE CHAMPIONS Comfort is key for sportswear and workout clothing, and this classic cotton Champion short-sleeve shirt delivers. It features a tag-free neck label, shoulder-to-shoulder tape and double-needle sleeves and hem. asi/59528

POLISHED PROFESSIONAL This men's oxford shirt is available in several colors, including cayenne, dark green and English blue. asi/40788

VESTED INTEREST This navy sweater vest adds a professional vibe to any look and works well in an education setting. Made of an acrylic/wool blend, the V-neck pullover can be paired with sneakers and jeans or dress pants and a bow tie - take your pick. asi/51752

IN THE HOOD Fashion-forward and hip, this women's hoodie comes in amethyst heather and emerald heather. asi/84358

EASY RIDER Have a favorite vendor that's a biker? This jacket will be a well-loved gift, with its black lambskin sleeves, collar and trim; deep, fleece-lined pockets; and anti-pill black virgin wool body. asi/73788

DRESS FOR SUCCESS This long-sleeve plaid shirt works for corporate Mondays and casual Fridays alike. Pair it with shorts and boat shoes for a trendy, prep look. asi/42057

JUST-RIGHT JACKET This 100% organic cotton club jacket features adjustable snap-cuff closures as well as two inside and two outside pockets. It has cotton poplin body lining and nylon taffeta sleeve lining, plus an inside storm flap to keep wind out. asi/42090

IT'S A WRAP This 100% cashmere wrap is decorated with an intricate floral design. Its elegant camel and beige color combination makes it a great addition to a client's summer ensemble because the fabric keeps the wearer cool during the day but warm when the chilly night air rushes in. asi/52778

JEWEL TONE Teal is a hot color for 2011 and this long-sleeve top fits the bill. It makes a perfect layering garment for women. asi/89380
marketing calendar ••• July 2011
National Grilling Month
Throw some shrimp on the barbie
With the amount of burgers and dogs being grilled for the summer holidays, it's only natural that July would be christened National Grilling Month. This offers a unique opportunity for a multi-tiered marketing promotion. Announce your program by mailing an imprinted apron to your top 100-500 clients. To be sure they know what's coming, plug it via your social media outlets including on your Facebook fan page and Twitter. In week two, send a survey to clients in an e-newsletter or as a link via an e-mail blast offering a set of barbeque utensils for the first 25-100 to respond. In week three you can offer custom-labeled barbeque sauce for those who agree to a product demonstration. Cap off the promotion by sending steaks, seafood or other meats to clients who buy or upgrade their products and services. For help with this promotion, contact your distributor partner today.
4
Independence Day
We hold these truths …
While many people don't work on this national holiday, it doesn't mean that you can't use it as an opportunity to promote your products and services. Consider the grassroots and local effort you can put forth in a goodwill campaign. With many local governments scratching for dollars to fund parades, fireworks shows and other events, it's worthwhile for businesses to help foot some of the bill. And besides a donation, a variety of imprinted products can be used to further a firm's message. Company executives and employees can walk a parade route handing out imprinted bottles of water, small American flags, caps, fans, etc. Later in the evening, glasses that enhance fireworks displays that have a detachable coupon can be given to attendees. Your distributor partner can help you develop ideas, as well as secure the logoed products you'll need.
17
National Ice Cream Day
I scream, you scream …
Ice cream is just the thing to soothe the throat after tonsil surgery, or so the story goes. Frankly, everyone's favorite frozen treat is not only the perfect after-dinner indulgence, but it also hits the spot in the middle of the day too. Use today as a chance to hit people where they live – their stomachs and throw an ice cream party. Besides dipping ice cream for everyone in attendance, make sure you provide everyone with an imprinted ice cream scoop to use in their homes.
24
National Tell An Old Joke Day
Knock, knock
The best part about an old joke is that regardless of the groans, it's still fun telling them over and over again. Why not use today as a time to launch a humor-based promotion. "We're not kidding, we're really offering 20% off …" Fun promotional products can include wind-up chattering teeth, rubber chickens and whoopee cushions. Your distributor partner knows where to get them imprinted with your custom message.

Solve This Dilemma
Every month, Successful Promotions will launch a new contest where we ask you, our readers and Facebook fans, for your most creative ideas for solving businesses' dilemmas. Each entry should be 50 words or less and a promotional product must be part of the solution to the weekly challenge. Send all entries to jhaley@asicentral.com by the specified deadline in order to qualify for a free gift. Winners will be randomly selected from all entries.
This Month's Contest: Hang 10. Surf's up dude! A Jersey Shore (no, not that Jersey Shore!) surf shop is celebrating its 25th year in business and wants to launch a month-long celebration with gifts and prizes for its regular customers as well as for potential customers. They need your ideas for logoed mass giveaway items and higher-end products. Also, what can they do on the day they actually opened for business? Spit your creativity out of the pipeline and into the Big Kahuna's hands. Don't forget promotional products are important to any award-winning campaign. Send your ideas to jhaley@asicentral.com by May 15.

Put your brand in their hand with Jelfin's ball-shaped computer mouse. Interchangeable sports themed skins and a 2" print space make this a unique promotional product. asi/63296

Slap, Wrap & Go! Lays flat for storage...then slaps onto beverage. Patented Exlusively. NEW shark skin backing. Neoprene for better GRIP. Longer-lasting and keeps your beverage COLDER. asi/80345

Why should Harry have all the fun? Celebrate the HUGE SAVINGS from 5-Star Supplier IDPaspinline on Flat Polyester Lanyards. Lanyards (ASPIN-FPL 5/8") priced as low as $0.71(P) FREE color match and attachment. Now that's something to get excited about. asi/62088

Let IDPaspinline put a charge in YOUR day with outrageously low Lapel Pin prices. Fast delivery, free artwork, unlimited revisions and all-inclusive pricing with no hidden fees! ASPIN-SE-WH Soft Enamel 3/4" priced as low as $0.48(R). ASI 5-Star Supplier. asi/62088


Successful Promotions® Trend Report™ is a trademark of the Advertising Specialty Institute. Copyright 2011, ASI. All Rights Reserved.
Advertising Specialty Institute®, 4800 Street Road, Trevose, PA 19053