| | |
| --- | --- |
|   |  BECOME OUR FACEBOOK FAN  |
Win $100 & Gain Access to Great Ideas
Successful Promotions magazine now has a Facebook fan site! Sign up now, and watch The Joe Show, where our very own Joe Haley showcases cool new promotional product ideas. While you're there, access case studies in every industry that showcase the hottest new marketing campaigns. You can even submit your own case studies and be eligible to win a $100 American Express gift card. Plus, network with other businesspeople looking to pump up their marketing efforts. Click here to get started today.
| | |
| --- | --- |
|   |  SUCCESSFUL PROMOTIONS CONTEST |
Every week Successful Promotions will launch a new contest where we ask you, our readers and Facebook fans, for your most creative ideas for solving businesses dilemmas. Each entry should be 50 words or less and a promotional product must be part of the solution to the weekly challenge. Send all entries to jhaley@asicentral.com by the specified deadline in order to qualify for a free gift. Winners will be selected randomly from all entries.
Week 1 Contest: From April 21 to April 25
Day at the Spa. What is your best idea for a promotion for a grand opening of a spa? Make sure you tell us how promotional products fit in to your resolution; for example, "A spa can give out logoed emery boards to everyone who takes a tour and imprinted moisture-wicking T-shirts for those who sign up for spa services." This contest's prize is an assortment of spa-inspired apparel.
Week 2 Contest: From April 26 to May 2
Creativity Conundrum. A company marketing director is looking to jazz up her brainstorming meetings. How would you incorporate promotional products into this effort?
Week 3 Contest: From May 3 to May 9
Fit To Print. A summer camp for boys and girls ages 6-18 needs a new slogan for the year. Send us your best idea to imprint on a T-shirt given to all campers.
Week 4 Contest: From May 10 to May 16
On The Road Again. A sales meeting is being held at a gold resort in Arizona. Send us your top idea as a welcome gift for attendees and their spouses.
| | |
| --- | --- |
|   |  THE JOE SHOW: HOT NEW PRODUCTS |
The Joe Show is a weekly video program where Managing Editor Joe Haley presents and demonstrates a variety of ad specialty products. He also offers useful tips and information on how they can be used in ad campaigns and other promotions. This month's collection features new products being offered by your distributor partner.

Click here to see a brand-new edition of The Joe Show.
| | |
| --- | --- |
|   |  CO-BRANDED MUSIC PROMOTION |
ADVERTISEMENT

Campaign Gives Consumers Something to Sing About  
Sometimes the best way to reach customers is through their ears. Power Music, which sells workout mixes of high-energy songs for everything from kickboxing to yoga, recently partnered with two well-known brands for a new promotion.
While Power Music's customer base has primarily been in the group market, including gyms, sports centers and private trainers, with its new campaign the company was seeking to engage individual consumers to use the mixes for their personal workouts. Since many of these people might be uncomfortable with paying to download a mix from Power Music's Web site, the marketing team decided an effective strategy would be to offer a free mix.
Power Music partnered with The Biggest Loser and Subway to create a custom 30-minute mix that can be downloaded at www.podworkoutmusic.com/SUBWAY. The mix was promoted on the Power Music Web site and in stores where its other mixes were sold. While Power Music has worked with The Biggest Loser in the past, this is the first time that Subway, a sponsor of the show, has joined the effort, co-branding the mix with its logo and promoting it on its Web site, as well.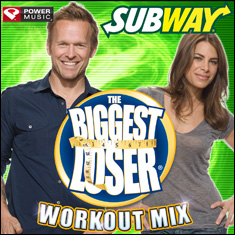 The result has been phenomenal, according to Cory Pease, director of marketing for Power Music, who said it's been the company's single most successful mix in driving lead generation for future sales. "When you have strong, recognizable partners like The Biggest Loser and Subway, there's a built-in interest and trust for the consumer," he says.
To download the album, visitors must register on Power Music's site, which allows the company to reach out to them with their newsletter and other promotions. More importantly, it gives the consumer an opportunity to try a workout mix, often for the first time.
"We're not only giving them an idea of what we have to offer," says Pease. "They also know how to download it and get comfortable with the whole process, which makes it easy for them to come back and pick up a new mix the next time."
Check out the Shopping List below for some fun and music-powered products for your next promotion. 
| | |
| --- | --- |
|   |  FUN MORALE-BOOSTERS |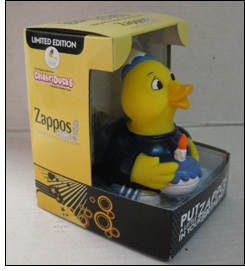 Zappos Quacks for Employee Birthdays
Zappos.com is known not just for its innovative online shoe business, but also for the original ways the company leadership engages the employees. To help keep employee morale strong, the company began giving staffers a special recognition on their birthday – a branded CelebriDuck.
CelebriDucks are a twist on the familiar rubber ducky toy, turning the duck into a famous star (like Elvis or James Brown, complete with duck bill) or giving it special accessories, like a football jersey or sunglasses. The Zappos duck wears tennis shoes and a birthday hat and carries a birthday cake.
"It's really about the thought – that Zappos is appreciating their birthday," says Jamie Naughton, the "cruise ship captain" in the company's human resources department. "We do that in every aspect of our business."
Zappos had been giving employees $25 gift cards on their birthdays, which worked when the company employed about 100 people, but was just not scalable when the company grew to thousands. With the larger staff, Naughton says the gift cards would often not be used, or perhaps worse, they were used but the purchase was quickly forgotten. "We can give you a $25 gift card to Target and ask you, 'What did you buy – was it laundry soap?' It doesn't seem as impactful," she says.
Naughton says that the employees hold on to the branded ducks, and many put them on their desks, serving as a reminder of the positive company culture. It certainly fits with one of the company's core values, to "create fun and a little weirdness."
Zappos is now extending the birthday program to include each employee's spouse and children; every member of the family will receive a Zappos birthday card in the mail. "It's something that's a little more 'wow' when you get a birthday card and realize it's from your wife's company," says Naughton.
Contact your ad specialty distributor for more information on the products below.
| | |
| --- | --- |
|   |  PRODUCT SPOTLIGHT |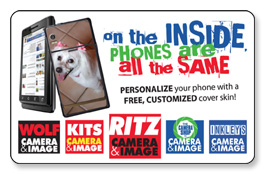 Custom Skin Cards
Customize your iPod, cell phone, or laptop by selecting from thousands of top sports, entertainment or collegiate branded skins, or by uploading your own picture.

| | |
| --- | --- |
| |  SHOPPING LIST |
| | | |
| --- | --- | --- |
| SPLASH AWAY Announce your own fitness program by handing out this waterproof MP3 player. It's perfect for use while swimming, skiing or strolling along the beach. asi/34256 |   | HAPPY DAYS  A classic 1947 jukebox gets an update in this tabletop CD player with AM/FM radio. Makes a great incentive for reps who would enjoy a touch of nostalgia. asi/71906 |
|   |   |   |
| TAKE IT WITH YOU Joggers and cyclists can keep their ID, cell phone, MP3 player and credit cards safe in this media holder armband. asi/48500 |   | PICK YOUR SONG This eco-friendly music download gift card lets the user choose from over 3 million songs and has a 12-month expiration period. asi/92429 |
|   |   |   |
| RIDE ON These water-resistant nylon amplified stereo speakers attach to bike handlebars. Features a pouch to hold an MP3 player, plus an eyeglass case. asi/31570 |   | JUST DUCKY Incentivize employees with this fun item along with a gift card to show your appreciation, or go green in a new way, with this CelebriDuck made of 100% recycled rubber. asi/44398 |
Successful Promotions® Trend Report™  is a trademark of the Advertising Specialty Institute. Copyright 2010, ASI. All Rights Reserved. 
If you'd like us to send Successful Promotions Trend Report FREE to your colleague, click here and complete the online form.
Click here to subscribe to Successful Promotions® magazine. The publisher has a right to refuse subscriptions to non-qualified subscribers.
Advertising Specialty Institute®, 4800 Street Road, Trevose, PA 19053