| | |
| --- | --- |
|   |  Sweet Online Incentive |
ADVERTISEMENT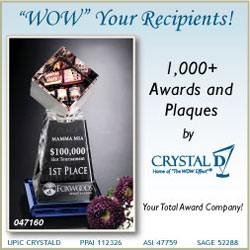 Dairy Queen Plays it Sweet with Bloggers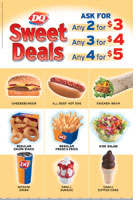 International Dairy Queen may be onto something. The fast food chain, which specializes in frozen treats, recently used a promotional product to "bribe" bloggers to write about its new Sweet Deals Menu. After receiving more than 200,000 mentions in the blogosphere at other sites, the chain decide to debut its first blog at blog.dairyqueen.com. To get the conversation rolling, it offered gift cards to the first 250 bloggers to answer the question: "What deal would you make with us to try our new Sweet Deals Menu?"
The menu offers 20,000 combinations of food, beverages and treats at value prices. The most creative blogger will win his or her choice of a Sweet Deal for free every week for a year. DQ rep Dean Peters says the launch of the "Creating smiles and stories" blog in conjunction with a national advertising campaign was a two-pronged approach to get people talking about the menu.
The blog, in particular, "was a natural opportunity for bloggers to earn incentives to get out there and talk about the sweet deals," Peters says. "It got people to not only talk about DQ and the DQ brand, but it also was a great way to speak about our first value menu."
The chain selected $5 gift cards for the effort "because they are fairly easy to give out and they drive people back to DQ," Peters says. DQ is promoting the effort through its year-old Facebook fan page as well as via its traditional Web site, www.dairyqueen.com.
Check out the Shopping List below for some sweet deals.
| | |
| --- | --- |
|   |  Super Spa Promo  |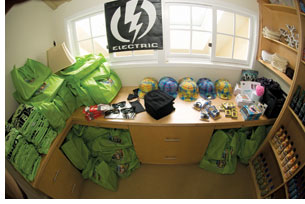 Fuze Offers a Haven for Extreme Athletes
It was hard work at the Winter X Games 13 competing against the world's best in snowboarding and other exhilarating (yet exhausting) activities. Recognizing this, Coca-Cola's line of Fuze juices and teas created the "Fuze Haven" at Aspen, CO. During the competition, athletes and members of the press were invited to stop by for a relaxing escape. Hosted by female champion snowboarder Torah Bright, the haven offered rejuvenating activities like morning yoga, massages, manicures and other spa services.
Fuze vitamin- and mineral-enhanced products were handed out, as were Fuze-branded water bottles, blankets and towels.
The brand continued this theme in April when it launched its White Tea beverage with Goji berry. It partnered with the White Tea Spa in New York City to create a press day. Here they offered free spa services and samples of the beverage, as well as logoed robes, eye masks and other spa accessories.
"We've built the Fuze brand around one-on-one interaction with our target consumers wherever possible," says Carli McKinney, director of public relations at Fuze. "Fuze is about relationships with people who live a healthier lifestyle. In that vein, we devote a healthy portion of our marketing budget to Fuze logoed premiums that will really mean something to our loyal fans, and are consistent with our brand and distinct events we support.
"At this year's Winter X Games, for example, we gave away ultra-plush blankets we knew visitors to our Fuze house at the games would use right away, and talk about when they got home. Fuze is also a major supporter of Susan G. Komen Race for the Cure events, where race participants have really enjoyed receiving our pink 'hero' capes."
| | |
| --- | --- |
|   |  PRODUCT SPOTLIGHT |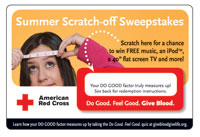 Exclusively from ASI/42989 CFS Promotions for Now!
The Power of Instant Win Promotions - In today's tough economic times, cost efficient promotions that reach across demographics and drive results are more important than ever. The Instant Win Promotion offer you a powerful, low cost marketing tool that delivers results, drives web traffic and captures valuable customer data for ongoing marketing.
* Drive Web Traffic – Customers go to the brand's designated URL.
* Develop Marketing Database – Customers are required to register (complete survey) in order to reveal their prize.
* Everyone is a Winner – All customers win a prize ranging from music to iPods to gift cards. Learn how we can customize the prize pool to meet your budget and demographic target.
Ask about our $25,000 Grand Prize option. Using our insured model, you pay only pennies on the dollar. CFS provides a one-stop shop, handling your promotion from beginning to end.
For other new and creative products,
visit the Product Central section on ASICentral.com.
| | |
| --- | --- |
| |  SHOPPING LIST |
| | | |
| --- | --- | --- |
| Make A Splash  Keep attendees at your company-sponsored walkathon hydrated with custom-labeled bottled water. It comes in a square bottle that grabs attention, has water-resistant labels and holds 16.9 oz. Available from asi/84912. |   | Put A Lid On It   Welcome new employees with this functional ceramic 9-oz. mug which features a lid that doubles as a coaster. It comes in five colors, all with black lid/coaster. Available from asi/84470. |
|   |   |   |
| Hold A Candle Be different and hold a spa-like sales meeting. Set the mood with this hand-poured candle with 40-hour burning time. It features a trimmed wick and attractive packaging and comes in various colors, fragrances and packaging options. Available from asi/86171. |   | Party Animal This fun beverage tote is insulated to keep a bottle chilled on the way to the party or favorite BYOB restaurant. Choose from six animal designs. Available from asi/62960. |
|   |   |   |
| Grow Green Planning an enviro-themed or gardening event? Going green is more vibrant than ever with eco-friendly Growcups. Each reusable cup contains soil and choice of zinnia, forget-me-not, marigold, or daisy seeds. Foot stands are sold separately. Available from asi/78825. |   | Home Run Baseball season is here and this official-size baseball with cork interior would be a great handout to give to employees for a businesspersons' day at the park. Available from asi/45100. |
Successful Promotions® Trend Report™  is a trademark of the Advertising Specialty Institute. You were sent this newsletter as a benefit of your ASI membership. Copyright 2009, ASI. All Rights Reserved. 
If you'd like us to send Successful Promotions Trend Report FREE to anyone else at your company (or to your off-site sales reps), go to www.asicentral.com/newsletters and complete the online form.
Click here to subscribe to Successful Promotions® magazine. You must be a member of ASI to subscribe to this publication. The publisher has a right to refuse subscriptions to non-members.
Advertising Specialty Institute®, 4800 Street Road, Trevose, PA 19053