promotional products • incentives • corporate gifts • meetings • events
Volumen 130
30 ENERO 2017
| | |
| --- | --- |
| Click here to see other new and creative promotional products | |

Los Bobbleheads Permanecen con Poder
Alex Ovechkin de los Washington Capitals es un buen jugador de hockey. "Ovi" no sólo ha acumulado cerca de 1000 puntos en la NHL en solo unas 11 temporadas, sino también es reconocido internacionalmente como uno de los jugadores más talentosos y populares del deporte. Tan admirado es el ruso Ovechkin que su cara se graba con frecuencia en bobbleheads y se regalan como parte de las promociones de los Capitals de Washington, y esta temporada no es una excepción.
Sin embargo, el bobblehead de este año es un poco diferente. La estatua bobblehead de regalo - parte de una promoción que fomenta la compra de boletos multi-partidos - tiene un interesante contador de "puntos de carrera" en la base que se puede actualizar manualmente cada vez que se anota un punto. De acuerdo el winger se vaya acercando al club de los 1000 puntos, los aficionados pueden marcar los puntos en tiempo real.

Lo que hace esta pequeña brillante característica, pero no insignificante, es que transforma un bobblehead tradicional desde un elemento de colección algo aburrido, normalmente almacenado en armarios oscuros y vitrinas, a un interactivo aparato que llama la atención. La gente va a querer mostrar este elemento de manera prominente en sus vitrinas, áreas de recreación, escritorios y oficinas.
Y como Ovi sigue marcando puntos mucho más de los 1000 - todavía está en su mejor momento a los 31 años y podría jugar otros 10 años más - este artículo demostrará tener mucho más poder de permanencia e impacto promocional que cualquier otro bobblehead tradicional.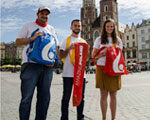 Artículos Promocionales para Peregrinos
En los meses previos a la Jornada Mundial de la Juventud de la Iglesia Católica del 2016, los preparativos fueron tan globales como los millones de asistentes esperados. Las Jornadas Mundiales de la Juventud (JMJ), organizadas por primera vez en 1986 por el Papa Juan Pablo II, se celebran cada tres años por el Vaticano y el Papa vigente, recibiendo a los jóvenes a una celebración religiosa de una semana en una ciudad diferente. El evento de Julio del 2016 tuvo lugar en Cracovia, Polonia.
Los representantes del Vaticano tenían una buena idea de lo que querían para los asistentes, conocidos como "peregrinos" de todo el mundo, que eventualmente convergerían en Cracovia. Por ejemplo, los organizadores quisieron incluir los ponchos que también podrían servir como mantas de piso. Pues fue así que los organizadores se asociaron con un distribuidor y se le ocurrió un artículo hecho de un tejido especial que no sólo los protegía de la lluvia, sino que eran lo suficientemente suave y duradero para sentarse. Además, una bufanda sublimada con tinta se construyó de microfibra absorbente de modo que sirviera también como una toalla.
Cada artículo era de un color específico, y los artículos vinieron en rojo, azul y amarillo. Aparte de los ponchos y bufandas, otros artículos con el logotipo de la JMJ incluían mochilas, polainas de cuello y pulseras de silicona. Los artículos terminados fueron llevados a la ciudad portuaria polaca de Gdansk, luego se transportaron por más de 350 millas a un almacén en la zona de Cracovia especialmente construida para la JMJ, que también albergaba comida y agua para 2,5 millones de peregrinos que asistieron al exitoso evento.
Ropa Deportiva
Cuando se trata de ropa deportiva y de alto rendimiento, un tamaño no se ajusta a todos. Piense en sus necesidades específicas - ¿es ropa para atletas, espectadores o miembros del gimnasio? A continuación, puede mejorar la selección productos ideales para cada tipo de cliente. Póngase en contacto con su distribuidor para obtener más información.
Espíritu de Equipo

Los clubes escolares pueden recaudar fondos con este pullover con cierre que absorbe la humedad. asi/36320

Atleta Superior

Los miembros del equipo apreciarán esta sudadera relajada con capucha de UPF 50+. asi/93762

Polo popular

Este polo de alto rendimiento impreso es perfecto para un entrenador de baloncesto. asi/30287

Favorito de Fanáticos

Los fanáticos pedirán esta bufanda para el estadio de fútbol hecha de acrílico en punto doble. asi/88753
CALENDARIO DE MARKETING ••• ABRIL 2017
Abril es el Mes Nacional del Cuidado del Césped. Desde 1992, esta iniciativa de un mes se ha centrado en aumentar la conciencia pública sobre los beneficios del césped natural y educar a la gente sobre cómo cuidar mejor el césped. Las empresas de diseño y mantenimiento de jardines pueden difundir este evento -y promover sus negocios- con el alcance del consumidor, que incluye papel de semillas en forma de paleta, imanes en forma de árbol y flores bailando con energía solar.

Día Nacional de la Cerveza 7 de Abril
Este día se celebra la fecha en 1933 que se hizo legal para que los Norte Americanos compren la cerveza verdadera otra vez después de la Prohibición. Bares, cerveceros y cerveceros artesanales podrían celebrar divertidos eventos y/o realizar lanzamientos al mercado de nuevas cervezas. Recuérdeles a sus clientes a recordar los buenos momentos con las heladeras para lata y los abre-botellas con llavero.

Día Nacional del Árbol 28 de Abril
Bolsas, bolígrafos con barriles reciclables, bancos de energía solar y camisetas de algodón orgánico son algunos de los productos que mejorarán el espíritu verde de los eventos del Día del Árbol en las escuelas, corporaciones y organizaciones sin fines de lucro.


Successful Promotions® is a trademark of the Advertising Specialty Institute. Copyright 2017, ASI. All Rights Reserved.
Advertising Specialty Institute®, 4800 Street Road, Trevose, PA 19053