| | |
| --- | --- |
| promotional products • incentives • corporate gifts • meetings • events | Volumen 84 / Marzo 2013 |
SPONSORED BY



Click here to see other new and creative promotional products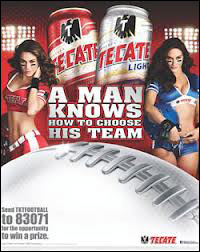 Productos Promocionales Ayudan a Tecate a dirigirse a los aficionados al fútbol
Más de 33 millones de Hispanos vieron los juegos de la NFL el año pasado - un aumento de más de dos millones de espectadores con respecto al año anterior, según Mintel Sports Marketing. Tecate y Tecate Light trabajaron con Dieste, una agencia de publicidad multicultural, para capitalizar estas cifras de crecimiento. El dúo creó un programa nacional de ventas al por menor y se enfocó en ayudar a los Hispanos de los EE.UU. mayores de 21 años a celebrar su pasión por el fútbol y la ocasión natural de consumo que el deporte presenta.
Productos bilingües y promociones con el lema "Un hombre sabe elegir su equipo" se colocaron en locaciones de todo el país entre el 1 de Enero y el 15 de Febrero del 2013. "Tecate se dirije a los hombres con carácter (El lema de la marca es Cervezas con Caracter), y en esta definición se encuentran los hombres que están seguros de sus decisiones, ya sea cuando se trata de equipos de fútbol o de su selección de cerveza", dice Félix Palau, vicepresidente de marketing de la Tecate equidad.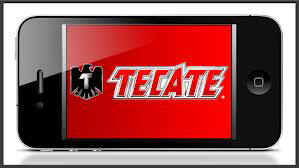 Como parte del programa, Tecate ofrece a los consumidores un sorteo via mensaje de texto que permite a los compradores a participar diariamente en la oportunidad de ganar artículos para acampar con el logotipo . Los premios incluyen parrillas Tecate fútbol, refrigeradores con ruedas, sillas rodantes y Chicas Tecate- muñecas bobblehead de fútbol. "El sorte de fútbol Tecate atrajo a los compradores y se conectó con ellos por medio de las tiendas poniendo a su disposición los premios relecionados con el fútbol", dice Palau. "Los ganadores fueron anunciados cada día en un esfuerzo por continuar generando interacción".
ADVERTISEMENT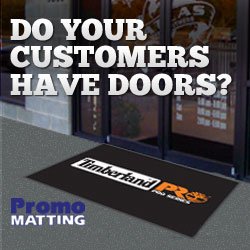 Más de 20 estados participaron en un programa de descuentos que ayudó a los consumidores a ahorrar en lo esencial para sus fiestas de fútbol, incluyendo bocadillos salados y hielo, con la compra de productos Tecate. "Hemos ofrecido los cupones, incluyendo la asociación con DELIMEX en la página de Facebook de Tecate lo cual alentó a los consumidores a participar en el sorteo de mensaje de texto en sus tiendas locales", dice Palau.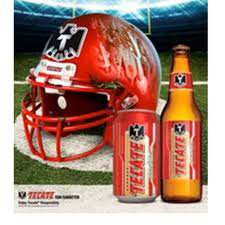 Materiales de punto de venta bilingües incluyen cartas de precios, tarjetas de puntuación y calcomanías para las hieleras, un lugar destacado con embajadoras de la marca (Chicas Tecate) luciendo trajes rojos y azules, así como fotos de productos Tecate y Tecate Light en botellas y latas.
Dado el cambiante panorama de los Hispanos en EE.UU., Tecate se vió obligado a encontrar formas de conectarse con los jóvenes biculturales. "Si bien nuestra mezcla de medios para Tecate ha sido relativamente tradicional, este año estamos ampliando nuestros esfuerzos digitales", dice Palau. "Nos esforzamos en alinearnos con los deportes que comparten las características de nuestra marca. Al hacerlo podemos ayudar a que los consumidores se sientan más cerca de su deporte favorito, nuestro objetivo es mantener la marca a un nivel superior".
Camisetas Promocionales Ayudan a Salvar Mascotas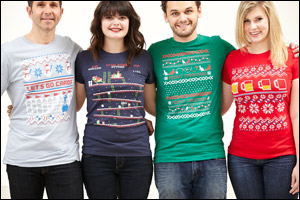 En Noviembre del 2012, Switch, una agencia de mercadeo experimental en St. Louis, MO, puso en marcha el evento "Holiday Ugly Sweater Tees" para recaudar fondos para su anual "Switchmas." Esto beneficia a organizaciones locales de caridad. Al decidir sobre una campaña de cuatro semanas de duración enfocada en los días festivos cuando la ropa temática está en gran demanda, el equipo de Switch se quedó pensando cómo podrían combinar esos dos factores en un éxito para la causa, mientras que ayudan a garantizar el éxito de sus eventos especiales.
Por segundo año consecutivo, Switch decidió donar los fondos recaudados en la campaña de la organización sin fines de lucro a la Asociación Protectora de Animales (APA) de Missouri, que provee servicios de albergue y adopción de perros y gatos sin hogar y la educación de bienestar animal para el público. Switch implementó medios de comunicación social y publicidad en los medios locales en St. Louis para conseguir publicidad para la causa. Según la Especialista en Relaciones Publicas Jen Beidle, "El esfuerzo de Switch anotó muchas menciones gratuitas en los medios de comunicación por un valor de aproximadamente $ 25.000, con 807 me gusta en Facebook, 119 seguidores en Twitter, con más de 6.000 visitas a la página web y más de 61.000 impresiones en LinkedIn".

ADVERTISEMENT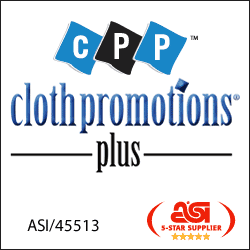 Todas las ganancias de los $ 22 por cada camiseta con diseños de suéteres festivos fueron donados a la APA, acumulando $ 13.065 durante la campaña con la venta de 820 camisetas. Desde el 2009, Switch ha donado cerca de $ 50.000 durante las campañas de días festivos a organizaciones locales de caridad. "Nos esforzamos en utilizar el diseño para crear algo bueno para la gente - o los animales - que realmente necesitan nuestra ayuda. Estas camisetas representan esa intersección, y te hacen ver totalmente radical, también ", dice Brent Coder, director creativo de Switch.

Considere la posibilidad de participar en la comunidad asociándose con su distribuidor especializado de productos promocionales y un grupo local sin fines de lucro. Esto le permitirá llegar a un público más amplio, obtener más atención de los medios sociales y beneficiar una causa que merece tener resultados positivos.
Full-Color iPhone Cases!
A real attention getter for people who buy the best in tech – the
iPhone 4 and iPhone 5! Your full color art creates an absolutely custom look! Hard plastic iPhone Case/Cover is printed in stunning Full-Color Process. Now available with Quick Ship service!

From ALL-IN-ONE® • asi/34256.
Viajes de Incentivo
Artículos de golf, accesorios de playa y artículos electrónicos para el representate viajero - estos son sólo algunos de los productos de promoción que hacen los mejores incentivos de viaje.
ROMPE VIENTO. Resistente al agua de microfibra que cuenta con un cuerpo forrado en malla, mangas forradas en nylon y bolsillos con cremallera de acceso lateral. Perfecto para el golf y deportes al aire libre. asi/97049
MANTENGA SU RUMBO. Sombrilla durable de 60-pulgadas con la estructura de doble arco, eje de metal con mango de madera y 16 colores para elegir. asi93990
COLORES REALES. Bálsamo para los labios fácil de aplicar, incluye vitamina E y aloe vera, además es libre de PABA con protección solar SPF 20. El porta bálsamo viene en 17 colores brillantes con una generosa área de impresión y cinta para el cuello o llavero. asi/98900
ACEITES ORGANICOS. Bálsamo labial con SPF 15 está hecho con una base de cera de abejas e incluye vitamina E más coco organic, aceites de girasol y de semilla de uva. asi/88148
SIN ARENA. Las estacas en la arena Beach Nik para la playa, ofrecen al usuario un lugar para poner bebidas, teléfonos, reproductores de MP3 o llaves sin que se llenen de arena. Una idea única para las promociones de vacaciones de primavera, balnearios y empresas de bebidas. asi//47700
ALTO VOLUMEN. Parlantes Mini Thunder pop-up de audio pequeños en tamaño que cuentan con control de volumen ajustable, diseño compacto, con luz intermitente, batería recargable incorporada y más. Elija entre cuatro colores. asi/63770
CALENDARIO DE MERCADEO ••• Junio 2013
Mes de Comunicación Efectiva
La columna vertebral de cualquier empresa es su capacidad para comunicarse de manera efectiva con sus clientes. Pero la comunicación es algo más que hablar, también incluye escuchar. Poner en marcha una promoción este mes para promover un valioso dar y recibir con sus clientes. Comience con una encuesta sobre los productos y servicios que su empresa ofrece. Ofrecezca un producto con su logotipo para aquellos que completen la encuesta. Visite a sus clientes personalmente sin la intención de vender, permita que le cuenten sobre sus experiencias con la empresa. Finalmente, conecte todas sus experiencias través de los medios sociales - Twitter, YouTube, Facebook, etc. Produzca videos que digan "Usted habló y nosotros escuchamos" y le proveeremos con los pasos a seguir para convertirse en un socio de negocio aún mejor.
7
Día Nacional de las Rosquillas
Cuando se trata de rosquillas, la mayoría de la gente tiene un poco de Homer Simpson en ellas. Celebre hoy visitando clientes en la mañana. Llegue con una docena de rosquillas en una caja personalizada y tazas de café con su logotipo para todos. Su distribuidor puede ofrecerle tazas de café con logotipo y cajas personalizadas.
14
Día de la Bandera
Obtenga su [bandera] roja, blanca y azul durante este día tan especial y muestre las estrellas y líneas. Una barbacoa con temas patrióticos es ideal para celebrar con su equipo de trabajo. Además de una comida muy Americana, regale a todos los presentes una bandera. Su socio distribuidor puede conseguir banderas también con el mastil impreso.
21
Día de Llevar Su Perro al Trabajo
El mejor amigo del hombre es a menudo una bienvenida adición al lugar de trabajo, y cada vez más empleadores están ofreciendo esto como un beneficio durante todo el año. Pero si usted no está en ese nivel todavía, considere permitir a sus empleados traer sus perros a trabajar hoy. Puede ofrecerles galletas con su logotipo, tazones para perros, correas, etc Y ese día le permitará crear una buena relación entre los empleados y el empleador.

Don't miss the magic of 100 free silicone bands with every order of 100+ bands. This deal won't last much longer so get it before it's gone. Special expires March 25th. asi/62088


IDProductsource now offers high quality drinkware in our new 2013 line. Our new line features the hottest styles of reusable drinkware for all your promotional needs! BPA FREE. asi/62088

Diamond Cosmetics offers professional health and beauty products providing companies with high quality cosmetic items for Corporate Sponsors of Women's Events, clothing, shoes & accessory manufacturers, health and medical companies, entertainment industry, media, and many more industries and institutions. asi/49640

We manufacture Certificate Frames, Award Frames, Shadow Boxes, Poster Frames, Photo Frames, Sports Awards, and any other variation of picture frame you can think of or imagine. Surpisingly affordable, custom sizes, quick turnaround! asi/30447

QUICK SET UP 5' circle hanging banner features full color digital graphics. Ideal for trade shows, point of sale or presentations. Dye sublimated fabric. Carrying case included. asi/32125


Revolutionary Pitchfix patented European design divot tool. Features ABS rubberized coating over a metal base for comfort and precision. Includes custom 4 colour process magnetic ball marker. Available in 14 beautiful colors. No more damaged pockets or dull tools that do not work. asi/37693

Bullet gives you more bang for your buck, leading the industry with low prices and deep inventory in several popular categories, including technology. Bullet has built its reputation by consistently providing superior service, reliability and quality. asi/42424


VINTAGE COLLECTION
Bags in matte finish PVC with white trimming and piping. Front pocket closed by horizontal zipper. Adjustable shoulder straps.asi/42920

Canada Sportswear has purchased Seam Sealing equipment and is now manufacturing Made in Canada , 100% breathable , waterproof outwear in its Toronto factory. asi/43682


Large and mid-size truffle assortments feature chocolate caramel, chocolate-on-chocolate, milk chocolate, white decadence truffles and a custom centerpiece. asi/44897

ULTRA OPPER FIBER® INVINYL POUCH
Restore clarity to all types of surfaces with this fantastically practical cleaner for eyeglasses, laptops, phones and screens.asi/45513


DOUBLE BEVEL RULER
6" architectural double bevel ruler with maple wood frame and standard plastic reduction scales. asi/98160

CAJUN SEASONING
Make a unique and lasting impression with our Cajun Seasoning featuring a full-colour custom label. asi/90539


Superex offers 69 Standard Safety Kits including Vehicle, First Aid, Preparedness and Seasonal. Or "Build-Your-Own" by modifying, substituting or starting from scratch with 22 bag designs and over 120 proven safety components! asi/90234

Solid colored rubberized plastic with chrome trim and black capacitive stylus which transforms into a bracelet and can also be used as a bookmark. asi/88660


Promo Plastik manufactures & prints promotional items. We use the latest, high-definition, 4-color process UV printing technology. Free set up. Free e-proof. Unlimited copy changes. Available for short and long runs. Quick turnaround. asi/79896

Let Evans help you promote a healthier lifestyle. These wellness products come in up to 16 colors and will look great in any kitchen! Perfect for wellness centers, weight loss programs, medical clinics and World Health Day. asi/52840


CATCH THE LOOKS AND EARS of all fans...... of everyone... EVERYWHERE asi/51040

Featuring bright colours, these products are fun and kid-friendly. They provide limitless opportunities for incentives, rewards, and successful fund-raising campaigns. asi/78168


Paper & Plastic Cups, Napkins, Plates and more.... asi/79564

No Sweat Specialties: A premiere source for U.S produced socks, headbands, wristbands, and domed decals. asi/88876


YDBP: Ballpoint pen with black ink cartridge and yellow highlighter with black caps at both ends and metal pocket clip attached. Double ended dual purpose pen and highlighter combination. asi/57860

New and improved magnet, you won't lose your ball marker! Divot tool with ball marker. Our best seller stands up to the toughest conditions. asi/53764


725: Score extra sales with this Canadian made official size hockey puck.One of the most popular promotional products on the market. The perfect product to motivate your team. asi/76567

Leave a lasting impression with this genuine pewter tankard. Made with pride in Sheffield, England, this traditional British tankard with glass bottom is an excellent way to commemorate any special occasion. Here's looking at you! asi/66886


Successful Promotions® is a trademark of the Advertising Specialty Institute. Copyright 2013, ASI. All Rights Reserved.
Advertising Specialty Institute®, 4800 Street Road, Trevose, PA 19053