| | |
| --- | --- |
| promotional products • incentives • corporate gifts • meetings • events | Volumen 87 / Junio 2013 |
SPONSORED BY



Click here to see other new and creative promotional products

Productos Promocionales Condimentan Aniversario de la Agencia
Primera agencia Hispana de Mercadeo de Hollywood celebra su 25 aniversario este año, y con él, un gran sentido de logro, que ha crecido de una sola persona a la agencia líder de mercadeo de entretenimiento para los Latinos en EE.UU.
Santiago Pozo, CEO y fundador, creyó en el poder del mercadeo hacia el mercado Latino, y utilizó esta visión para crear la empresa. "Mercadeo específicamente para los Latinos es muy importante en estos días", dice Leyla Fletcher, vicepresidente de medios de marketing en Arenas. "Si uno no está enfocado en ellos directamente, por lo menos se los debe de incluir en el proceso de ejecución de una campaña. Además, si usted no está utilizando artículos de promoción o colaterales, en realidad está perdiendo una gran cantidad de consumidores potenciales".
Hollywood ha acogido el mercado Latino, que representa el 17% de la población de los EE.UU., pero representa un impresionante 25% de todas las entradas de cine vendidas. Arenas Entertainment ha sido capaz de incrementar ese promedio de estrenos de películas como Beverly Hills Chihuahua, Apocalypto y Empire.
Para muchos estrenos de películas, la agencia trabaja con el estudio para determinar los mejores artículos de promoción para cada campaña y ha utilizado una gran variedad de productos impresos tales como las bolsas, camisetas y llaveros. "Usted no se puede equivocar con los artículos básicos como estos, porque al final,son gratuitos para el consumidor final", dice Fletcher. "Creo que los regalos son la mejor manera de atraer a los consumidores, hay que ejecutarlo de la manera correcta y eso significa ser organizando en todos los otros canales", dice ella.
ADVERTISEMENT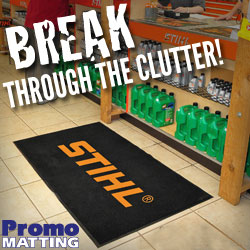 Arenas de Marketing, con sede en Los Ángeles y Madrid, España, se especializa en publicidad, promociones, medios de comunicación, servicios creativos, así como la producción y distribución de películas. Con todo su éxito, Arenas ha aprovechado su cumpleaños 25 para agradecer a los clientes para su patrocinio. "Estamos planeando una celebración de fin de año. En este momento, estamos creando bolsas de regalos para nuestros clientes que tienen impresos el logotipo de Arenas y el logotipo del 25 Aniversario ", dice Fletcher. "Hemos dado a los clientes actuales bolsas de mano y algunos otros artículos para decir 'gracias', y siempre hacemos nuestra campaña de Tarjeta de Navidad, así que es algo tangible que se puede disfrutar."
Folleto Ayuda a Promover un Evento de Grupo de Iglesia
En 2009, el ministerio MarriedLife de la Iglesia North Point Community comenzó la "Great Date Experience", un proyecto que anima a las parejas casadas a preservar la noche de cita a solas. Su misión es ayudar a las personas a experimentarar el crecimiento individual necesario para un matrimonio saludable.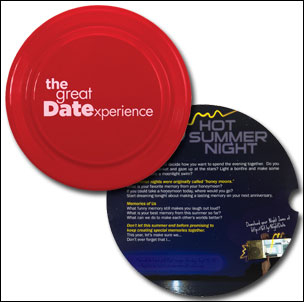 Para una promoción, MarriedLife colaboró ​​con su socio distribuidor y decidió utilizar un frisbee rojo con el logotipo de "Great Date Experience" en color blanco. Del otro lado contenia un disco pop-out de papel que tenía las fechas de dos noches: un día de verano perfecto y una calurosa noche de verano.
La iglesia cuenta con cinco instalaciones y 30.000 miembros. El público al cual este proyecto fue enfocado fueron las 4.000 a 5.000 parejas casadas en todas las locaciones. La Cita de Verano ha sido distribuida en el mes de Agosto durante los domingo antes y después de los servicios. Las mesas estaban fuera de los auditorios de las cinco locaciones.
El folleto incluso llamó la atención de los niños que los recogieron y dijeron que se asegurarian de que sus padres salieran y se divirtieran. Esta participación adicional aumentó la audiencia por 1.000. Más allá de los rumores, ha sido la experiencia de citas mas popular en tres años.
Si usted está interesado en crear un evento especial, póngase en contacto con su distribuidor especializado para obtener los productos perfectos y las mejores ideas para que sea una promoción memorable.
Pets Love Paws for Life™!
New for 2013, our "Paws for Life™" line of Exclusive Pet Promos is sure to attract attention from people and pets! These high-quality products are Imprinted in the USA and available with Quick Ship service!

They're perfect for Pet-Friendly businesses, including: Hotels, Restaurants, Coffee Houses, Airlines, Pet Supply stores, Feed Stores, Veterinarians, Dog Walkers, Dog groomers, Obedience Schools, Pet Publications, Magazines & TV shows, Pet Daycare & Boarding, Animal Pharmaceuticals, SPCA & Humane Societies, Animal Rescue & other Charities, Parks & Rec ...and more!

From ALL-IN-ONE® • asi/34256.
Productos de Golf
Camisas de golf, pelotas y equipos, protección solar, reconocimientos - estos son sólo algunos de los artículos de promoción necesarios que completarán su exitoso evento de golf. Póngase en contacto con su socio distribuidor para estas y todas sus necesidades de promoción.
ADELANTE! Pelota de golf Titleist Pro V1 ofrece un control superior en el verde y cuenta con una suave compresión ZG con alta tecnología central de proceso y responden con una capa envolvente ionomérica. asi/79680

UN GANADOR REAL. Placa de madera disponible en roble, caoba o nogal, y viene en tres tamaños. Se caracterizan por su impresión en láser a color. Placas de cristal y vidrio también disponibles. asi/57698

PARA ÉL. Camiseta polo para hombres teñidas hechas de 100% algodón hilado, y son pre-lavadas. Cuentan con cuello y puños cubiertos en sarga y tres botones color madera. asi/97027

PARA ELLA. Camisa polo de mujer está hecha de 100% poliéster quad y es resistente a la humedad y material antibacterial. Cuenta con ribete de contraste e incluso dobladillo inferior. Disponible en ocho colores. asi/53974

SERVICIO DE LABIOS. Protección duradera con este bálsamo para los labios en forma de pelota de golf con sabor a menta natural con protección SPF 15. Hecho en los EE.UU. asi/95838

EVITE LA QUEMADURA. Protector solar y gancho, 1,5 oz, con la fórmula que contiene ingredientes orgánicos disponibles en un aroma tropical. asi/79902
CALENDARIO DE MERCADEO ••• Septiembre 2013
Mes de Mano a Mano

Llegamos a conocer mejor a la gente cuando nos reunimos mano a mano, porque las reuniones cara a cara crean conversaciones más significativas. Cuando esto sucede, la gente está más dispuesta a abrirse sobre las esperanzas, sueños, ideas, etc Tómese el tiempo este mes para reunirse con cada uno de sus clientes para saber qué tan bien estan siendo atendidos y qué es lo que su empresa puede hacer mejor. Además, asegúrese de que los gerentes y supervisores se reúnan con los empleados para obtener sus comentarios sobre la empresa. Quizás tengan nuevas ideas de productos / servicios o una manera de simplificar algun procedimiento. Publique en los blogs sobre las juntas a través de los medios sociales, y no se olvide de los productos promocionales. Carteras de cuero o accesorios electrónicos serían regalos muy apreciados. Llame a su distribuidor para más ideas.
2
Día del Trabajador
Lo más gracioso del Día del Trabajador es que la mayoría de nosotros no trabajamos ese día. Pero no es una excusa para no crear una promoción para reconocer sus propios empleados. Use este día como un día de agradecimiento al empleado. Tazas con el logotipo con dulces o accesorios de escritorio harán que se sientan apreciados.
10
Día de Intercambio de Ideas
Utilize este día para organizar sesiones para generar ideas innovadoras en toda la empresa. Sea creativo. Escriba las ideas en pizarras blancas con marcadores o bolígrafos. Una buena oportunidad para crear ejercicios divertidos como concursos de fotos con subtítulos, pistas de obstáculos o búsquedas del tesoro. Otorgar premios a todas las ideas, porque nadie que su idea no sea tomada en cuenta. Llame a su distribuidor de productos con logotipo y desarrolle ideas creativas y divertidas.
17
Día de la Constitución y Día de la Ciudadanía
Este evento de doble propósito conmemora la formación y la firma de la Constitución de los EE.UU. y también reconoce a todos los que se han convertido en ciudadanos Estadounidenses. Tómese el tiempo hoy para mostrar orgullo Americano y ofrecer una promoción cívica. Banderas Americanas con mástiles de banderas impresas y copias de la Constitución pueden ser entregados en las escuelas para enseñarles a los niños acerca de los principios fundadores de nuestro país. Su distribuidor le puede conseguir una gran cantidad de productos patrióticos imprimibles.

PVC key tags: Made to order and cut to shape. Our PVC key tags are one of our most popular incentive gifts ever, an inexpensive yet durable product that carries your advertising message superbly. asi/62088


Buttons: IDProductsource would like you to give 25 free buttons for every 100 you order until 6.26.13. 100% made in America, with fast lead times, we are confident our high quality buttons will be perfect for your advertising and promotional events. asi/62088

The Best Beverage Insulator At The Lowest Price. Fast Delivery Low Minimums! asi/63681


Bug Bands Will Keep The Mosquitoes OFF. No Deet, Safe for Kids, Made in the USA. asi/80345

Diamond Cosmetics offers professional health and beauty products providing companies with high quality cosmetic items for Corporate Sponsors of Women's Events, clothing, shoes & accessory manufacturers, health and medical companies, entertainment industry, media, and many more industries and institutions. asi/49640

PATRIOTIC SPRITE 24 CP224
Celebrate our country's independence with an all-American treat of fudgy brownies in 12 different gourmet flavors. Individually wrapped, each snack-sized brownie is perfect for picnics, large gatherings or any occasion that calls for chocolate. asi/53518

Ask your promotional products provider about VISPAK for stunning, award-winning imprinting on the industry's most useful products; many under $5.00. Quote promocode SPCOLOR to receive a FREE $75 set up. asi/93987

Successful Promotions®  is a trademark of the Advertising Specialty Institute. Copyright 2013, ASI. All Rights Reserved.
Advertising Specialty Institute®, 4800 Street Road, Trevose, PA 19053