| | |
| --- | --- |
| promotional products • incentives • corporate gifts • meetings • events | Volumen 64 / Julio 2011 |

Artículo de portada
Productos Promocionales Como Parte de la Campañapara Agencia de Autos


Con oficinas en los EE.UU., España, México, Chile, Colombia, Venezuela y Panamá, la red de mercadeo global DLB Group ha utilizado una variedad de estrategias de campaña para compañías ampliamente conocidas tales como Procter & Gamble, Hasbro, Coca-Cola, HBO Latin America, Ray Ban y Vodafone. Y recientemente, han sido seleccionadas por VAS Colombia como la agencia oficial de sus marcas Audi y Seat.
ADVERTISEMENT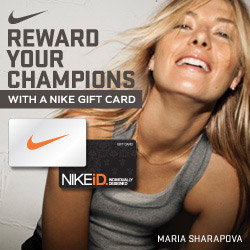 "La incorporación de VAS Colombia a nuestra lista de clientes es una gran oportunidad para demostrar las capacidades de nuestra agencia", dice Ricardo de la Blanca, CEO de DLB Group. "Con el prestigio de VAS Colombia en el mercado, las posibilidades son infinitas."
Blanca señala que la comunidad Colombiana es educada y las marcas Audi y Seat se conectan muy bien con esta audiencia. "Queremos la oportunidad para posicionar las marcas", dice Blanca. "Las marcas Audi VAS Colombia y Seat son populares en Colombia, por lo que queremos ayudar a la empresa a vender más autos y crecer en el mercado Hispano".

DLB Group llevará a cabo una serie de eventos durante todo el año y ha aprovechado muchas formas de comercialización, tales como anuncios de televisión, radio y carteles, para transmitir su mensaje. "Queremos saber cuáles son las necesidades de los consumidores y encontrar el mejor punto de contacto y comunicación", dice Blanca.

Los productos promocionales son también un factor importante en la campaña de mercadeo. Regalos como paquetes de prueba de conducción con el logotipo fueron entregados a cada cliente potencial que haya probado un Seat en el centro comercial El Retiro en Colombia. El paquete contiene una caja roja o negra personalizada con un llavero y una llave para todos las personas que probaron el auto.

La sala de exposición en el centro comercial incluye un auto Seat nuevo. El auto se mostró rompiendo a través de un corazón rojo grande, que hacía juego con el color del vehículo, y los logotipos de Seat se encontraban en la pared detrás de la exposición. Directamente a la izquierda de la ventana había un cartel electrónico que anunciaba la marca y el producto.

"Queremos construir una experiencia que usted ve y cree," dice Blanca. "Estamos muy activos en promociones y están funcionando para crear las marcas y llegarle a la audiencia."
| | |
| --- | --- |
| ADVERTISEMENT | ADVERTISEMENT |

La Promoción de Zoológico que Permite a los Niños Llevar Pingüinos a Casa.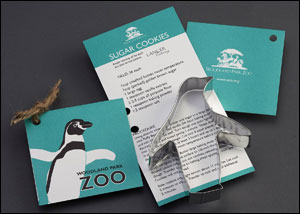 Cuando los directores del zoológico Woodland Park Zoo en Seattle estaban buscando formas de promover su nueva exhibición de pingüinos de Humboldt en su zoológico, se decidió que para aumentar el interés del public se debería de ofrecer un regalo.

Woodland Park contactó un distribuidor local para crear una campaña que incluyó moldes de galletas en forma de pingüinos para recibir a las primeras 850 personas que acudieron a la inauguración de la nueva exposición. Cuando las familias llegaron, recibieron el cortador de galletas de metal, junto con una receta ilustrada atada a la tarjeta con una cuerda.

 "Ellos estaban muy entusiasmados porque el regalo es tan diferente", dice un portavoz de la compañía que produjo el cortador de la galleta. "Confiamos en que vamos a utilizar el cortador de galletas de nuevo, dado que conectan esto con los pingüinos, y los lleva a decir:" Tenemos que regresar al zoológico. "

Los cortadores de galletas fueron distribuidos rápidamente entre los visitantes, y los representantes del zoológico dijeron que estaban muy contentos con la promoción.

Es importante pensar en maneras únicas para impulsar el interés en cualquier campaña de mercadeo o de promoción de eventos, y ahí es donde su distribuidor puede ayudarle a pensar en ideas innovadoras.


"Are You Inspired by the Spirit?"
These new, inspirational Bible & Cross shape USB Flash Drives are pre-loaded with FREE e-book PDFs – both KJV & NIV translations of the Holy Bible!

They're perfect for churches, ministries, hospitals & faith-based groups!

Patent-Pending design, only from All-In-One (asi/34256), "the Write Choice!"®.
Go Green!
Plant-a-tree with the Future Forests Promotion Card. Enable your customers to go online and have a tree professionally planted in their name. Seedlings will be appropriate to the location and planted as part of existing or new forest restoration project. asi/42989

Regalos de los alimentos
En busca de un artículo de incentivo para una campaña para el rendimiento de sus empleados? Usted no le puede errar con los regalos comestibles de alta calidad. No sólo los empleados trabajarán más duro, sino que probablemente va a terminar compartiéndolos en la oficina.
TIEMPO DE DULCES Promueva un evento o reunión y ofrezcale a los asistentes una caja de regalo llenas de golosinas gourmet dulces y salados. Este conjunto incluye una colección de galletas de lima, dulces de cítricos, galletas de limón y galletas wafer rellenas de almendras. asi/56777

 

Algo Huele a Pescado El verano es para asar a la parrilla, y estos deliciosos mariscos harán un regalo increíble como incentivo de ventas. Seleccione entre unas jugosas langostas de agua fría, los camarones Mexicanos; un corte grueso de halibut de Alaska, y corvina Chilena. . asi/40499

Entrega especial Entregar su mensaje especial en esta colección especial de camiones de madera - perfecto para el proveedor de transporte favorito. Viene completo con placa de grabado en láser y un montón de extras. asi/90392

 

Fiesta de lujo Vineyard Sensation es una elegante canasta de regalo, que incluye dos botellas de vino tinto, galletas, chocolates, almendras, galletas de trufa, queso Merlot, mostaza Napa Valley, caja de seis piezas de regalo de trufa y remolinos de queso. Puede ser personalizado con la cinta grabada y/o etiqueta colgante. asi/52507

Vino y Cena Vino y canasta de regalo gourmet completo con una variedad de cuatro vinos Rosemont de la región de Hunter Valley de Australia. Ofrece una mezcla de galletas foccacia, alcachofas a la plancha, obleas Dolcetto, almendras ahumadas, tavolore de sabores variados y caja de chocolates surtidos. asi/42421

 

Amantes de la comida Fiesta epicúrea de lujo encerrada en una caja de metal pintadas a mano en su exterior. Incluye una cinta estampada en burgundy, azul o rojo. La caja es muy útil luego de haber disfrutado de su contenido. asi/68680

Goloso Caja de madera con bisagras llena con una caja de 12 piezas de chocolate surtidos, 8-oz. todo lleno de almendras de chocolate y almendras blancas de coco, una bolsa con 10 piezas de pretzels bañados en chocolate blanco, un bolsa de 8-oz de barras de mantequilla de maní, una bolsa de 12 oz. de mezcla de aperitivos fiesta y tres estrellas de chocolate en palos. asi/47934

 

Amante del Chocolate Delicia Esta canasta de 14" está llena con un surtido de chocolates. Incluye una lata de galletas de obleas de chocolate y avellanas, trufas de chocolate francesas, pretzels cubiertos de chocolate, galletas de chips de chocolate, roca de almendra Brown & Haley, trozos de maní cubiertos en chocolate y mucho más. asi/56777
CALENDARIO DE MERCADEO ••• Octubre 2011
Mes Nacional en Contra del Cáncer de Mama.
Cuando se trata de etnicidad y raza, las mujeres Hispanas tienen el menor número de casos de cáncer de mama por cada 100.000 mujeres. También tienen la menor tasa de mortalidad. Sin embargo, esto no las excluye de la importancia de la educación y el control médico. Las empresas en una variedad de industrias pueden participar este mes. Mostrar su apoyo mediante el patrocinio de un equipo en una caminata local y ofrecer ropa con logotipo para todos los participantes. Patrocinar un evento y entregar productos con logotipo como botellas de agua de color rosa y mochilas de color rosa. Si usted está en el mercado deportivo, puede proveer a los atletas con toallas, muñequeras y gorras de color rosa con el logotipo. Para recaudar fondos para la investigación, la subasta de prendas de vestir y accesorios autografiados. Para más ideas creativas, comuníquese con su distribuidor.
ADVERTISEMENT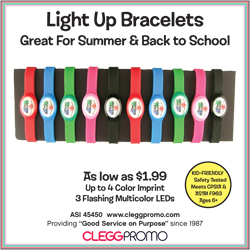 7
Día Nacional de la Diversidad
Todos somos iguales porque todos somos diferentes - todos los Mexicanos son Hispanos, pero no todos los Hispanos son Mexicanos. Debido a esto, usted puede utilizar este día para celebrar lo que nos hace ser únicos. Y dado que el lugar de trabajo se está convirtiendo tan diverso como los EE.UU. en general, todas las empresas deberían adoptar una política de diversidad. Formar un comité para explorar cuál es la política de diversidad de su empresa y anunciarla a través de una campaña de mercadeo para clientes, clientes potenciales y los medios de comunicación. Usar las redes sociales como Facebook y Twitter para publicar su política. Enviar una campaña directa de mercadeo con un calmante para el estrés en forma de globo terráqueo para despertar el interés. Su distribuidor le puede ayudar con todos los detalles.
20
Atención al Día de Crédito
Los bancos e instituciones financieras pueden asociarse con escuelas locales y grupos de jóvenes para explicar la importancia del crédito y cómo utilizarlo correctamente. Su evento educativo debe incluir una variedad de productos útiles con logotipo para entregar a los estudiantes, incluyendo libros de contabilidad financiera y revistas de ahorro. Y para los más jóvenes, puede entregarles alcancías con cuatro compartimentos decorados con el logotipo, uno para el ahorro, la inversión, el gasto y la donación. Su distribuidor puede ayudarle a encontrar estos productos.
31
Halloween
Asustar y crear unos momentos divertidos en su empresa y los niños en la comunidad. Patrocinar una jornada de puertas abiertas donde niños disfrazados recibirán dulces, así como bolsas y botones reflectivos y agarraderas para los cierres. Su gesto de buena voluntad y acercamiento a la comunidad se verá recompensado.


Elegant fashionable ballpoint pen with comfort grip. Available in Purple, Red, Blue, Green, Grey And Silver (With Black Grip). Imprinted with your logo. Pricing starting at $0.90 for 100 pieces. asi/45100

 

Polish Up your Awareness Campaigns –
Unique promotions for Breast Cancer Awareness and Ovarian Cancer Awareness. Asstd. sizes and nail colors available. Visit us at ESPOnline. A portion of the proceeds are donated. asi/49640

 

Footzyrolls Rollable, Foldable Street Walkable Shoes are water and skid proof, the perfect portable shoe to alleviate foot pain from uncomfortable shoes. Great for weddings, events, corporate events, sponsorships and much more! Oprah recommended them as a top gift and they have been featured in USA TODAY, NBC and countless magazines and are worn by celebs. asi/54915

 

Premium quality red, green and blue laser pointers and presenters. Over 90 unique styles to choose from. Excellent presentation and pointing tools. Quick turnaround times for personalization. Largest inventory in North America ready to ship. 5-star supplier. asi/34375

Have you heard the news? Jelfin's USB Wired Mouse is now available at new Lower prices. Even though the temperature is rising, Jelfin decided to cool the temperature down with our new exciting promotions! Jelfin's totally cool, ball shaped computer mouse with relaxing interchangeable skins and a 2" print space (the largest in the industry) make this a unique promotional product. asi/63296 sage/69104 ppai/387356

 

Wow your customers with Apple Cookie & Chocolate's great selection of customizable novelty gift containers. These containers are filled with natural and preservative free cookies and milk chocolate tools, premium custom chocolate logo pieces, and much more! OU. asi/36560

Add Your Logo to this Stock Breast Cancer Awareness Pack
Packs are filled with Jelly Belly® jelly beans in 2 delicious flavors: Cotton Candy and Coconut. Just send your custom logo. No setup charges apply if logo is printed in pink to match pack colors. 5-day production from proof approval. As low as $1.15 (R) asi/37185

 

The Best 4-Color Wrap Billboard for Your Message!
11oz ceramic mug normally $4.45, now on sale @ $3.10 each! asi/52475

 

Let IDPaspinline put a charge in YOUR day with outrageously low Lapel Pin prices. FREE SETUP, Fast delivery, electronic artwork, unlimited revisions and all-inclusive pricing with no hidden fees! ASPIN-SE-WH Soft Enamel 3/4" priced as low as $0.60(P). ASI 5-Star Supplier. asi/62088

 

Celebrate the HUGE SAVINGS from 5-Star Supplier IDPaspinline on Custom Embroidered Patches. Patches (ASPIN-PATCHES 2" less than 100% embroidery) priced as low as $0.59(P) All inclusive pricing, Free Setup and Free shipping. Now that's something to get excited about. asi/62088


Successful Promotions® Trend Report™  es una marca registrada de Advertising Specialty Institute. Copyright 2011, ASI. Todos los derechos reservados.
Advertising Specialty Institute®, 4800 Street Road, Trevose, PA 19053