NEWS STORIES


New Service Lets YouTubers Sell Swag From Video Pages
YouTube just took a big step into the promotional products industry – and boosted a competitor to traditional distributors in so doing. The San Bruno, CA-based company announced last week that creators with more than 10,000 fans can sell branded merchandise directly through their channel on the popular video sharing website.
READ ARTICLE




Will 3-D Printing Upend Promo Supply Chain?
Voodoo Printing has the capability of producing high-volume 3-D printed products – up to 10,000 units so far – at prices competitive with injection molding. The two-year-old company has already worked with Top 40 distributors as it infiltrates the promotional market.
READ ARTICLE






Trudeau Sets Official Pot Legalization Day
Canadian Prime Minister Justin Trudeau has officially set the cannabis legalization day for October 17, 2018, giving the provinces, municipalities and marijuana businesses about four months to prepare.
READ ARTICLE






SPONSORED
Offer More Than a Product – Offer an Experience
When you work with a supplier that delivers great customer service, you can pass those benefits onto your clients. You'll be a distributor that offers what others can't, and you'll capture their business again and again. Look for a supplier with the following traits and you can expect more orders.
LEARN MORE




SPONSORED
Five Ways Fashion Apparel Will Increase Your Business
Are your sales approaches so last season? Don't be a fashion victim anymore. In this free fashion style guide, you'll find out all the reasons why runway-ready styles can boost your business and line your pockets with additional orders.
LEARN MORE




The Joe Show: Cool & Awesome Promo Products
In this episode of The Joe Show, Product Editor Joe Haley shows off a host of new promo items, including a water-resistant cooler, 2-oz. plastic mood shot glass, women's moto jacket, conference pad and pennants.
WATCH THE JOE SHOW





ADVERTISEMENT





ADVERTISEMENT





TOP
ADVERTISEMENT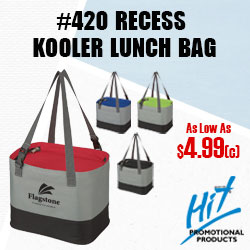 Rate the Power 50
Counselor is now compiling its Power 50 list for 2018 – our recognition of the industry's most powerful individuals – and we're looking for your feedback. Click here to see last year's rankings and let us know whether you think members are more or less influential today. If you think someone new should be on the list, this is your chance to nominate.
TOP
ADVERTISEMENT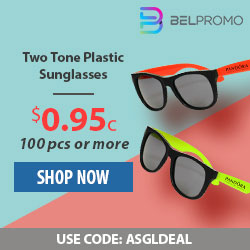 Podcast: Chris Gomez Shares Combat-Proven Strategies
Chris Gomez of Afterburner discusses the biggest challenges facing today's businesses, as well as the skills needed to survive and thrive in the complex marketplace. Gomez, a decorated former Navy SEAL, holds an MBA from the University of Texas. He will be the featured speaker at the ASI Show Chicago Motivational Breakfast on July 25.
TOP
ADVERTISEMENT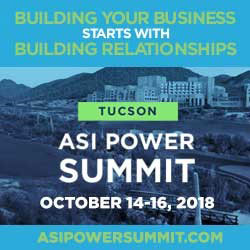 Q&A: EverythingBranded USA Plans West Coast Expansion
EverythingBranded USA (asi/160791), the U.S. arm of U.K.-based Charles Alexander Distribution, will be expanding to the West Coast this year with an official opening scheduled for the first week of October. Counselor spoke with Paul Rowlett, CEO and founder of Charles Alexander Distribution, about his company's rapid growth.

TOP
Child Prodigy Inspires T-Shirt Brand
From the tip of Walter Champion IV's pencil a hippo roars to vibrant life. Juvenile Virtuoso, as the nascent line is called, features Walter's hippo drawing on several styles of T-shirts. It's just the beginning of a tee collection Walter's parents say is aimed at revealing the hidden talents of child artists and supporting a worthy cause.

TOP
Pinnacle Promotions Wins Counselor's Video Contest
After a heated back-and-forth battle, Pinnacle Promotions (asi/295986) has won the third annual Best Marketing Video contest as part of Counselor's Promotional Campaign Awards. The Georgia distributor's "How We Make The Right Impression" ran neck-and-neck with IDProductsource's (asi/62088) "12 Days of Christmas," ultimately winning the vote 49.5% to 43%.

TOP
In the News
The Vernon Company (asi/351700) recently recognized the winners of its annual Circle of Excellence Incentive Trip with an all-expenses paid trip to Whistler, British Columbia, Canada. As contest winners, the company's top account executives were rewarded a vacation for two to the historic 5-star rated Four Seasons Resort in Whistler for exceeding their sales and management objectives during the 2017 sales year.
Click here for more June industry news.

TOP
People on the Move
Cap America Inc. (asi/43792) has promoted Liz Capone to director of customer relations. Capone will oversee all aspects of the company's policies, objectives and initiatives including monitoring client/company interactions, developing service level standards, response times and issue resolutions.
ETS Express (asi/51197) welcomes Kathryn Brewer as regional sales manager of the Southeast territory, which includes Georgia, Florida, Mississippi and Alabama.
JustinCase (asi/63698) welcomes Lee Pearson and Kevin Ridgeway as multi-line representatives of the Southeast territory, which includes Alabama, Kentucky, North Carolina, South Carolina, Georgia and Florida.
Click here for more June personnel announcements.




ADVERTISEMENT

Get your full-color wrap, përka® paper cups today.

• Full-Color Wrap with No Run Charge (setups apply)
• FREE Ground Freight within the Contiguous USA
• Double-Wall Cold Beverage Cups
• Single-Wall Snack Cups
TOP

ASI Mags Win 6 More Awards
ASI magazines won six more national Azbee Awards of Excellence and 12 regional awards, including six gold, in one of the nation's largest and most competitive editorial contests.
Find out more.

Marquis Jet Co-Founder Headlines Power Summit
Entrepreneur, best-selling author and ultra-marathon runner Jesse Itzler is the keynote speaker for the October ASI Power Summit.
Find out more.
TOP

ASI SHOW
YOU NEED NEW PRODUCTS AND WE'VE GOT THEM AT ASI SHOW CHICAGO
It just got easier to discover new products to meet your clients' needs just in time for back-to-school and the holiday season!
Register for ASI Show® Chicago and while walking the show floor, July 25-26, look for the red exclamation point indicating exhibiting suppliers NEW products. Also, join us at the close of Education Day, July 24, from 5:00 p.m.-6:00 p.m. for the New Product Preview Reception and get a sneak peek of new items the night before the show opens.
For more information on ASI Show Chicago, July 24-26 at McCormick Place, visit www.asishow.com or call 800-546-3300.
Follow ASI Show on Twitter and Instagram, like us on Facebook, and join our LinkedIn group.