NEWS STORIES


Bombings Prompt Promo Firms to Adjust Deliveries
Tensions among residents and businesses remain high in Austin, TX, even after police reported that the suspected serial bomber who has terrorized the city for nearly three weeks died on Wednesday. Authorities are still urging caution and promo companies are being extra vigilant.
READ ARTICLE




Counselor's Best Places to Work Reveal & Countdown
On Monday, March 26, at noon ET, Counselor will start unveiling its 2018 Best Places to Work companies on www.asicentral.com/news. Each day next week in a countdown of our top firms, we'll reveal eight winning companies with coverage including profiles, photos, podcasts and more.
GO TO ASICENTRAL






SPONSORED
Video #3: One Easy Step to Help You Win More Appointments
At Proforma, we're not calling this year 2018 – we're calling it 2X18. That's 2X your success, 2X your profits and 2X your fun by subscribing to our 2X18 video series. Video #3 reveals one easy step you can incorporate in your business strategy to win more appointments today.
LEARN MORE




CPSC Recalls Combination Chargers/Hand Warmers
The U.S. Consumer Product Safety Commission (CPSC) has announced a recall on combination battery chargers/hand warmers from Beanworthy LLC of Newark, DE. The Human Creations EnergyFlux and EnergyFlux Slim can overheat, potentially causing fires or burning users.
READ ARTICLE






SPONSORED
Why You Should Be Selling Custom Mints
Find out from Hospitality Mints how custom-wrapped mints make an easy sell for any customer. Now that's sweet.
LEARN MORE




SPONSORED
Make Every Day Earth Day With Plantable Seed Paper Promotions
Gear up for spring with eco-friendly products. Watch this video to see how Bloomin Promotions creates their handmade seed paper promotions that really grow.
LEARN MORE




The Joe Show: Broad Appeal
In this episode of The Joe Show, Product Editor Joe Haley shows off a host of new promo items, including a custom plush puppet, a heavy-duty safety vest, a six-function pocket knife, and a dash-mounted car accessory that can hold cell phones, pens and more.
WATCH THE JOE SHOW




ADVERTISEMENT





ADVERTISEMENT

TOP
ADVERTISEMENT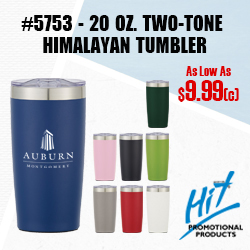 Proforma Recognizes 172 Million Dollar Club Members
Top 40 distributor Proforma (asi/300094) honored its 172 Million Dollar Club members at a three-day celebration in Riviera Maya, Mexico, earlier this month. The group included 39 Proforma owners who were honored for achieving new sales milestones.
TOP
ADVERTISEMENT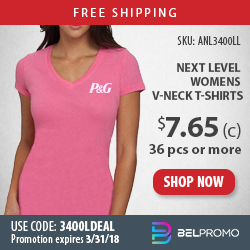 Winter Storm Toby: Company Updates
Another strong winter storm moved up the East Coast this week, creating disruptions along the I-95 corridor and beyond. Click the link below for a list of companies affected by the storm, including those that are closed or facing power outages. If your business is being impacted, send us an email at FEEDBACK@ASICENTRAL.COM.
TOP
ADVERTISEMENT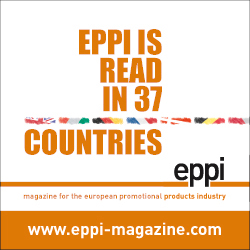 In Memoriam: Ralph DeShong, Landes
Ralph Lee DeShong Jr., founder of Houston-based supplier Landes Inc. (asi/66230), died on March 11. He was 84. A graduate of the University of Texas and a U.S. Army veteran, DeShong founded Landes in 1970.

TOP
ADVERTISEMENT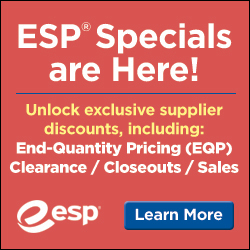 Merch Watch: Wentz Tops Brady in Jersey Sales
The Philadelphia Eagles have again beaten the New England Patriots – this time in a battle for supremacy in NFL merchandise sales. Just as the Eagles dethroned the Patriots in Super Bowl LII, Eagles quarterback Carson Wentz has overtaken Pats' QB Tom Brady as the NFL player with the top-selling jersey.

TOP
Participate in Counselor's State of the Industry Research
Counselor is conducting its annual State of the Industry research – and we need your feedback! Please take a few minutes to participate by taking either the supplier or distributor SOI survey in the links below. If you participate in this research, you will not only provide a valuable voice in the important results, you will also:
Receive a $5 Amazon.com gift certificate
Be entered into a drawing for an iPad being given away in one week
Earn credit toward your BASI/MASI certification
Receive an early release of selected findings from the report before they're published in Counselor magazine
Follow this link to the Distributor survey.

Follow this link to the Supplier survey.

TOP
In the News
AdVantage Line (asi/31570) has announced a special promotion to help Noteworthy customers affected by the Top 40 company's planned closure this spring. AdVantage will manufacture and fulfill orders for printed LDPE plastic bag products with a 5% discount off of Noteworthy's 2017 online catalog pricing.
Click here for March news updates.

TOP
People on the Move
The St Regis Group, parent company of 10 industry suppliers including St Regis (asi/84592), R.S. Owens (asi/75530) and Mi Pen Company (asi/71033), welcomes John Rodriguez. He will be representing the group for Colorado, Utah, New Mexico, Arizona and Wyoming.
Click here for March personnel updates.




ADVERTISEMENT

Do you want to sell your distributorship?

We can help you sell your distributorship quickly and easily.

Read what others are saying about The Distributor Exchange:

"You have exceeded my expectations regarding this process. Thanks for being so efficient, attentive and supportive. What else can I say . . . a dream come true!" – Barb Feyka - Capstone Promotions

All inquiries are strictly confidential.

Click here to learn more.
TOP

ASI Creative Labs Launched
ASI's award-winning creative team now offers a full-service in-house marketing agency producing everything from videos to content marketing campaigns.
Find out more.

New Counselor Mag Unveiled
ASI's iconic Counselor magazine has reinvented itself, featuring more people, products, research, case studies and opinions about the issues that matter most to the promo industry.
Find out more.
TOP

ASI SHOW
MAKE NEW CONNECTIONS RIGHT IN YOUR BACKYARD!
The ASI Roadshow is bringing top suppliers to your neighborhood! The ASI Roadshow is bringing top suppliers to your neighborhood! Join us and find new products while making connections that can help you find the next big thing. Take advantage of the convenient half-day format from 9 a.m.-1 p.m. and walk the show floor, then get back to the office with enough time left in the day to share your new ideas with your clients!
Click on the week to register for the city of your choice – new cities highlighted in red!
Plus, we are thrilled to be returning to Canada again!
Region
Date
City
Midwest I
April 16-20
Minneapolis, Des Moines,

Omaha,

Kansas City, St. Louis
Canada East
April 30-May 2
Ottawa, Toronto, Burlington
Canada West
May 14-17
Vancouver, Travel Day, Calgary, Edmonton
Great West
June 4-7
Salt Lake City, Denver,

Albuquerque,

Phoenix
Southeast
September 24-27
Raleigh, Charlotte, Atlanta, Nashville
Texas
October 1-5

New Orleans

,

Baton Rouge,

Houston,

San Antonio,

Austin

Great Lakes
October 15-18
Buffalo, Cleveland, Detroit, Indianapolis
*Schedule subject to change.
If you have any questions about the 2018 ASI Roadshows, or need help registering, call our Registration Specialists
at 800-546-3300, they're here to help!
Follow ASI Show on Twitter, Instagram and LinkedIn and like us on Facebook.