NEWS STORIES


Trump Considers Sweeping Tariffs on Chinese Goods
President Donald Trump is reportedly seeking to impose tariffs on up to $60 billion of Chinese imports, targeting the technology and telecommunications sectors in a move that could have implications for the promotional products industry.
READ ARTICLE




Amazon Recalls Power Banks
Seattle-based Amazon, in conjunction with the U.S. Consumer Product Safety Commission (CPSC), has recalled portable power banks that can overheat and ignite, posing fire and burn hazards, according to officials.
READ ARTICLE




SPONSORED
Sell the Hottest Spring and Summer Promos
We're giving you the inside info from American Zebra Line on why you need to start pitching warm-weather promos now, and how to sell them.
LEARN MORE




SPONSORED
Make Every Day Earth Day With Plantable Seed Paper Promotions
Gear up for spring with eco-friendly products. Watch this video to see how Bloomin Promotions creates their handmade seed paper promotions that really grow.
LEARN MORE




Dockworker Contract Talks Resume
Talks to establish a new contract for East Coast and Gulf Coast dockworkers have resumed after breaking off in December following a contentious opening round of negotiations. The goal is to establish a new deal before a September deadline.
READ ARTICLE




SPONSORED
Five Markets to Maximize Your Custom Mat Orders
Maximize your mat orders by learning the five hottest markets for custom floor mats from the experts at PromoMatting.
LEARN MORE




SPONSORED
Add Value to Banner Sales This Spring
Don't miss these hot tips from Wholesale Banners Online.
LEARN MORE




The Joe Show: Sweet New Products
In this episode of The Joe Show, Product Editor Joe Haley shows off a host of new promo items, including mint julep cups, a waterproof capsule, a laminated tote bag, and a gourmet cookie box that makes a great prospecting gift.
WATCH THE JOE SHOW




ADVERTISEMENT





ADVERTISEMENT

TOP
ADVERTISEMENT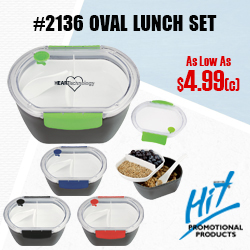 QCA Appoints Martichoux to Board
The Quality Certification Alliance (QCA) has announced the addition of Pierre Martichoux, the president of Chameleon Like (asi/44558), to its board of directors. "It is an honor to welcome Pierre, who joins other esteemed members of the board," said Tim Brown, QCA's executive director of operations.
TOP
ADVERTISEMENT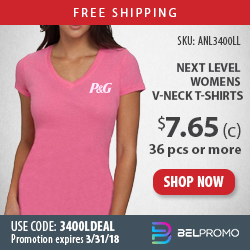 Last Chance: Nominate for Most Creative People & Hot List
Counselor magazine is accepting nominations for two upcoming award programs: our inaugural Most Creative People in Promo list and our 2018 Hot List.
Our Most Creative list will include salespeople who have developed interesting campaigns, marketing geniuses winning attention for their brands, designers who have come up with awesome logos, embroiderers/screenprinters doing unique things and supplier execs who have brought innovative products to our market. Also eligible: CTOs, CFOs, HR managers, customer service reps and social media mavens – really anyone whose work is trendsetting in some way.
Our 2018 Hot List will feature people who've been in the promo products industry for FIVE YEARS OR LESS. These newbies are individuals who are taking a fresh approach to business, shaking up the status quo or simply networking like maniacs at all hours of the night. We're in search of people who are making the industry a fun place with their energy and enthusiasm.
To nominate yourself or someone else for these lists, send an email to Karen Akers at kakers@asicentral.com, explaining specifically why your nominee should be recognized. Be clear whether you're nominating for the Most Creative List, the Hot List or both. Please make sure to include a hi-res photo of the person you're nominating. Thanks!
TOP
ADVERTISEMENT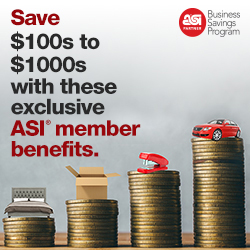 In Memoriam: Ted Dennison, TMJ Enterprises
Ted Dennison, the co-owner of distributor TMJ Enterprises, died on January 14 after a lengthy illness. He was 57. Dennison will be remembered as being one of the most impactful members of the promo products community in Houston.

TOP
The $13,000 Vintage T-Shirt
Would you or your clients pay $13,000 for a branded T-shirt? The folks at Defunkd are betting some well-heeled collector is willing to do just that, as that's the price the online marketplace is charging for a reportedly authentic 1980s Run DMC My Adidas tee.

TOP
Smile, It's Good for You: Curling Bobblehead
In this edition of our offbeat marketing spotlight, we highlight what's being billed as the first ever bobblehead of a curler. The National Bobblehead Hall of Fame and Museum is producing the bobblehead, which features U.S. Olympic gold medal winner Matt Hamilton.

TOP
Participate in Counselor's State of the Industry Research
Counselor is conducting its annual State of the Industry research – and we need your feedback! Please take a few minutes to participate by taking either the supplier or distributor SOI survey in the links below. If you participate in this research, not only will you provide a valuable voice in the important results, you will also:
Receive a $5 Amazon.com gift certificate
Be entered into a drawing for an iPad being given away in one week
Earn credit toward your BASI/MASI certification
Receive an early release of selected findings from the report before they're published in Counselor magazine
Follow this link to the Distributor survey.

Follow this link to the Supplier survey.

TOP
In the News
Ad Specialties and More (asi/113357) has announced an ownership change after the passing of Barb Burcham last year. Lisa Turner has now formally taken over as owner of the distributorship.
Click here for March news updates.




ADVERTISEMENT

Do you want to sell your distributorship?

We can help you sell your distributorship quickly and easily.

Read what others are saying about The Distributor Exchange:

"You have exceeded my expectations regarding this process. Thanks for being so efficient, attentive and supportive. What else can I say . . . a dream come true!" – Barb Feyka - Capstone Promotions

All inquiries are strictly confidential.

Click here to learn more.
TOP

ASI Creative Labs Launched
ASI's award-winning creative team now offers a full-service in-house marketing agency producing everything from videos to content marketing campaigns.
Find out more.

New Counselor Mag Unveiled
ASI's iconic Counselor magazine has reinvented itself, featuring more people, products, research, case studies and opinions about the issues that matter most to the promo industry.
Find out more.
TOP

ASI SHOW
THE ASI ROADSHOW IS COMING TO A CITY NEAR YOU!
The ASI Roadshow is bringing top suppliers to your neighborhood! Join us and find new products while making connections that can help you find the next big thing. Take advantage of the convenient half-day format from 9 a.m.-1 p.m. and walk the show floor, then get back to the office with enough time left in the day to share your new ideas with your clients!
Click on the week to register for the city of your choice – new cities highlighted in red!
Plus, we are thrilled to be returning to Canada again!
Region
Date
City
Mid-Atlantic
March 19-22

Cherry Hill,

Philadelphia, Baltimore, Washington, D.C.
Midwest I
April 16-20
Minneapolis, Des Moines,

Omaha,

Kansas City, St. Louis
Canada East
April 30-May 2
Ottawa, Toronto, Burlington
Canada West
May 14-17
Vancouver, Travel Day, Calgary, Edmonton
Great West
June 4-7
Salt Lake City, Denver,

Albuquerque,

Phoenix
Southeast
September 24-27
Raleigh, Charlotte, Atlanta, Nashville
Texas
October 1-5

New Orleans

,

Baton Rouge,

Houston,

San Antonio,

Austin

Great Lakes
October 15-18
Buffalo, Cleveland, Detroit, Indianapolis
*Schedule subject to change.
If you have any questions about the 2018 ASI Roadshows, or need help registering, call our Registration Specialists
at 800-546-3300, they're here to help!
Follow ASI Show on Twitter, Instagram and LinkedIn and like us on Facebook.