NEWS STORIES


Gildan Reports Full-Year & Q4 Financials
In an announcement today, Top 40 supplier Gildan Activewear (asi/56842) said its full-year sales and earnings for 2017 both increased. Revenue rose during the fourth quarter as well, Gildan said, though earnings were down in the three-month period ended Dec. 31. Gildan also revealed that it's undertaken an organizational consolidation that will result in executive changes.
READ ARTICLE




Superior Uniform Posts 2017 Gains
Florida-based Superior Uniform Group Inc. (asi/339857), whose holdings include distributor BAMKO (asi/131431), has announced its total 2017 net sales increased to $266.8 million, a year-over-year rise of 5.6%. Gains were strengthened in 2017 by 15% organic sales growth in promo products revenue, the company said.
READ ARTICLE




SPONSORED
One Simple Strategy to Boost Your Sales By 33%
At Proforma, we're not calling this year 2018…we're calling it 2X18. 2X your success, 2X your profits and 2X your fun by subscribing to our 2X18 Video Series. Video #2 reveals one simple strategy to help increase your sales by 33%.
LEARN MORE




MLB to Honor Shooting Victims With Special Caps
Major League Baseball will honor victims of last week's shooting in Florida by having teams wear Marjory Stoneman Douglas High School hats at spring training games on Friday. The Miami Marlins reached out to the league shortly after the shooting, requesting permission to wear special caps and T-shirts inscribed with #17douglasstrong during batting practice.
READ ARTICLE




SPONSORED
Never Pay Full Price on Custom Displays Again
Yeah, you read that right. Watch and learn how you can pick your own price on branding solutions with Move In Media's new Name Your Price Tool today.
LEARN MORE




SPONSORED
Take the Stress Out of Sales
Find out how selling custom stress relievers from ALPI can guarantee you repeat business for years to come.
LEARN MORE




The Joe Show: A Little Sizzle
In this episode of The Joe Show, Product Editor Joe Haley shows off a host of new promo items, including a Grill Master spice rub set, a plush teddy bear, a batting helmet ice cream bowl and a coconut-inspired Bluetooth speaker that's perfect to pitch to Caribbean-themed restaurants.
WATCH THE JOE SHOW




ADVERTISEMENT





ADVERTISEMENT

TOP
ADVERTISEMENT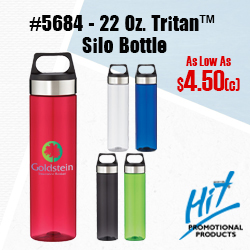 PPPC's National Show Draws Strong Crowds
At its 62nd annual show since the inception of the association, PPPC held its national event at the International Centre last week from February 9-13 with two days of education sessions, a three-day trade show and the networking opportunities it's become known for.
TOP
ADVERTISEMENT

Walmart T-Shirts Cause Backlash
A New York man of Irish ancestry is calling for a boycott of Walmart's online store because the retailer's website is selling St. Patrick's Day-themed tees that feature images and messaging that promote negative stereotypes about Irish people being drunks.
TOP
ADVERTISEMENT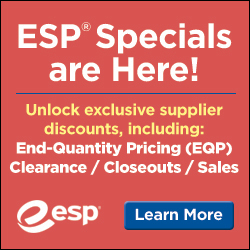 Nominate Now: 2018 Most Creative People & Hot List
Counselor magazine is accepting nominations for two upcoming award programs: our inaugural Most Creative People in Promo list and our 2018 Hot List.
Our Most Creative list will include salespeople who have developed really interesting campaigns, marketing geniuses winning attention for their brands, designers who have come up with awesome logos, embroiderers/screenprinters doing unique things and supplier execs who have brought innovative products to our market. Also eligible: CTOs, CFOs, HR managers, customer service reps and social media mavens – really anyone whose work is trendsetting in some way.
Our 2018 Hot List will feature people who've been in the promo products industry for FIVE YEARS OR LESS. These newbies are individuals who are taking a fresh approach to business, shaking up the status quo or simply networking like maniacs at all hours of the night. We're in search of people who are making the industry a fun place with their energy and enthusiasm.
To nominate yourself or someone else for these lists, send an email to Karen Akers at kakers@asicentral.com by Friday, March 9, explaining specifically why your nominee should be recognized. Be clear whether you're nominating for the Most Creative List, the Hot List or both. Please make sure to include a hi-res photo of the person you're nominating. Thanks!

TOP
Beach Town Considers Towel Ban
A tiny coastal town on Italian island Sardinia has proposed a ban on beach towels and large beach bags, in an effort to preserve the sand dunes at La Pelosa beach. The popular Mediterranean beach attracts thousands of tourists each day during peak season, many of whom leave with sand-caked accessories.

TOP
Nominate Now: Counselor's Fastest-Growing Companies
Has your company been experiencing incredible growth over the past few years? We want to hear from you! Please CLICK HERE to nominate your company for Counselor's annual recognition of the Top 10 Fastest-Growing Companies in the industry. Questions? Email Karen Akers at kakers@asicentral.com.

TOP
In the News
Chocolate Chocolate (asi/44897) welcomes Chris Dollar and his team at Chris Dollar Marketing Group LLC (CDMG) as its new multiline agency in New Mexico, Colorado, Oklahoma, Arkansas, Louisiana and Texas.
Click here for February news updates.




ADVERTISEMENT

Do you want to sell your distributorship?

We can help you sell your distributorship quickly and easily.

Read what others are saying about The Distributor Exchange:

"You have exceeded my expectations regarding this process. Thanks for being so efficient, attentive and supportive. What else can I say . . . a dream come true!" – Barb Feyka - Capstone Promotions

All inquiries are strictly confidential.

Click here to learn more.
TOP

ASI Creative Labs Launched
ASI's award-winning creative team now offers a full-service in-house marketing agency producing everything from videos to content marketing campaigns.
Find out more.

New Counselor Mag Unveiled
ASI's iconic Counselor magazine has reinvented itself, featuring more people, products, research, case studies and opinions about the issues that matter most to the promo industry.
Find out more.
TOP

ASI SHOW
WE'RE COMING TO A CITY NEAR YOU – REGISTER TODAY!
The ASI Roadshow is bringing top suppliers to your neighborhood! Join us and find new products while making connections that can help you find the next big thing. Take advantage of the convenient half-day format from 9 a.m.-1 p.m. and walk the show floor, then get back to the office with enough time left in the day to share your new ideas with your clients!
Click on the week to register for the city of your choice – new cities highlighted in red!
Plus, we are thrilled to be returning to Canada!
Week
Date
City
Northeast
March 12-15
Boston, Stamford,

Long Island

, Saddle Brook
Mid-Atlantic
March 19-22

Cherry Hill

, Philadelphia, Baltimore, Washington, D.C.
Midwest I
April 16-20
Minneapolis, Des Moines,

Omaha

, Kansas City, St. Louis
Canada East
April 30-May 2
Ottawa, Toronto, Burlington
Canada West
May 14-17
Vancouver, Travel Day, Calgary, Edmonton
Great West
June 4-7
Salt Lake City, Denver,

Albuquerque

, Phoenix
Southeast
September 24-27
Raleigh, Charlotte, Atlanta, Nashville
Texas
October 1-5

New Orleans

,

Baton Rouge

,

Houston

,

San Antonio

,

Austin

Great Lakes
October 15-18
Buffalo, Cleveland, Detroit, Indianapolis
*Schedule subject to change.
If you have any questions about the 2018 ASI Roadshows, or need help registering, call our Registration Specialists at 800-546-3300, they're here to help!
Follow ASI Show on Twitter, Instagram and LinkedIn and like us on Facebook.