NEWS STORIES


18 Ways to Improve Your Business in 2018
It's almost time to make your New Year's resolutions. While swearing off cookies and getting more exercise are always great choices, you should also make pledges about growing your business. Whether it's expanding on marketing efforts, improving operational efficiency or something else, our suggestions will help stoke sales in the months ahead.
READ ARTICLE




SPONSORED
Turn Your Furry Friends Into Walking Billboards
See how Caro-Line Bandanna Promotions can help man's best friend promote your clients' businesses.
LEARN MORE




You're Invited: Distributor Choice Awards 2018
Next week at ASI Orlando, Counselor will unveil the industry's top suppliers across 55 product categories as well as the Supplier of the Year at the 2018 Distributor Choice Award ceremony. The event – held on January 3 – will also honor three individual award winners: the Advantages Salesperson of the Year; the SGR Supplier Sales Rep of the Year; and the SGR Customer Service Rep of the Year.
LEARN MORE




SPONSORED
365 Ways to Sell More Cloth Accessories
Learn No Sweat Specialties' hottest holidays for selling promotional accessories. (Hint: They're not the ones you think!)
LEARN MORE




The Joe Show: Year-End Awesomeness
In this episode of The Joe Show, Product Editor Joe Haley shows off a host of new promo items, including a reusable coffee sleeve, Bluetooth in-ear headphones, a coaster with a built-in bottle opener, and a stress-relieving Zen garden that makes for a terrific employee gift.
WATCH THE JOE SHOW




SPONSORED
Break Into the 5 Biggest Banner-Buying Markets
Discover the most in-demand markets for custom banners and learn how to beat the competition to win more sales, straight from the experts at Wholesale Banners Online!
LEARN MORE




ADVERTISEMENT





ADVERTISEMENT

TOP
ADVERTISEMENT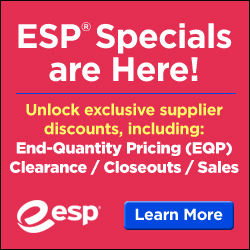 Nominate Now: Best Places to Work
Counselor magazine is once again setting out to identify the industry companies that employees simply love to work for. These are the distributors and suppliers that have loyal workforces and provide top-notch cultures and office environments.
Do you want your company to be considered? Getting involved is easy – and it's free to participate. The only necessary qualification is that a company has at least 10 employees.
To nominate your company, or any others in the market that you think deserve to be recognized, simply CLICK HERE. Also, there's no risk to participate. Only the honorees – those companies with the best scores from the survey – will be published in Counselor.
So don't delay. CLICK HERE to register your company to be considered for one of the most exclusive lists in the promotional products market: Counselor's Best Places to Work. The nomination deadline is Monday, January 8.
TOP
T-Shirt Leads to "Christmas Miracle"
A New Jersey man in need of a kidney transplant has found a donor in an incredible way – through a unique T-shirt and thousands of shares on social media. This summer, during a trip to Disney World, Robert Leibowitz wore a T-shirt that read: "In need of a kidney. O positive. Call 917-597-2651." A woman, Rocio Sandoval, snapped a photo of the shirt and posted it on Facebook. The story only gets better from there.
TOP
Podcast: Unlock the Power of Storytelling
In this Strategy Session podcast, speaker and author Kindra Hall shares the secret of strategic storytelling and how it can help your business. A national champion storyteller who works with brands and leaders, Hall reveals why customers instantly gravitate to good stories and how anyone can develop their storytelling skills.

TOP
ASICentral Top 10: Awards
The Hot List, the Power 50, Top 40 Distributors and Suppliers – these are just a sampling of the industry rankings and award-themed content that drew heavy traffic on asicentral.com over the last year. Here we give a list of the Top 10 awards-related entries that attracted the most eyes online in 2017 – and we link to the content so you can check out anything you might have missed.

TOP
Special Report: The Future of Financing
Whether you're borrowing from a friend, applying for a loan, or partnering with a venture capital firm, the majority of companies will need financing at some point to propel their brands forward. And as technology changes lending trends, businesses will have more options than ever to raise capital. Here's what you need to know to take advantage.

TOP
In the News
Ennis (asi/52493) has announced that, in conjunction with the signing of the Tax Cuts and Jobs Act of 2017, the firm's board of directors has approved a special one-time bonus to more than 2,200 non-management employees in the amount of $500 each.
Perry Ellis International (asi/77715) announced that the city of Doral, FL, celebrated Perry Ellis International Day on December 12, 2017. The firm was recognized by local leaders for its 50 years in business and for 20 years of being headquartered in the south Florida city.
Click here for December news updates.

TOP

ASI Helps Hurricane Victims
The promo industry came together to raise nearly $100,000 to help people impacted by recent hurricanes.
Find out more.

Supplier Rock Stars Named
Cristina Ysselstein of ETS Express was named SGR™ magazine's supplier sales rep of the year and Ludy Sousa of Hub Pen Company was chosen as the customer service rep of the year.
Find out more.
TOP

THE ASI SHOW
MARK YOUR CALENDARS: REGISTER FOR THE CITY CLOSEST TO YOU
The ASI Roadshow is coming to city near you! This is a great opportunity to take a break from the office and check out what's new from the industry's top suppliers in a convenient half-day format. Network with suppliers, learn about what's trending in the industry and get back to the office with time left in the day to start putting new ideas into place.
Click on the week to register for the city of your choice – new cities highlighted in red!
Plus, we are thrilled to be returning to Canada again!
Week
Date
City
Pacific
February 5-8
Seattle, Portland, Sacramento, San Francisco
Southern California
February 12-15
Van Nuys, Irvine,

Los Angeles

, San Diego
Northeast
March 12-15
Boston, Stamford,

Long Island

,

Northern New Jersey

Mid-Atlantic
March 19-22

Southern New Jersey

, Philadelphia, Baltimore, Washington, D.C.
Midwest I
April 16-20
Minneapolis, Des Moines,

Omaha

, Kansas City, St. Louis
Canada East
April 30-May 2
Ottawa, Toronto, Burlington
Canada West
May 14-17
Vancouver, Travel Day, Calgary, Edmonton
Great West
June 4-7
Salt Lake City, Denver,

Albuquerque

, Phoenix
Southeast
September 24-27
Raleigh, Charlotte, Atlanta, Nashville
Texas
October 1-5

New Orleans

,

Baton Rouge

,

Houston

,

San Antonio

,

Austin

Great Lakes
October 15-18
Buffalo, Cleveland, Detroit, Indianapolis
*Schedule subject to change.
If you have any questions about the 2018 ASI Roadshows, or need help registering, call our Registration Specialists at 800-546-3300, they're here to help!
Follow ASI Show on Twitter, Instagram and LinkedIn and like us on Facebook.