NEWS STORIES


American Apparel: End of an Original
As a brand, American Apparel is alive and in the beginning of a planned major comeback. But as a vertically integrated U.S.-based apparel manufacturer with a worldwide retail presence, the company exists no longer. How did that happen? How did one of the promo industry's largest suppliers, a business with a globally iconic brand, end up bankrupt and on the auction block? For no-punches-pulled answers, Counselor talked to top analysts, former employees and founder Dov Charney.
Read Article




SPONSORED CONTENT
The Promo Opportunity Under Your Feet
Yes, 64% of retail shoppers look down to read floor graphics and mats. Here are five industries (sneak peek: one is beverage companies) purchasing high-quality, American-made floor mats. Click below to learn how and why these promotional campaigns worked.




Report: Private Equity Firm to Buy Staples, Inc.
Staples Inc., parent company of Top 40 distributor Staples Promotional Products (asi/120601), is reportedly on the cusp of being purchased for more than $6 billion by private equity firm Sycamore Partners. While uncertainty remains about how things will go, the deal could close as early as next week.
READ ARTICLE




SPONSORED CONTENT
3 Secrets to Getting Unstuck
For many in this industry, there comes a time where it feels like no matter how hard you work, your business efforts have come to a screeching halt. Maybe you've seen consistent growth in sales for 5+ years, but all of a sudden you've hit a plateau. Sound familiar? What if we told you that there are 3 easy steps you can take to help get you unstuck and start creating real success in your business and in life?




Ohio State Slaps T-shirt Maker With Trademark Lawsuit
The Ohio State University has filed a trademark-infringement lawsuit against a T-shirt shop. The lawsuit seeks to stop Lamp Apparel, owned by former OSU basketball player Brandon Fuss-Cheatham and Scott Kaiser, from using Ohio State's trademarks and also asks for damages.
READ ARTICLE




The Joe Show: New Products for New Promotions
An ingenious stylus, hand sanitizer sprayers decorated with characters, and multifunction pocket knives with keyrings are among the awesome items ASI Product Editor Joe Haley showcases in the latest edition of The Joe Show.




ADVERTISEMENT





ADVERTISEMENT

TOP
The Image Group Merges With Target Marketing
Two distributorships have merged to form a firm that company principals say is on track to generate more than $30 million in revenue in 2017. Ohio-based The Image Group (asi/230069) and Virginia-based Target Marketing (asi/341741) announced the merger this week, saying the businesses will officially become one on June 30.

TOP
ADVERTISEMENT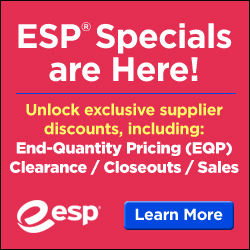 Colorado Could Ban Smartphone Sales to Children
Colorado may ban the sale of smartphones to children under 13, if one father has his way. Dr. Timothy J. Farnum, an anesthesiologist and founder of Parents Against Underage Smartphones (PAUS), started a ballot initiative earlier this year that would require cellphone retailers to ask a customer's age or the age of the phone's intended user before completing a sale. The issue has relevance for the promotional products industry given the proliferation of branded smartphone accessories.

TOP
Rate the Power 50
Counselor is now compiling its Power 50 list for 2017 – our recognition of the industry's most powerful individuals – and we're looking for feedback from you. Click here to see the list of last year's Power 50 and let us know whether you think the members are more or less influential today than they were a year ago. Or, if you know of someone who should be on the list but isn't, please write his or her name and company information in the space provided.

Thank you for your input! Rate now – click here.

TOP
Recall on Staples Chairs
Staples Inc., parent company of Top 40 distributor Staples Promotional Products (asi/120601), has issued a recall on Hazen Mesh Task chairs. Legs on the base of the chairs can break, resulting in a fall for users. There have been three reports of people sustaining minor cuts and bruises.

TOP
3M Announces Management-Level Appointments
3M, the St. Paul, MN-based parent company of Top 40 supplier 3M/Promotional Markets (asi/91240), has announced several promotions among the company's leadership. Effective July 1, Michael F. Roman is the chief operating officer and executive vice president, and Hak Cheol (H.C.) Shin is vice chair and executive vice president. Other promotions were announced as well.

TOP
Economy Watch: Homebuilding Declines Again in May
Homebuilding declined for the third straight month in May, a possible sign that the hot residential construction market has now cooled off. Housing starts fell 5.5% in May to a seasonally adjusted annual rate of 1.09 million units, following a 2.7% decrease in April and a 7.7% drop in March.

TOP
In the News
Cintas (asi/162167) is opening a new laundry and maintenance facility in Greenville, WI. The company has announced that 140 employees will work at the new facility: 60 of them new and 80 of them coming from the current Cintas facility in Greenville.
Ennis (asi/52493) announced its recently acquired Independent Printing Company Inc. was honored at FSEA's (Foil & Specialty Effects Association) 24th Annual Gold Leaf Awards. Judged on design, execution and level of difficulty, Independent won the Gold Award in the best use of foil and embossing category.
IMAGEN Brands' Crown Products (asi/47700) and Vitronic (asi/93990) were recently awarded the 2016 Most Valuable Partner Award from Proforma Albrecht & Co. (asi/116308). Rory Campbell, National Accounts Manager, was awarded Outstanding MVP Partner Rep of the Year.
Storm Creek (ASI 89879) has announced that effective immediately, its full line of apparel is solely available directly from Storm Creek. The company has repurchased all Storm Creek inventory from River's End Trading Company (asi/82588).
Click here for June news updates.

TOP
People on the Move
Ariel Premium Supply (asi/36730) welcomes Neal Gondran as regional sales manager for the South region.
Hub Pen Company (asi/61966) welcomes Danica Ford as business development associate.​
Click here for June personnel announcements.

TOP

ASI Mags Honored
ASI magazines won four national and 10 regional awards in one of the most competitive contests in business journalism.
Find out more.

Congrats to Newly Certified Pros
ASI issued education certificates to 24 more professionals in the promotional products industry.
Find out more.
TOP

THE ASI SHOW
REGISTER NOW FOR ASI SHOW CHICAGOAND ATTEND FOR FREE
Register now for ASI Show® Chicago, July 11-13 at McCormick Place in the North Bldg. for FREE (a $199 savings).
Connect with leading suppliers – 84 are NEW to Chicago and 162 were NOT at PPAI – and see their new products and discuss fresh ideas to kick start Q4
Take advantage of ALL NEW education – including NEW courses, tracks and speakers for 2017
Be inspired at the high-profile keynote with entrepreneur and co-host of ABC's Shark Tank, Daymond John
Network at a number of exciting events, like the ASI Show Bash (formerly known as the Gala Celebration) at NEW venue, I|O Godfrey (ticket required)
Explore NEW areas on the show floor, like the Collaboration Room and Refresh & Recharge Zone
For more information, or if you need help registering, give us a call at (800) 546-3300 or visit www.asishow.com.
Follow ASI Show on Twitter and Instagram, like us on Facebook, and join our LinkedIn group.