NEWS STORIES


Big Squeeze II: Distributors Feeling the Pressure
A tech-disrupted marketplace and intensifying client demands are clamping pressure down on distributors, challenging industry firms to adapt like never before. In this exclusive feature, Counselor gives distributors a chance to explain the tensions they're feeling and how they're dealing with those challenges. Plus, we offer up four strategies distributors and suppliers can use to work together to be collectively more successful in the cauldron of 21st century business.
Read Article
SPONSORED CONTENT
Are You Paying Hidden Charges?
Before you sign the dotted line, ask if the quote you've been given includes finishing items, such as a grommet on a banner. Small details are often added on as an extra charge by some suppliers and not clearly flagged upfront. For more information about ways to avoid hidden charges and get the most from your supplier relationships, click the link below for a free whitepaper.
READ ARTICLE
Companies Cracking Down on Telecommuting
Earlier this month, IBM urged thousands of U.S. employees to relocate from their home-based offices to regional ones, echoing a recent trend in companies stepping back from telecommuting. Yahoo, Hewlett-Packard, Best Buy, Bank of America Corp. and Aetna Inc. have also ended their telework arrangements in recent years. What's driving the trend?
The Joe Show: Brewing Up Awesome Promo Ideas
In this episode of The Joe Show, Product Editor Joe Haley demos a host of new promo items, including a unique travel kit, reflective tote bags, an LED-powered mini-football, a fun product for targeting campsites and an especially practical promo for summer picnics.
WATCH THE JOE SHOW
Smart Apparel Evolution: The Levi's/Google Smart Jacket
Innovation teams at Google and Levi's teamed up to create a trendy denim jacket that features technology that allows wearers to control their mobile experience and connect to a variety of services, such as music or maps, directly from the jacket. It's one of the latest developments in the evolution of smart apparel. Could such teched-up threads one day come to the promotional products industry?
READ ARTICLE
TOP
ADVERTISEMENT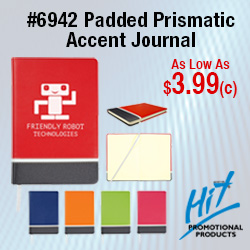 Promo Products Front-and-Center at Philly Tech Week
Philadelphia's business incubator and laboratory Pennovation Center was jammed with hip techsters grooving to DJ Reed Streets, chowing down on Comcast-donated ice cream and downing freebie cocktails from Red Bull during the closing night party to the annual Philly Tech Week, attended by denizens of the city's technology community, event sponsors, partners and organizers. Promo products figured prominently at the event.

TOP
ADVERTISEMENT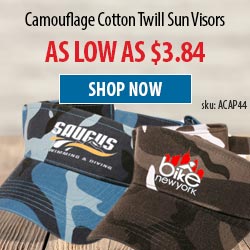 Smile, It's Good for You: The RompHim, Diaper Jeans and Other Weird Trends
The promotional products business is full of energy, creativity and fun. Sometimes, we all need a reminder of that, especially on more trying days. To stir smiles around the industry, Counselor will periodically run the "Smile, It's Good for You" section in PromoGram. In this edition, our pals at Wearables magazine highlight wacky fashion trends in an entertaining video and slideshow. From male rompers to all forms of hideous denim, the questionable trends on offer are sure to give you a couple chuckles.

TOP
Counselor Unveils 2017 Hot List
Get to know the promo product industry's rising stars, hottest innovators and pioneers. See the exclusive 2017 group – the Counselor Hot List – by clicking here. Learn how this innovative group is trailblazing a unique path to success and lifting the entire promo market with new ideas, bold decisions and creative designs.

TOP
Consumer Sentiment Ticks Up, Partisan Divide Remains
U.S. consumer sentiment rose marginally in May, while a stark partisan divide persists in defining views on the economy. That's according to data from the University of Michigan, which recently released its closely-watched monthly surveys on consumer sentiment, economic conditions and consumer expectations.

TOP
In the News
BAMKO (asi/131431) recently took part in the opening bell ceremonies for the NASDAQ stock exchange. BAMKO President Phil Koosed was on hand for the ringing of the bell, which officially marks the opening of the day's trading activities.
Cutter & Buck (asi/47965) announces that a new state-of-the-art distribution center will open this fall in Brampton, ON, to better serve Canadian customers. Operating jointly with the company's existing centers in Renton, WA, and Hebron, KY, it will fulfill orders from the company's premium sportswear line along with Clique's sporty basics.
Kaeser & Blair (asi/238600) recently held its annual three-day Sales Leader Summit for top sales volume leaders in Clearwater, FL. The event featured private meetings with top industry suppliers, and concluded with a recognition banquet.
Proforma (asi/300094) received three 2017 American Inhouse Design Awards from Graphic Design USA for the design and concepts behind its marketing programs. The unique packaging for two of Proforma's self-promotion direct mail pieces, along with a mini-promotional mailer, were recognized in the competition for outstanding layout and design.
Click here for May news updates.

TOP
People on the Move
GMGPEN (asi/55583) welcomes Scott Meade as sales manager.
IMAGEN Brands, parent company of Crown Products (asi/47700) and Vitronic (asi/93990), welcomes Mark Daubenspeck as strategic sales manager – e-commerce.
Click here to see more industry personnel announcements for May.

TOP

ASI Named Best Place to Work
ASI was honored as a best employer for working parents in an employee-drive contest, thanks to its benefits program.
Find out more.

ASI Issues 1,720 Education Certifications
Twenty-eight more industry pros were recently certified through the ASI Education Certification Program, bringing the total to 1,720.
Find out more.
TOP

THE ASI SHOW
THE TIME IS NOW! REGISTER FOR ASI SHOW CHICAGO
There's no time like the present. Register now for ASI Show® Chicago, July 11-13, in the North Building of McCormick Place so you don't miss out on savings like:
Travel: The experts say it's best to book your flight 40-50 days in advance for the best rate – so the timing is right! After you register today, start looking for the best deals to fly! Not flying? Check out the other travel discounts offered to our attendees.
Hotel: Reserve your room through our official housing vendor, Wyndham Jade, at one of the host hotels to secure your discounted rates – rooms are filling up fast and discounted pricing for our room blocks end on June 15. Plus, don't forget to check out the hotel reimbursement for July 12 – a member-only benefit and up to $258 in savings!
ASI Show Bash (formerly known as the Gala Celebration): Reserve your ticket to join us at the I│O Godfrey for just $55.
Even better, ASI members attend education and exhibits for FREE – a $199 value! Register now for ASI Show Chicago using promo code promogram. For more information, give us a call at 800-546-3300 or visit www.asishow.com.
Follow ASI Show on Twitter and Instagram, like us on Facebook, and join our LinkedIn group.