NEWS STORIES


Alibaba Quarterly Sales Rise By 60%
China-based Alibaba Group Holding Ltd. has announced that its fiscal fourth-quarter revenue soared 60% to $5.6 billion – the highest growth rate since the company's IPO. For the full fiscal year, sales increased by 56% to $22.9 billion. The increases were mainly driven by the robust revenue growth of its China commerce retail business and Alibaba Cloud, as well as the consolidation of recently acquired businesses Youku Tudou and Lazada, the company said.
Read Article




SPONSORED CONTENT
The Ultimate Guide to Marketing to Millennials
A new generation is in the workforce. With an estimated $1.3 trillion in buying power, connecting and building relationships with millennial decision-makers is critical for the livelihood of your business. Would you like to learn about their preferred methods of communication, as well as how to best engage and attract millennial buyers? Join us for a webinar on May 24, 2017, at 11 a.m. EDT.




CPSC Recalls Plush Toys
The U.S. Consumer Product Safety Commission (CPSC) has announced a recall of plush animal toys after the manufacturer discovered the products' plastic eyes can detach, posing a choking hazard. Douglas Company Inc. of Keene, NH, received two reports of the toys' eyes detaching or loosening. No injuries have been reported and no ASI-listed companies were named in the recall.
READ ARTICLE




SPONSORED CONTENT
How to Sell More Performance Wear
One of today's widely embraced fashion trends is performance wear that works hard in the gym, the office or even for social occasions. This special apparel category merges the best athletic performance fabrics with the mobility and mechanical stretch of the most comfortable tees around. Is it any wonder that high-end performance wear is now one of the most sought-after retail items in America?




The Joe Show: Brewing Up Awesomeness
In this episode of The Joe Show, Product Editor Joe Haley demos a host of new promo items, including a unique travel kit, reflective tote bags, an LED-powered mini-football, a fun product for targeting campsites and an especially practical promo for summer picnics.
WATCH THE JOE SHOW




ADVERTISEMENT





ADVERTISEMENT

TOP
ADVERTISEMENT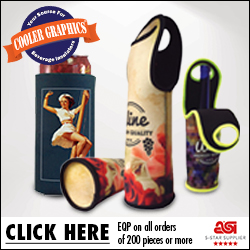 Distributor Prints Thousands of Shirts for NBA Playoffs
When it comes to NBA Playoff giveaway T-shirts, one Nashville distributor's got game. Something Inked (asi/466856), an iPROMOTEu (asi/232119) affiliate, is responsible for sourcing, printing and delivering thousands of giveaway shirts for the NBA and NHL, often with extremely tight turn times. "We tell clients there's nothing we can't handle," says Bill Feldberg, vice president of business development.

TOP
CPSC Recalls DG Fashion Scarves
The U.S. Consumer Product Safety Commission (CPSC) has issued a recall on DG Fashion women's scarves. Stylized with a fringe, the scarves fail to meet federal flammability standards for clothing textiles, posing a risk of burn injuries to consumers. No injuries have been reported. According to the CPSC, about 200 of the scarves were sold online at www.amazon.com from June 2015 through March 2017 for between $10 and $21. The CPSC did not name any promotional product companies in connection with the recall.

TOP
Counselor Unveils 2017 Hot List
Get to know the promo product industry's rising stars, hottest innovators and pioneers. Each day this week, Counselor will be unveiling five rising stars from our 2017 Hot List. Check out the list to learn about this bold group that's trailblazing a unique path to success.

TOP
Smile, It's Good for You: The BobbleDonald
The promotional products business is full of energy, creativity and fun. Sometimes, we all need a reminder of that, especially on more trying days. To stir smiles around the industry, Counselor will periodically run the "Smile, It's Good For You" section in PromoGram. Here, we'll highlight the lighthearted side of branding and promotions. Check out our newest installment, featuring the launch of an interactive Donald Trump digital bobblehead.

TOP
Study: Workers Job-Hopping as Unemployment Reaches New Low
The number of American workers switching jobs in one year has reached an all-time high, thanks to a competitive hiring environment created by the lowest unemployment levels in 10 years. According to the Workplace Vitality Report released last week by payroll company ADP, 26.5% of workers in the private sector changed jobs in the 12 months ending in the first quarter of this year. This is the highest the rate has been since ADP first began tracking in the fourth quarter of 2014.

TOP
Vote Now for Counselor Product Design Awards
The results are in: Counselor magazine has selected the finalists for its annual Product Design Awards. Here's where you come in. Please click here to vote for the products that YOU think are the best designed, considering both aesthetic appeal and functionality. You can select up to three products in each of the 13 featured categories. It only takes a few minutes, and your input is very important to us!
The winners will appear in a future issue of Counselor. Vote now!

TOP
In the News
Maple Ridge Farms Inc. (asi/68680) has announced it is now offering both Ben & Jerry's and Häagen-Dazs Ice Cream to the promo market.
National Gift Card Corp. (asi/73011) has unveiled its web application programming interface (API) connection to iTunes servicing the B2B incentive and rewards market. This new effort offers several key benefits to the B2B gift industry including: real-time ordering of iTunes and Apple Music codes for businesses needing digital products for all loyalty, rewards, incentive and employee programs; secure web-API integration for agencies and gift card programs that want to offer a direct API for iTunes and Apple Music; and full range of iTunes code denominations through the web-API, starting with $5 up to $500 along with 3- and 12-month Apple Music subscription codes.​
Click here for May news updates.

TOP
People on the Move
Blue Generation (asi/40653) has promoted Terry O'Brien to senior vice president of sales.

Pro Towels (asi/79750) has appointed West Coast Branded Solutions in California to represent its brand in the Western region, including CA, OR, WA, AK and HI.

Quality Certification Alliance (QCA) has announced that Rick Rayl is stepping down from his position on the QCA board of directors.
Click here to see more industry personnel announcements for May.

TOP

ASI Named Best Place to Work
ASI was honored as a best employer for working parents in an employee-drive contest, thanks to its benefits program.
Find out more.

ASI Issues 1,720 Education Certifications
Twenty-eight more industry pros were recently certified through the ASI Education Certification Program, bringing the total to 1,720.
Find out more.
TOP

THE ASI SHOW
THE ASI ROADSHOW IS HEADING TO THE GREAT WEST
Don't miss the ASI Roadshow when we travel to the Great West, June 12-15. This is an opportunity to create a team-building experience with your colleagues during our 4-hour tabletop event. Source the hottest products from top suppliers and network with other industry professionals.
Register by clicking the city of your choice!
*Schedule subject to change.
ASI Distributor members, be sure to bring your clients with you so you can source new promo items and brainstorm ideas with suppliers – just have them bring a business card to the registration desk. To protect your client's information, they will be given a yellow lanyard and a generic badge without any of their information on it. This will alert suppliers that they are speaking with you and your client so the appropriate business conversations can take place.
Follow ASI Show on Twitter, Instagram and Facebook for the latest ASI Roadshow updates, pictures, and event news. Be sure to use the hashtag #ASIRoadshow with all of your social media posts! Also, remember to join our LinkedIn group.