NEWS STORIES


Q1 Distributor Sales Rise 3.3%
Distributors increased their sales in the first quarter of 2017 by 3.3%, according to new data released today by ASI. The rise in sales isn't as high as the 3.4% jump recorded in the fourth quarter of 2016, but is up sharply from the 1.4% reported in the first quarter of last year. The Counselor Confidence Index, which gauges the health and optimism of distributors, reached its highest rating ever at 116 in Q1 of 2017.
Read Article




SPONSORED CONTENT
5 Hot Markets Buying Signs Right Now
If signs aren't an important aspect of your distributor offerings, you could be missing out on easy, recurring sales. From seasonal businesses that utilize yard signs and banners, to American Disabilities Act-compliant signage for government and public spaces, to a full line of architectural signage, you don't want to miss out on pitching this lucrative product category.




ASB Names Justin Zavadil as President
As first reported in a Breaking News Alert, the board of directors at American Solutions for Business (asi/120075, ASB) has named Justin Zavadil president of the Top 40 company, effective immediately. Most recently, Zavadil served as executive vice president of the Minnesota-based firm.
READ ARTICLE




SPONSORED CONTENT
How to Make $1,000 Selling Floor Mats
Did you know the profitability of logo mats is around 50%? We've got a handy infographic with four proven steps to effectively pitch and sell mats – a lucrative product category most businesses purchase.




The Joe Show: Drink Up
In this episode of The Joe Show, Product Editor Joe Haley demos a host of new promo items, including bottles with color-changing logos, a unique mug that makes a great employee gift, a large, leather-handled tote ideal for beach promos and a stylish coconut-fiber doormat with messaging that nobody can miss.
WATCH THE JOE SHOW




ADVERTISEMENT





ADVERTISEMENT

TOP
Trump Unveils Tax Reform Plan
President Donald Trump released on Wednesday broad proposals for a tax reform plan that would slash taxes on businesses, double the standard income tax deduction for individuals and joint filers, and encourage companies to bring back money from overseas by instituting a lower repatriation tax. For the promotional products industry, the plan was also especially relevant for what it didn't contain: A border adjustment tax, which industry suppliers said would have caused rampant escalation in costs for imported products.

TOP
ADVERTISEMENT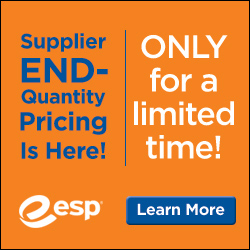 3M Reports Q1 Growth
St. Paul, MN-based 3M Co., parent company of Top 40 supplier 3M/Promotional Markets (asi/91240), reported Q1 sales of $7.7 billion, a year-over-year increase of 3.7%. The company did not break out revenue for promotional products. Organic local-currency sales were up 11.5% in electronic and energy, 5.7% in industrial, 4.8% in safety and graphics, as well as 3.1% in healthcare, but down 1.2% in consumer. Geographically, sales were led by strong growth of 10.1% in the Asia Pacific region.

TOP
Superior Uniform Group Revenues Up 5.2%
Florida-based Superior Uniform Group Inc. (asi/339857), whose holdings include distributor BAMKO (asi/131431), has reported its Q1 2017 net sales were $61 million, a year-over-year increase of 5.2%. The rise in revenue marks the 18th consecutive quarter of gains. Net income for the first quarter this year was $3.8 million.

TOP
Nominate Now for Counselor Promotional Campaign Awards
We're looking for the best campaigns that used promotional products in the past year. Nominate your company's successful promo campaigns in the following categories: Distributor Self-Promotion, Distributor Client Promotion* and Supplier Self-Promotion. To nominate your campaign, answer the questionnaire below via email and mail product samples from the promotion to:
Counselor Magazine
ATTN: Karen Akers
4800 Street Rd.
Trevose, PA 19053
We're also recognizing successful campaigns that involved social media (Facebook, Twitter, Instagram, Pinterest, etc.). Email links and details to kakers@asicentral.com.
The deadline is Friday, May 5.
Questionnaire for Best Promotional Campaign nominations:
What was the purpose of the campaign?
What was the company and industry that the campaign was created for?
Who was the target audience?
What products were used? How were they imprinted?
How were the products distributed? How many were distributed?
When did the promotion take place? Is it still ongoing?
What were the results of the promotion? Why would you say it was a success?
Can you provide ROI information or other concrete facts that demonstrate its success?
*To be eligible for consideration, any distributor nominating for Best Distributor Client Promotion must have permission for its client's company name to appear online and in print.

TOP
In the News
BIC Graphic (asi/40480) announced it has received a Proforma (asi/300094) 2016 Most Valued Preferred Limited Partner Award. This honor is awarded to thirty-five suppliers with large volume sales with Proforma owners as well as outstanding overall customer service.
HanesBrands (asi/59528) has earned its eighth consecutive U.S. Environmental Protection Agency Energy Star Partner of the Year award for sustained excellence in energy conservation, carbon emissions reduction and environmental sustainability. The supplier has also announced that it's partnering with Give Back Box, an online service that coordinates the shipping of gently used outerwear and shoe donations along with other household items to local charities across the United States. In celebration of Earth Day, Hanes will donate a package of underwear to The Salvation Army for every package its consumers ship via Give Back Box over the next six months. For more information, visit http://www.hanes.com/givebackbox.
Jack Nadel International (asi/279600) recently honored OrigAudio (asi/75254) with the Partner of the Year Award during its annual national sales event, NadelU.
Prime Line (asi/79530) has announced price reductions for five stock Rubik's items including the original 9-panel full-stock cube. Prime has also added two new overseas Rubik's tech items – a slim power bank and a Bluetooth speaker – to the product line of Source Abroad by Prime.​

TOP

ASI Named Best Place to Work
ASI was honored as a best employer for working parents in an employee-drive contest, thanks to its benefits program.
Find out more.

ASI Issues 1,720 Education Certifications
Twenty-eight more industry pros were recently certified through the ASI Education Certification Program, bringing the total to 1,720.
Find out more.
TOP

THE ASI SHOW
YOU CAN'T AFFORD TO MISS NEXT WEEK'S ASI ROADSHOW
Don't miss the ASI Roadshow when we travel to the Midwest region, May 1-4. This is an opportunity to create a team-building experience with your colleagues during our 4-hour tabletop event. Source the hottest products from top suppliers and network with other industry professionals.
Register by clicking the city of your choice!
*Schedule subject to change.
ASI Distributor members, be sure to bring your clients with you so you can source new promo items and brainstorm ideas with suppliers – just have them bring a business card to the registration desk. To protect your client's information, they will be given a yellow lanyard and a generic badge without any of their information on it. This will alert suppliers that they are speaking with you and your client so the appropriate business conversations can take place.
Follow ASI Show on Twitter, Instagram and Facebook for the latest ASI Roadshow updates, pictures and event news. Be sure to use the hashtag #ASIRoadshow with all of your social media posts! Also, remember to join our LinkedIn group.