NEWS STORIES


CPSC Recalls Teavana Tumblers
The U.S. Consumer Product Safety Commission (CPSC) has announced a recall for flip tumblers from teaware retailer Teavana. The drinkware, designed to be used for steeping hot tea, can leak, posing a burn hazard. Teavana has received 12 reports of leakage, including one that resulted in an abdominal burn injury.
Read Article




SPONSORED CONTENT
6 Powerful Facts to Sell More Floor Mats
Did you know that anti-fatigue mats increase worker productivity? We've got a handy infographic with everything you need to know to effectively pitch mats – a lucrative product category that most businesses purchase.




Delta Apparel Sells Retro-Inspired T-Shirt Business
Delta Apparel (asi/49172) is bidding goodbye to Los Angeles-based Junk Food Clothing Co. 12 years after purchasing the vintage-style, licensed-graphics T-shirt business. Delta, headquartered in Greenville, SC, has announced it will sell Junkfood Clothing to JMJD Ventures LLC for about $28 million. Delta paid more than $22.5 million to buy the business.
READ ARTICLE




SPONSORED CONTENT
Sell the Next Big Wave of Apparel
What's "lifewear," and can it boost your apparel sales? It's a garment recipients will practically live in, bringing together fine materials, design and craftsmanship. It's also the next big trend that can definitely increase your apparel sales. Read on to learn the hallmarks of this newest wave of promo apparel.




The Joe Show: Bucket List of Promo Products
Boat flags, a tablet holder and boxing glove keychains are just some of the cool products that ASI's Product Editor Joe Haley features in the latest episode of The Joe Show. Other awesome items include steel pails, mini playing cards and an optical drinking glass.
WATCH THE JOE SHOW




ADVERTISEMENT





ADVERTISEMENT

TOP
ADVERTISEMENT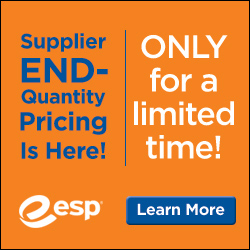 The Future of Manufacturing in the Promo Industry
The global manufacturing industry is changing, influenced by factors that range from robotics and rising labor costs, to governmental economic policies and potential new sourcing hotbeds. How will the flux in the manufacturing sector impact the promotional products industry? Counselor offers insights here.

TOP
Video: Our Favorite NHL Logos
The NHL playoffs are springing into action, meaning it's the perfect time to talk puck. ASI's "Facebook" Vinnie Driscoll and product guru Joe Haley donned their beloved team jerseys for a Facebook livestream and discussed everything from their favorite NHL logos and epic hockey brand fails to who will win the coveted Stanley Cup. After watching, go to ASI's Facebook page to let us know what you think of the lists and predictions.

TOP
Iowa Prohibits Local Bans on Plastic Bags
Iowa has joined the growing list of states that prohibit their municipalities and counties from banning or restricting single-use plastic bags. Signed into law by Gov. Terry Branstad late last month, the legislation is the latest in a growing number of state-level pushbacks against bag bans, which have been on the rise nationally and around the world. Restrictions on plastic bags are relevant to the promotional products industry because they can help foster sales of branded reusable bags, such as totes.

TOP
Report: U.S. Adds 98,000 Jobs in March
U.S. hiring was down last month, with employers adding 98,000 jobs in March, according to figures released by the U.S. Labor Department. That's lower than the 185,000 economists had expected and far below an earlier report by payroll firm ADP and Moody's Analytics, which said that private sector companies added 263,000 jobs.

TOP
In the News
American Solutions for Business (ASB, asi/120075) has joined the National Independent Automobile Dealers Association's National Member Benefit program. ASB has also announced the opening of an 8,000-square-foot office space in Las Colinas, TX. The business hub will house eight sales associates and office personnel along with employees and staff from Mojo Media Labs, an ASB business partner.
InnerWorkings (asi/168860) has announced a multi-year contract with the Humane Society of the United States to produce outreach, marketing and fundraising programs, including direct mail, promotional items and related logistics and fulfillment.
Logomark (asi/67866) has partnered with lifestyle and fitness brand WORK to produce a line of versatile backpacks.
S&S Activewear (asi/84358) has signed a lease for a 28,746-square-foot office space in Bolingbrook, IL. The company will be moving its office staff to the new location while maintaining industrial operations at another location in Bolingbrook. ​
Sportsman Cap & Bag (asi/88877) employees recently gathered to celebrate the memory of company founder Abe Yeddis on what would have been his 100th birthday. Abe and his father founded the company over 80 years ago.​

TOP

ASI Named Best Place to Work
ASI was honored as a best employer for working parents in an employee-drive contest, thanks to its benefits program.
Find out more.

ASI Issues 1,720 Education Certifications
Twenty-eight more industry pros were recently certified through the ASI Education Certification Program, bringing the total to 1,720.
Find out more.
TOP

THE ASI SHOW
THE GREAT LAKES ROADSHOW IS NEXT AROUND THE CORNER
The ASI Roadshow is traveling to the Great Lakes region, and we can't wait! Distributors will have an opportunity to find the hottest promotional items for the 2017 sales year without having to spend too much time out of the office.
Register by clicking the city of your choice!
*Schedule subject to change.
ASI Distributor members, be sure to bring your clients with you so you can source new promo items and brainstorm ideas with suppliers – just have them bring a business card to the registration desk. To protect your client's information, they will be given a yellow lanyard and a generic badge without any of their information on it. This will alert suppliers that they are speaking with you and your client so the appropriate business conversations can take place.
Follow ASI Show on Twitter, Instagram and Facebook for the latest ASI Roadshow updates, pictures, and event news. Be sure to use the hashtag #ASIRoadshow with all of your social media posts! Also, remember to join our LinkedIn group.