NEWS STORIES


Fire Damages Vernon Offices
An early afternoon fire on Wednesday at The Vernon Company (asi/351700) caused staff to evacuate, damaged the firm's executive offices, but spared employees from any injuries. Officials believe the cause of the fire, which began about 12:15 p.m. local time, was a faulty fluorescent light ballast in the second-floor ceiling. Despite the fire, which left significant smoke and water damage, Vernon is open and fully operating today.
Read Article

ADVERTISEMENT

SPONSORED CONTENT
5 Surefire Ways to Create Cool Custom Products
Wish you could create promotions using custom products your clients won't be able to stop talking about? Dreaming up custom products for your customers should never be difficult. Read on to learn about five steps you can take to make your production process fast and seamless.
Counselor Survey: Distributors See Opportunity With Incentives
A new survey from Counselor magazine shows that more than a third (35%) of industry distributors sell incentive programs, while many expect they'll soon begin doing so, believing initiatives provide ample opportunity to help grow overall sales. Of companies that don't sell incentive programs, more than one in five (22%) expect to begin pitching the initiatives to customers within the next 24 months. About 86% of prospective incentive sellers are considering adding the programs to build their book of business with current customers, while 61% are looking into providing the initiatives to stoke sales with new customers.
READ ARTICLE
Great Debate: Is Consolidation Hurting the Promo Industry?
In the latest of a series of monthly videos, Counselor Editor-in-Chief Dave Vagnoni squares off against ASI Editorial VP Andy Cohen in a lively debate of the most popular topics in business today. In this episode, Dave and Andy duel over this question: Is consolidation hurting the promo products industry? Dave says yes, but Andy sees things differently.
The Joe Show: Keeping It Cool
In this episode of The Joe Show, Product Editor Joe Haley highlights a host of creative promos, including a glow hoodie, an extra-large cooler, a practical tracking device, and a fun topple tower game.
WATCH THE JOE SHOW
TOP
ADVERTISEMENT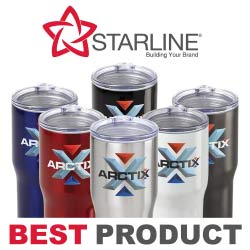 CPSC Recalls Children's Sleepwear
LIVLY Clothing, in conjunction with the U.S. Consumer Product Safety Commission (CPSC), has recalled approximately 1,200 children's robes and two-piece pajama sets because the items fail to meet federal flammability standards for children's sleepwear, and could cause a burn risk to the wearer. No injuries have been reported so far. The items were not imported or distributed by any ASI-listed companies.

TOP
ADVERTISEMENT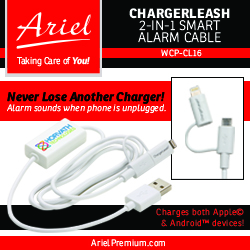 CEO Optimism Hits Eight-Year High
The heads of the largest U.S. companies are feeling optimistic about the economy just two months since President Trump's inauguration.
The Business Roundtable's CEO Economic Outlook Index – a measure of expectations for revenue, capital spending and employment – jumped 19.1 points to 93.3 in the first quarter of 2017, according to the group's survey released Tuesday. It's the biggest increase in almost eight years and the highest reading in nearly three years. Since the survey began in 2002, the average has been 79.8. Readings above 50 indicate economic expansion.

TOP
ADVERTISEMENT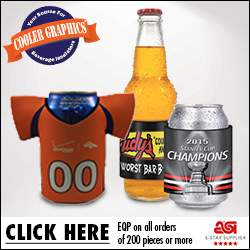 Vote Now In the Advantages Product Video Contest!
Why tell someone about a product when you can show them? Such is the power of the product video: immediate, visual proof of what could be your customer's next great promotion.
Now in the month of March, Advantages is holding a winner-take-all contest among 16 product videos to determine which industry company created the best one. Head to our bracket to vote on eight head-to-head matchups – and be sure to come back each week in March to vote again as we whittle the field down from 16 to eight to four to a final two to (finally) a single champion. You will determine the winner of the Advantages Product Video Contest.

TOP
Are You a Top Decorator?
This year, Wearables magazine will be introducing the Wearables Readers' Choice Top Decorator Awards program to recognize top-performing contract shops and apparel suppliers that decorate. If you're a contract shop or supplier-decorator, click the link below to take a quick qualifying survey. Or, if you know other deserving shops, forward them the link as well.
Click here to take the survey.

TOP
In the News
Custom Logos (asi/173183) has named Betsy Polacheck 2016 Salesperson of the Year.
Hanesbrands/Champion (asi/59528) has launched its Originals Collection, designed specifically for the wholesale market with a focus on printability. The line features 12 contemporary men's and women's styles.
Prime Line (asi/79530) has launched its Power of 3 Rewards Program exclusively in Canada. The program offers distributor salespeople an opportunity to earn a gift card for each order of $2,500 or more they submit to Prime Line or Jetline between February 13 and April 30. Prize details and program rules can be found at www.primeline.com/canada.

TOP
People on the Move
Kati Sportcap & Bag (asi/64140) has named Laurie Gerber as a product educator/outside sales representative.
The Magnet Group (asi/68507) welcomes Ray Jimenez as regional sales manager for Southern California, Arizona and Nevada.
Vantage Apparel (asi/93390) has hired Christian Brandt as Northeast sales manager.​
Click here to see other recent industry personnel announcements.

TOP

March Madness, ASI Style
Vote for your favorite video in Advantages' Best Product Video Contest.
Find out more.

ASI Beefs Up Cyber Security
New VP now responsible for implementation and oversight of ASI's expanded global security program.
Find out more.
TOP

THE ASI SHOW
ASI ROADSHOW WILL BE IN THE CENTRAL MIDWEST IN APRIL
The ASI Roadshow is traveling to the Central Midwest in April and you don't want to be left out. Don't miss this opportunity to connect with top supplier during this convenient half-day schedule.
*Schedule subject to change
Remember, ASI distributor members can escort clients to the Roadshow. All invited clients will wear a generic badge that will keep their information confidential so the appropriate business conversations can take place. This is a great opportunity to brainstorm new ideas with suppliers and your clients – just have them bring their business card to register on site when they arrive with you.
Follow ASI Show on Twitter, Instagram and Facebook for the latest ASI Roadshow updates, pictures, and event news. Be sure to use the hashtag #ASIRoadshow with all of your social media posts! Also, remember to join our LinkedIn group.