NEWS STORIES


Gildan Announces Full-Year, Q4 Earnings
Montreal-based Gildan Activewear (asi/56842) increased net sales 8.1% in the fourth quarter of 2016, while full-year sales ticked up 0.6% to nearly $2.59 billion, according to an earnings statement released Thursday. A 1% sales rise in the apparel maker's printwear division drove the annual increase, but sales in the branded apparel segment were flat for the year. Meanwhile, adjusted net earnings also accelerated in 2016, advancing to $356.3 million, or $1.51 in adjusted diluted earnings per share – a 3.4% jump over $1.46 in 2015.
Read Article

ADVERTISEMENT

Great Debate: Do Reps or Companies Own Customer Accounts?
In the latest of a series of monthly videos, Counselor Editor-in-Chief Dave Vagnoni faces off against ASI Editorial VP Andy Cohen in a lively debate of the most popular topics in business today. In this episode, Dave and Andy duel over this question: Do salespeople or companies own customer accounts? Andy says it's sales reps, but Dave thinks that's just not reality.
WATCH THE GREAT DEBATE
SPONSORED CONTENT
The Secret to Multi-Year, Multi-Million Dollar Success
It's said that a referral is the highest compliment you can receive in the business world. Kelly Stone, owner of The Idea Box Powered by Proforma, a Ft. Lauderdale, FL-based distributorship, is proof that a positive referral, backed by unmatched resources, can have a great impact on your business. In her case, it was the leverage she needed to help her company soar into a multimillion-dollar, three-year contract with Spirit Airlines.
The Joe Show: Cool Ideas
In this episode of The Joe Show, Product Editor Joe Haley highlights a host of top promo items, including a no-spill whiskey glass, a cooling towel perfect for outdoor events, a fun idea for craft brewers, plus a healthy words magnet that's great for wellness programs.
TOP
ADVERTISEMENT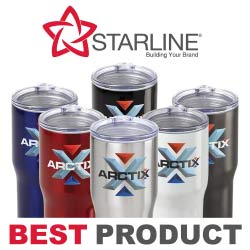 Special Report: Predicting the Trump Effect
Whatever your opinion of President Donald Trump, you're likely wondering: How exactly will Trump's policies affect the promotional product industry? Here, we explore five key issues facing the Trump administration – from a pending healthcare law overhaul to cuts in regulations to the real threat of import tariffs. Plus, we gauge the opinions of industry execs whose emotions span the gamut from excitement to disdain.

TOP
Superior Uniform Group Reports Sales Rise
Florida-based Superior Uniform Group Inc. (asi/339857), whose holdings include distributor BAMKO (asi/131431), has announced its 2016 net sales were $252.6 million, a year-over-year increase of 20.1%. Fourth-quarter revenues jumped 21.6% to $64.7 million. "Results like these are only possible through the hard work and disciplined focus of our teams," said Superior CEO Michael Benstock.

TOP
Survey: Business Leaders Confident About Economy
Small businesses in the U.S. are feeling enthusiastic about the economy, according to an annual survey from JPMorgan Chase. More than three-quarters of executives polled believe Donald Trump's White House will have a positive effect on their firms, thanks to policies like tax reform and reduced regulation. Only 12% of those surveyed believe the administration will have a negative impact on business.

TOP
In the News
BIC Graphic (asi/40480) received two awards at the PPPC National Convention on February 12. The Canada! 150 Years Calendar was awarded Silver in the Most Creative New Promotional Product category. In addition, Stephanie Bouchez, Inside Sales Canada, was selected as a 2016 PPPC Momentum Award Recipient.
 
Hanes Branded Printwear (asi/59528) has launched its new Hanes X-Temp Triblend with FreshIQ. This new fashion tee brings the great heathered look of a triblend combined with the cooling, wicking X-Temp technology and the advanced odor protection of FreshIQ technology.
 
IMAGEN Brands recently hosted its first Marketing Summit for the marketing and product development teams for both Crown (asi/47700) and Vitronic (asi/93990).
Prime Line's (asi/79530) overseas and custom sourcing division, Source Abroad by Prime, has added 15 new items to its direct import line and launched a new, fully animated capabilities video. Watch the video here: https://vimeo.com/203522834
Sonic Promos (asi/329865) announced it has signed a license agreement with PBS. The agreement will allow nearly 350 local public television stations to utilize and co-brand PBS goods that support the brand, including PBS KIDS, PBS Digital Studios, PBS KIDS' "Kart Kingdom" game and the "PBS Nerd" brand.

TOP

For the Love of Business
Whole Foods CEO John Mackey headlines ASI Dallas show for nearly 3,000 distributors and over 400 suppliers.
Find out more,

Vernon Selects ASI's ESP®
Top 40 distributor chooses ASI as provider of promotional product sourcing, CRM and custom website solutions.
Find out more.
TOP

THE ASI SHOW
MID-ATLANTIC ROADSHOW IS NEXT WEEK
Don't miss this chance to find quality products from top suppliers when the ASI Roadshow travels to the Mid-Atlantic region and a city near you. It's a great opportunity to collaborate with suppliers, stay up-to-date with industry trends, and network with other industry professionals. You'll receive 5 points toward your BASI/MASI just for attending!
Register for the city of your choice today!
Mid-Atlantic • February 27-March 2
*Schedule subject to change.
ASI distributor members will be allowed to escort their key clients on the show floor. Just have them bring their business card to the registration table and they will receive a yellow lanyard and a generic badge that will keep their company information confidential.
Follow ASI Show on Twitter, Instagram and Facebook for the latest ASI Roadshow updates, pictures, and event news. Be sure to us the hashtag #ASIRoadshow with all of your social media posts!