NEWS STORIES


HALO Acquires Incentives Firm
As first reported this week in a Breaking News Alert, Top 40 distributor HALO Branded Solutions (asi/356000) has acquired Michael C. Fina Recognition. HALO will maintain Michael C. Fina Recognition's New York office, administrative center and management team, including members of the Fina family, which has operated the company for three generations. Financial terms of the deal were not disclosed.
Read Article

ADVERTISEMENT

Will Trump Be Good for Our Industry?
In the latest of a series of monthly videos, Counselor Editor-in-Chief Dave Vagnoni faces off against ASI Editorial/Marketing VP Andy Cohen in a lively debate of the most popular topics in business today. In this episode, Dave and Andy duel over this question: Will President Donald Trump's policies be good for the promo products industry? Dave says yes, but Andy is a skeptic.
WATCH THE GREAT DEBATE
Newell Reports Sales Increases
New Jersey-based Newell Brands, parent company of Top 40 supplier Sanford Business-to-Business (asi/84833), has announced that its net sales for the fourth quarter ended December 31 were $4.1 billion, a 165% increase versus Q4 of 2015. The firm's full year 2016 net sales reached $13.3 billion, a year-over-year jump of 124.2%. The large gains were buoyed by Newell's merger with consumer products company Jarden Corp.
The Joe Show: Tasty Products
In this episode of The Joe Show, Product Editor Joe Haley demos a variety of promo items, including a 12-pack of mini cupcakes, a stylish stainless-steel flask, a dual-use Sharpie pen, plus a practical piece for meetings and events.
TOP
ADVERTISEMENT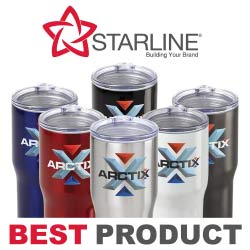 Disney Recalls Mickey Mouse Nightlights
Walt Disney Parks and Resorts U.S., in conjunction with the Consumer Product Safety Commission (CPSC), has voluntarily recalled about 3,000 Happy Holidays! Mickey Mouse Nightlights. The items, the CPSC said, pose a fire hazard as liquid from them can leak onto electrical outlets. Disney Parks has received two reports of incidents, including one electrical fire, although no injuries have been reported. No ASI-listed suppliers were involved in the recall.

TOP
ADVERTISEMENT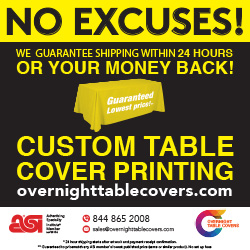 Slideshow: Hot Products From ASI Dallas
ASI Show Dallas teemed with great items from industry suppliers from across the USA. Counselor Executive Editor Christopher Ruvo had a blast patrolling the show floor for cool items. Many caught his eye, eight of which we feature here.

TOP
Market to Target: Gen Y and Gen Z
Move over baby boomers. So long Gen Xers. The new most popular kids in town are all under 35 – and brands badly want to market and sell to them. For that matter, you should, too. Here's how to connect with younger buyers and win more orders.

TOP
In the News
Leed's (asi/66887) was named 2016 Supplier of the Year by Facilisgroup. The award was presented when Facilisgroup partners and suppliers met in Las Vegas during the PPAI show for their 2017 Winter Summit.
Polyconcept North America celebrated the opening of the new 120,000-square-foot Trimark (asi/92122) Apparel Centre on February 6. The site increases capacity in support of Trimark's growth.

TOP
People on the Move
Garland Writing Instruments (asi/55870) has announced that Peter J. Leon has joined the company as VP of sales and marketing.
Goldstar (asi/73295) has hired Alicia Dierking as Southwestern regional sales manager covering the territory of TX, OK, LA, CO & NM.
Justincase (asi/63711) has appointed Promopartner, led by president Sally Piitz, as its multiline representation in GTA EAST. This territory includes areas south of HWY #9 and east of HWY #400 in Canada.
Click here see all of this month's industry personnel announcements.

TOP

For the Love of Business
Whole Foods CEO John Mackey headlines ASI Dallas show for nearly 3,000 distributors and over 400 suppliers.
Find out more,

Vernon Selects ASI's ESP®
Top 40 distributor chooses ASI as provider of promotional product sourcing, CRM and custom website solutions.
Find out more.
TOP

THE ASI SHOW
PACIFIC ROADSHOW IS HAPPENING NOW
Don't miss this chance to find quality products from top suppliers when the ASI Roadshow travels to the Pacific region and a city near you. It's a great opportunity to collaborate with suppliers, stay up-to-date with industry trends, and network with other industry professionals. And, you'll receive 5 points toward your BASI/MASI just for attending!
Register for the city of your choice today!
*Schedule subject to change.
ASI distributor members will be allowed to escort their key clients on the show floor. Just have them bring their business card to the registration table and they will receive a yellow lanyard and a generic badge that will keep their company information confidential.
Follow ASI Show on Twitter, Instagram and Facebook for the latest ASI Roadshow updates, pictures, and event news. Be sure to us the hashtag #ASIRoadshow with all of your social media posts!