NEWS STORIES


Cimpress Posts Earnings, Reveals National Pen Sales
Europe-based Cimpress (asi/162149), the parent company of Vistaprint and Top 40 distributor National Pen (asi/281040), increased revenue 16%, but experienced declines in gross margin, net operating profit and income per diluted share in the second quarter of its fiscal year 2017, the company said Wednesday. In a statement, Cimpress also announced a sweeping plan to decentralize operations – an initiative that will, principles say, increase efficiencies, customer service and cost-savings, but also result in layoffs.
Read Article

ADVERTISEMENT

Mobile Ad Spending Forecasted to Surge
A new forecast from research firm BIA/Kelsey predicts mobile ad spending will reach $72 billion in the U.S. by 2021. That's an increase of about 118% over 2016 spending, which the firm placed at $33 billion. "The smartphone revolution turns 10 this year, and we've come a long way," said Mike Boland, chief analyst for BIA/Kelsey and the author of the report.
Read Article
SPONSORED CONTENT
Choose Custom Clothing
As many as 80% of adults in Haiti are jobless or underemployed. More than two-thirds of working adults there do not have formal jobs and struggle to make a living. About 26,000 Haitian children, meanwhile, are separated from their families. But with your buying choices, you can help. Here's how.
The Joe Show: Swing Into Spring
In this episode of The Joe Show, Product Editor Joe Haley looks ahead to warmer weather with cool promos. Joe features a host of items, including a classy wine tote, a stylish glasses case, fun beach balls and an eye-popping solar-powered desk piece.
SPONSORED CONTENT
Increase Apparel Sales
The everyday T-shirt and all-American baseball cap are constantly evolving, and one small Wisconsin-based supplier is leading the charge behind its never-ending innovation.
TOP
ADVERTISEMENT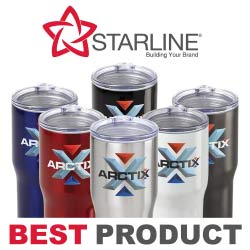 Commentary: Your Time Is Now
February marks the 37th anniversary of the greatest upset in sports history. Here's what we can all learn from the Miracle On Ice.

TOP
Trump Hat Cake Causes Facebook Firestorm, Drives Sales
If it's true that there's no such thing as bad press, then Traub's Bakery in Pennsylvania is doing something right. Its latest treat, a controversial Donald Trump "Make America Great Again" hat cake, is selling like, well, hot cakes thanks to a social media post and the firestorm it created.

TOP
Distributor Choice Awards Honor Top Suppliers
At a ceremony held last week at the Orange County Convention Center during ASI Orlando, Counselor magazine announced the winners of its 2017 Distributor Choice Awards. In all, 42 suppliers won awards at the ceremony, which honored suppliers for their service and commitment to their distributor customers. The top prize went to Showdown Displays (asi/87188), which was named Supplier of the Year. Check out all of this year's winners here.

TOP
In the News
Antigua Group (asi/36320) has announced its Tour Team for 2017: Women's U.S. Open Champion Brittany Lang, Stacy Lewis, Austin Ernst, Alena Sharp, Candie Kung, Kim Kaufman and Solheim Cup team members Gerina Piller and Lizette Salas.
BIC Graphic (asi/40480) has announced Cycle 1 specials including: top sellers across all product categories available up to 20% off EQP, over 25 new products at special introductory pricing and more. For information, visit online.bicgraphic.com. ​
Charles River Apparel (asi/44620) has announced the launch of the Colors for a Cause Program, which leverages the brand's number-one selling style, the New Englander, to help create awareness and raise funds for national and local charities. Between February 1st and March 31st, Charles River will contribute 10% of every purchase of the New Englander Red to help families in need.
Crown Products (asi/47700) was awarded gold in the Most Creative Product category for its 32-oz. Flip Bottle at the 2017 PPAI Suppliers Achievement Award Competition.
IDProductsource (asi/62088) has launched its 2017 digital catalog. For more information, visit www.idproductsource.com.

TOP

QB Dan Marino Wows Orlando
ASI kicks off 2017 show season at ASI Show Orlando with rousing keynote by former Miami Dolphins quarterback Dan Marino.
Find out more,

Vernon Selects ASI's ESP®
Top 40 distributor chooses ASI as provider of promotional product sourcing, CRM and custom website solutions.
Find out more.
TOP

THE ASI SHOW
NEW PRODUCTS AT THE 2017 ROADSHOW
The ASI Roadshow is hitting the road in 2017 with 11 NEW cities! With a convenient half-day schedule, this is your chance to find client solutions for your upcoming projects without spending too much time out of the office.
Click here for the full schedule, or click the week to register for the city of your choice. Keep checking back at www.asiroadshow.com for the latest updates regarding venue locations and parking information.
| | | |
| --- | --- | --- |
| Week | Date | City |
| Pacific | February 6-10 | Seattle, Portland, Sacramento San Francisco, San Jose |
| Northeast | February 20-23 | Boston, Stamford, NYC, Saddle Brook |
| Mid-Atlantic | February 27-March 2 | Philadelphia, Baltimore, Washington, D.C., Richmond |
| Southern California | March 13-15 | Van Nuys, Newport Beach, San Diego |
| Central Midwest | April 3-6 | Minneapolis, Des Moines, Kansas City, St. Louis |
| Great Lakes | April 24-26 | Buffalo, Pittsburgh, Cleveland |
| Midwest East | May 1-4 | Detroit, Indianapolis, Columbus, Cincinnati |
| Great West | June 12-15 | Salt Lake City, Denver, Phoenix |
| Southeast | September 11-14 | Raleigh, Charlotte, Atlanta, Nashville |
*Schedule subject to change.
ASI distributor members will be allowed to escort their key clients on the show floor. Just have them bring their business card to the registration table and they will receive a yellow lanyard and a generic badge that will keep their company information confidential.
Follow ASI Show on Twitter, Instagram and Facebook for the latest ASI Roadshow updates, pictures, and event news. Be sure to us the hashtag #ASIRoadshow with all of your social media posts!