NEWS STORIES


Consumer Confidence Reaches 15-Year High
Consumer confidence reached its highest levels in 15 years – optimism reflected in strong sales figures for this holiday season. The Conference Board announced this week that its U.S. Consumer Confidence Index rose to 113.7 in December, the highest level since August 2001 and more than the original index forecast of 109.
Read Article

ADVERTISEMENT

Municipalities to Offer Private Sector Retirement Plans
After allowing state governments to establish retirement plans for private sector employees, the U.S. Labor Department has cleared the way for municipalities to do the same. But the criteria established by the Labor Department will limit the cities that can offer the plans.
Read Article
SPONSORED CONTENT
Score Add-On Sales With Every Single Order
Read on for creative, proven sales strategies to learn about how every common promotional product can be easily complemented by an order for labels.
The Joe Show: Awesome New Products
In this episode of The Joe Show, Product Editor Joe Haley gets charged up with a new solar power bank. He also features a fun gift for teachers and students, a handy desk item and an essential accessory for skiers, snowboarders and just about anyone who lives in places with cold winters.
TOP
Amsterdam Printing Receives State Government Grant
The Minnesota-based Taylor Corporation will be keeping its subsidiary, Top 40 distributor Amsterdam Printing (asi/121500), in New York after a $2.5 million grant was finalized Tuesday, the Times Union reported.
Taylor Corporation had begun searching for possible new locations for the growing print business last year. The Empire State Development Corporation (ESD), a government department aimed at supporting the state economy and encouraging business investment, then stepped in and offered tax breaks and grants to entice the company to stay in Amsterdam, NY, its home for more than 115 years.

TOP
ADVERTISEMENT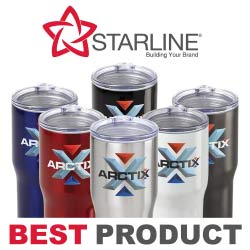 ASI's Top 10 Corporate Holiday Gifts
ASI's 2016 Corporate Gift Giving Study found that 44% of companies are rewarding employees with gifts or cash this year. And, while companies are spending less on individual gifts, they're thanking more customers and prospects this holiday season.
Many ASI member companies search for thank-you gifts in ASI's ESP® product search engine, where distributors throughout the $22 billion promotional products industry can browse nearly a million items to brand. Of course, these gifts work any time of year – not just for the holidays.
So what are the best gifts? ASI rounded up the Top 10 in this slideshow.

TOP
Enter the ASI Best Product Video Contest!
Calling all Kubricks, Spielbergs and Tarantinos: ASI is looking for your best product video in an epic battle to determine which one will rule them all.

We are looking for top product videos that are funny, creative and/or informative. Readers and ASICentral.com visitors will vote for their favorite ones.

Submitted videos must:
Feature a promotional product
Run no longer than one minute
Both distributors and suppliers are encouraged to submit. Participants may use existing videos, though we welcome new ones created just for this competition.

To enter, email us at feedback@asicentral.com. Please include information about your video and a link to where we can find it.

TOP
In the News
Proforma (asi/300094) announces that its Support Center Team Members gave TOMS gift cards to several children in the Cleveland area in an effort to empower them to give back to communities across the globe. The children also received more than $3,000 in cash and gifts from Proforma.
PWS (asi/75731) will open a new 60,000-square-foot production and shipping facility in Portland, TN, on Jan. 1 that will offer faster shipping times and lower freight costs to Midwest and East Coast customers.
SwervePoint (asi/340679) has joined Reciprocity Road, a consortium of distributors with shared values that expects collective 2017 revenue to be over $200 million. For more information, go to www.reciprocityroad.com.

TOP
People on the Move
Promotional Concepts (asi/295287) welcomes Lewie Hunt as director of business development. He brings 34 years of sales and marketing experience to the role, and will be leading efforts to identify and pursue new business and acquisition opportunities.
Click here to see all of this month's industry personnel announcements.

TOP

PCNA Now Directly Connected to ESP
Polyconcept North America (PCNA) is now directly connected to ASI's ESP®, giving distributors real-time inventory available and the ability to send POs directly to PCNA from ESP.
Find out more.

S&S Activewear Integrated With ESP
In a first for the promo products industry, distributors searching for S&S products in ESP® can now select the warehouse from which orders are shipped.
Find out more.
TOP

THE ASI SHOW
FREE ASI SHOW DALLAS REGISTRATION DEADLINE IS IN 1 WEEK
Register by January 4 so you don't miss your chance to attend ASI Show® Dallas, Feb. 1-3, for FREE (a $199 value):
Connect with suppliers you can't see anywhere else – 73 will NOT be at PPAI
Education is BRAND NEW in 2017:

Over 30 all-new courses
90-minute workshops anchor the end of our top tracks
New speakers and returning favorites
Factory Tour with Riteline, asi/82498

Enjoy breakfast and a motivational talk during the NEW Motivational Breakfast with Afterburner (ticket required)
Hear from 2017 Keynote speaker John Mackey, co-founder and co-CEO of Texas-based Whole Foods, Inc.
Network at a new Education Day Cocktail Reception, the ASI Show Bash at Eddie Deen's Ranch (ticket required) and the Closing Celebration
Explore NEW areas on the show floor: Collaboration Room and Promotional Products in Action
For more information on the full three-day schedule, visit www.asishow.com or call one of our registration specialists at (800) 546-3300.
Follow ASI Show on Twitter and Instagram, and like us on Facebook.